Anyone - including Dawn
- familiear with these carts?
http://www.dogbuster.net/
Respond to this topic here on forum.oes.org
Interesting. I have seen some similar, but not quite like that. There were some at a dryland race a few years ago - actually scooters with that big skinny wheel up front too - but they did wipe out a time or 2 on the start in the looser (sandy) spots.

What terrain are planning on carting on? And how fast?
With Chewie and Gabby they get flying. Slower sustained trots at 5-7 mph. I feel more secure with a wider pneumatic tire. Maybe just an illusion though
????

The front tire looks a bit narrow in loose gravel or bumpy surfaces if you take on any speed. Other than than, looks OK.

The brake - I couldn't see the details - need to recheck the site and see if they have better pictures. Brakes slow, but never stop a strong dog. Chewie and Gabby can easily pull their's with the brakes locked - but they are 2 strong boys and we mess with them and give them their weight pull commands!


I thought I had the pictures downloaded here - but I don't. let me dig them up.......geez, like the 18 pages of pics here aren't enough!
OK, here come some pictures.....

This is the cart we use. Donaven made it. (yes, he really did!) It is awesome and I covet it. I put this pic in because it shows the wheels well.
That is Linda driving - I took the picture.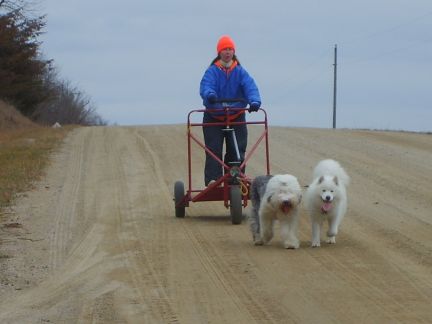 A couple scooter pictures - mostly to show tires....
Smaller tires -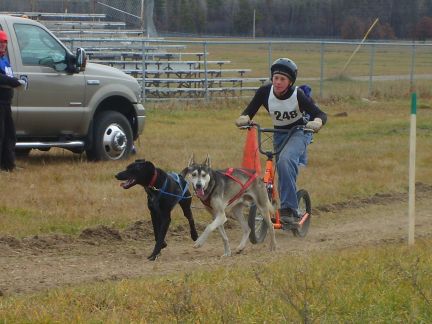 The one with a bigger front tire. I LOVE this picture! It is at the start line of the scooter races - 2 teams start at a time, then another 2 a minute later, etc. This guy wiped out shortly after I took the picture.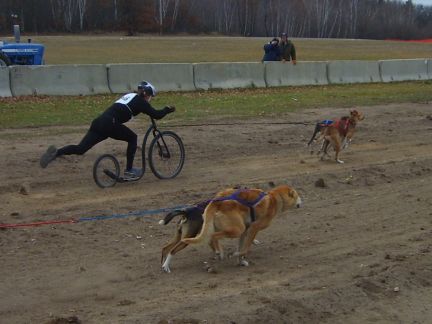 Chewie pulling my 4 wheeled cart -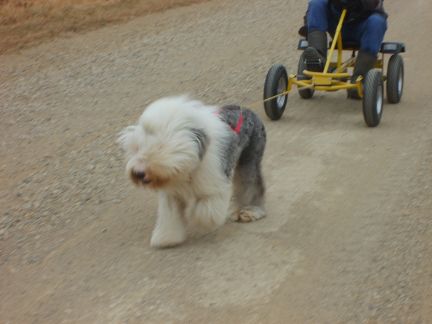 an interesting picture showing a big team getting ready to start. Numerous carts, etc in the picture as well.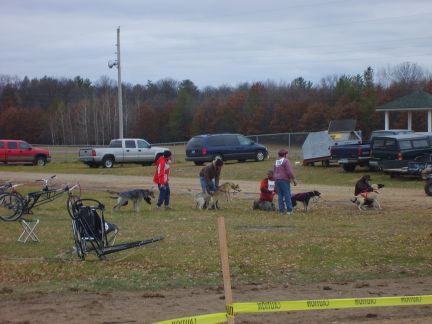 I see I forgot my sled picture - guess that one will come later.
I posted the sled pics under the sledding post.

Here is a picture of the weight pulling - using the sled. I am standing on the brake, and having the boys really lean in and pull. This is after they pulled several miles on the lake and hauled me up the hill in the hayfield.....
and they still dig in for more!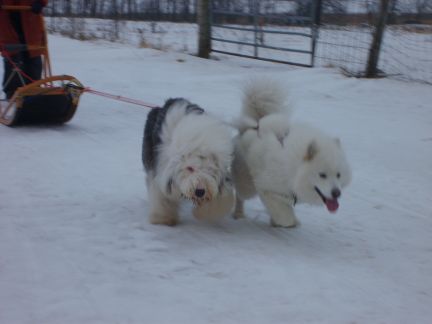 sweet - I particularly like the four wheeled cart where you can sit:)
kerry wrote:

sweet - I particularly like the four wheeled cart where you can sit:)



Well it has it's drawbacks. Chewie has really LARGE feet. They kick up quite the gravel sitting behind him!
I am glad I wear glasses.
Didn't find exactly what you're looking for? Search again here:
Custom Search