A few years ago (late 2005), I ran into a situation where a family had a young OES named Bandit, last year's Christmas present whose kids had quickly tired of and who ended up chained to a tree, filthy and matted. I talked the owner into surrendering him to me and because I already had two OES, turned him over to Northern California OES Rescue after a few weeks after we shaved him down, cleaned him up and brought his shots current. There is a lesson here for anyone who even thinks it is a good idea to get their kids an OES puppy for Christmas.

I heard he was placed with a family in Corona CA. Bandit was completely untrained and was a big, very active dog who liked nothing better than to get everyone up at 4:30 AM to play. I am sure he must have been a handful for his new owners.

If Bandit's family sees this or anyone has any news on how he is doing, please reply. Here he is in 2005 after he had been cleaned up: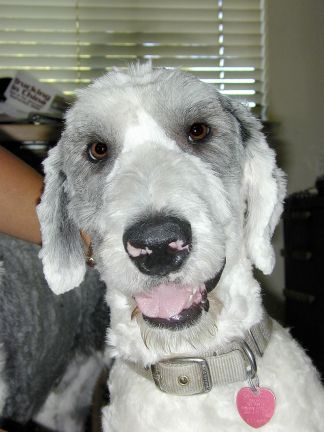 Respond to this topic here on forum.oes.org
Thank you for sharing Bandit's story and picture with us, and THANK YOU for caring enough to take action.

Is it possible to contact the Rescue (Was it Pam Henry?) and ask if they have an update? I know they probably won't give out much info, but general info frequently comes along.
Thanks Ron. Anyone here would have done the same.

Yes, it was Pam Henry who handled the placement. I knew her because I adopted two rescues from her over the years. I thought Bandit's owner might be a visitor to this BBS or maybe someone from Southern California might recognize him and know how he is doing.
Hard as it may be to believe, not every OES owner reads the forum.... I think it's just crazy that they don't
but hey, its a fact...

L
They don't ? What do they do with their time? LOL
Didn't find exactly what you're looking for? Search again here:
Custom Search