After a few years of doing my family genealogy project, I am meeting one of my long lost cousins.

David is my Dad's second cousin, though Dad did not remember him.

My Dad hadn't realized that his father, an only child, had any family here in the US. But I was able to find that entire side of the family.


My Grandfather passed away when I was 7 yrs old and he was my favorite person in whole wide world back then.

My Dad remembered David's Mom, Isabella, who used to visit all the time, before she got married. She was the first person to take him to see the circus in NYC when he was a little kid. He remembers this trip well as he was scared to death after his parent put him on a bus from NJ to NYC all alone. He remembered David's younger twin brother and sister, but for some reason could not place David.... at least in his memory. David said he worshipped my Dad. He also said he stayed at my Grandparent's house when the twins were born for a few weeks.
Dad was in High School and was probably too busy for his much younger cousin. lol Dad has since remembered him.


My Dad had no idea how David's Mom had been related to him. He thought his mother's side because she was very close with my Grandmother. Turns out David's Mom Isabella was my Grandfather's 1st cousin. So Dad and David are Second Cousins.

Monday David and his wife are flying to Vegas on Wednesday they are driving from Vegas to Palm Springs for a 3 night stay. Wednesday night Dad is driving out from Orange County and we will all be having dinner at my house. A lovely family reunion.

The month of May will be the BIG family reunion, at least for me. I am attending my cousin Isabella's wedding. Isabella is David's little sister's daughter.
She is the closest in age with me of any of my cousins.
I have LOTS of cousins on my Dad's and Mom's sides, but the ones closest that are cloest in age are at least 11 years older or younger.

Isabella and I have been in touch on a regular basis through e-mail and I am very excited to meet her and the rest of my cousins, a whole bunch of them being very close in age to me. Too bad they weren't around when I was a kid. It was always just me and my sister and we were always trying to kill each other.
Respond to this topic here on forum.oes.org
HOW exciting!!!!
How fun and special to connect with family. I'm sure you'll all have a blast, especially your dad.
That is very neat and exciting!!!
Elissa,

That's a great story! It reminded me of when my mom found her long lost cousins after 50 years! The three were seperated during the war years in France and one cousin married an American serviceman and eventually settled down in Pheonix. The other twin remained in France and now the three of them see each other for visits every second year.So I have distant relatives in Arizona!!!

I can't wait to hear how you made out at Isabella's wedding and what fun that's going to be.

Marianne
That sounds like you will be having a good visit!
How exciting - hope all goes well!

Enjoy!
wow keep us posted
We met last night. It was a lot of fun. We all had a great time.
Tonight Billy and I are ditching the kids to go out to dinner with my cousins.


I will upload a pic in a few minutes.
have a nice time!!!!
Thanks Kim, we are going to a Mexican restaurant tonight.


Last night we had Billy's famous BBQ chicken with his homemade sauce.
David and his wife brought some Champagne and Wine and Dad brought some pies.
It was a wonderful evening.

Here is one of the photos from last night.
In this photo is Ryan, My Dad, Cousin David and Me.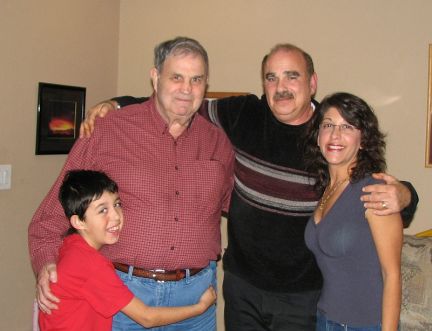 And David's Wife Laura, me and David.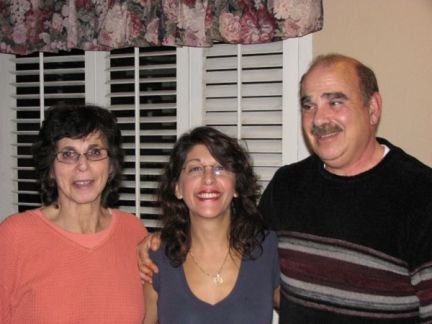 I am glad you had such a great meeting! I love the pic of Ryan loving his grandpa.
Last night was amazing. We had such a great time! The street fair was a blast and the restaurant was great.
Today I went with my Cousins for a drive through Joshua Tree National Park. A beautiful day for a drive and we talked none stop.
We had such a wonderful visit. I cannot wait to meet the rest of the family.

Helen, my Dad was making a weird face... Cousin Laura also took a few shots with her camera also so hopefully Dad was smiling in one.
What a great reunion!!!!! It is so nice that you were able to connect and extent your family!!!

Have a great time!!!!!
I'm glad you all had a good visit - and took lots of pictures to record the occasion
That must have been so fun. Did you find any common traditions, habits, behaviours or talents that might have made their way through the generations?
Didn't find exactly what you're looking for? Search again here:
Custom Search