Hey everyone!!
Some of you may know and some may not but I am editing the OESCA yearbook this go around. Myself and my faithful sidekicks are in need of some assistance. If you are an OESCA member (Sorry, members only just like the jacket!) we are asking you to submit artwork for use in the yearbook. We are looking for cover art, something big and flashy, as well as some artwork to be used in the corners and margins of pages. Cover art should be a color piece and is fun and youthful. (Since they let the kids do the yearbook, we are trying to keep it hip and bring a new spunk to it!)
Any other artwork can be pencil sketches, pen and ink, whatever medium you choose.

All artwork that is chosen becomes property of the club and there is no monetary award. If you are chosen for the cover, there will be a nice little prize. (Leftover Halloween candy perhaps?)

So send your stuff my way and may the force be with you!!
Respond to this topic here on forum.oes.org
Harry wishes he was a member. He works in water based paints.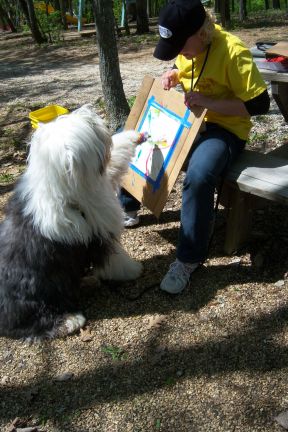 Oh, you wanted quality artwork.
What's the deadline?
hey Judy great idea - Mandy do ou thin you have room for a dog created art? in addition to harry's paintings you can have all those creative textiles - half eaten shoes.....
HEY! who said harry did not produce quality art work
Didn't find exactly what you're looking for? Search again here:
Custom Search