bestdogsx4 mentioned her mother's Lenox China in another discussion, and it brought to mind Joan's an my favorite pattern - Lenox's Autumn.

It's bright and colorful with lots of little handmade dots.

We drooled over it for years and finally -- didn't buy it. We bought a set of four dessert plates and cups of an Asian pattern, just for special occasions. Even those have been packed away for at least 10 years.

Hey, maybe I'll surprise her and go dig those out for a "special occasion" tonight!
Respond to this topic here on forum.oes.org
Oh!!! Ron...You are such a romantic!!!!!!!!!
What a cool dude you are! My husband would never think about a china pattern let alone dig it out so he could serve me some cake and tea.... I would bet he doesn't even remember the china pattern we selected. But he does remember that Tyler went with us to the fine china department at Macy's and waited patiently under a demo table setting while we shopped. I will have to look to see what your favorite pattern looks like. I love the idea of them and the name is beautiful.
Okay, I went to the lenox site and found two patterns with Autumn in the name. I would bet the one that you guys found was the original Autumn and it is beautiful, it dates back to the original release date of 1918. The other is also quite stunning and is called Autumn Legacy, it dates from 2007 and is in a monochromatic color scheme.

I was married once before and my china patten was also Lenox, it was Poppies. It is no longer being made. It is what was called China Stone and is sweet, but very non traditional. I think my taste is now much more on the traditional side and if I was selecting china today it would more than likely be one of the older patterns. I should just go over and get all of my mum's china.... I would be set in china for the next 3 or 4 lives...

So was it the original one or the newer one Ron?

L
There's a good selection available on your favorite auction website, Ron.
I refuse to read further. I'm a sucker for china, crystal or glass and silver including plate. I don't have room for more.........but Autumn was always one of my favorite. Glad I haven't seen the first mention by bestdogx4!!
It was (is?) the Legacy pattern. We were looking at it back in the 80's.

I zoomed in on the pattern and took this screenshot from the Lenox website: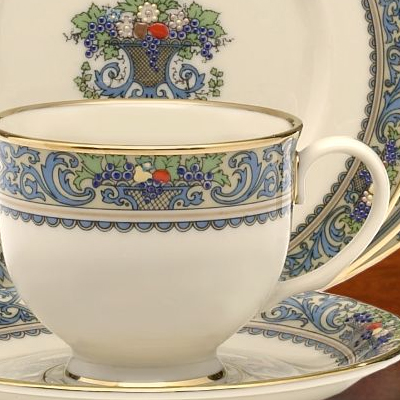 I just played around with Photoshop and auto-leveled the picture. now I wonder: is it a cream color or is it white?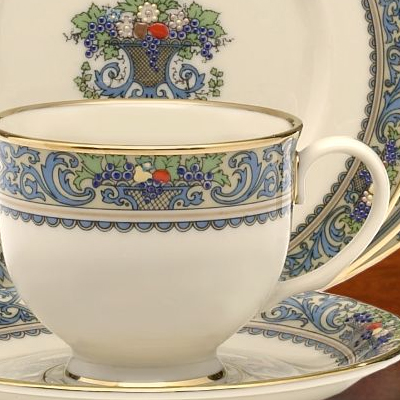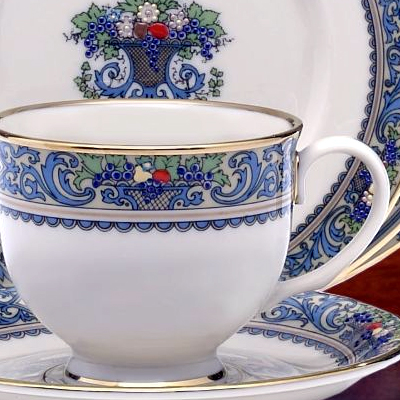 Hmmmmmm
Thinking about it, most Lenox is that creamy yellow color isn't it?

I think it must be cream colored then.... but I like the white version too!
Ron, that's Autumn, not Legacy. Legacy is filagree around the .......oh dang, the outside part of the plate...not rim, inside. It has a name. Anyway it has a fruit compote at the top with opposing filagree on either side. The pattern does not go around the dish. The flat part is plain.

Yes, Autumn is Lennox cream color.
Ron, you should get Joan a couple of place settings for Christmas.

The prices aren't that bad.....
SheepieBoss wrote:

Ron, that's Autumn, not Legacy.

You're right, of course!

I wasn't thinking when I typed that. I saw the "Autumn Legacy" and knew it wasn't the right one, then as I was typing it I had the name legacy in my mind and I was thinking "the older pattern" and wrote the "Legacy" pattern! LOL

Why name the NEW pattern "Legacy", anyway?


Thanks.

Yeah, I looked at the prices for both new from the Lenox site and from the eBay site and they were fairly inexpensive (about $50-$60 per 5 pc place setting on the auction site, $150 new plus shipping, etc.)... but I mentioned to Joan we could have a "never used" service for 8 set from the auction site for about $500 she shrugged her shoulders. It's as impractical for us now as when we decided not to buy. Actually more so. Back then we had a dining room (it's now oes.org World Headquarters) and a family heirloom hutch (now at Joan's sister's home).

I didn't dig out the dessert sets yet; the power to that storage area is shut off for the construction work and the flashlight charges on the same circuit
... so maybe for tomorrow!


The more I look at it, the more I like the pattern on a bone base than the ivory base anyway! Maybe that's why I'm repainting the house with white trim instead of the cream! LOL

(No, NOT sour grapes.
)
Years ago.......actually only about late 70's I wanted new everyday dishes. I couldn't make up my mind so I mixed, getting 2 place settings of each. Of course I kept within the same manufacturer (Mikasa) and same plant shape, trim and background color, just the design varied. I still use them, each day a new combination shows up from the cabinet.

People who mix Fiesta are the same way.......if I had room I would too.

I started to mix my formal china but couldn't narrow it down to a manufacturer or even color. So that ended until I inherited my aunt's Haviland and an old Noritake that mixes beautifully.

My aunt used her fine china as her everyday. She decided why keep it on the shelf when she so loved it. She even washed in a dishwasher and yes the gold rim is missing on several plates, but she didn't care.

What I'm saying is discuss this with Joan, but it's a shame to keep the good stuff in hiding. Bring down two sets and use them as dinner dishes. Or Sunday dishes, just use them.
I've always loved the Lenox Autumn pattern, it's gorgeous. I am a huge china freak. My "wedding" china is Lenox Charleston, the china has lasted a lot longer than that marriage did LOL! I use my china any time I have a good excuse to serve a meal in the dining room, which is a couple of times a month. I also offer to host tea parties several times a year so that I have an excuse to collect more china pieces when I see something I really like. Most of the collection is seconds and "vintage" (ie used) but who cares! I love mixing and matching. Thank goodness I have a big china cabinet and an understanding husband. He doesn't question my china purchases, I don't question him about the big bags from Home Depot
That pattern is beautiful Ron. I too love China.
thats just beautiful! i love china too...but we have no extra room to store it....i kinda go crazy on pewter.....besides when b and i got married and registered, he didnt understand why we needed a new set of plates..his comment was..

"you can only eat off of one plate at a time..." sheesh....

i went super simple though....ralph lauren..cant remember the name...plain bone china with whip stitching around the edge....
I love Chinas too. For my wedding I registered for the Marc Jacobs David in Canary and love the simplicity of it:) I love Marc Jacobs for everything really:)

I noticed that it's popular now for people to use mix and match chinas rather than buying a set of 8 or 12. Does any of you guys do that?
I love China too. And I love drinking coffee out of china cups


My wedding pattern was Vera Wang Golden Grosgrain...I still need a few placesettings if anyone wants to send them to me
I love my china. I have the Noritake Clarenton pattern. I think that I am the only person in my family that actually owns china. My husbands mom has a couple of sets so he didn't think it weird when we got ours. (Though now he might not spring for it.) Every time I take it out and set up the table it makes me smile. I need to take it out more. Wait what am I saying, I think it is likely to stay in the packing boxes until we get our kitchen put back together.

http://chinaware.noritakechina.com/shoppingCart/noritakechina/ImagePopup.asp?image=//www.noritakechina.com/images/Products/Close_ups/4278.zoom.jpg
Amen to getting that kitchen put back together..... Oh jeeze, it's the plumbing that has me now.... I can build cabinets and put them in, I can even cut the counter tops and install the sink and faucet. But darn that crap under the sink. I tore it all out and bought the PVC and will test tonight it it will hold and not leak....... Once I can get that in, then I can finish the cabinets by installing the last drawers and doors......

Where are you?
Complete demo inside the house.
We are moving into the house in about a week. There is no heat at the moment. Its gonna be a trip. After we finish gutting we will rewire, insulate, new plumbing....well new everything. We haven't actually gutted the kitchen yet but probably will in the next week. Its not like I really want to put anything in there at the moment with all the mouse turds I found in the cabinets. Right now the kitchen area is a holding area for all the tools.

I wish that I was in the stage you are at!
I have been in the demo stage for months. My husband did the complete demo, then we had to wait for the contractors to have the time to do their stuff. Electrical, open up a window between the dining and kitchen, widen the door, new exterior window, and drywall....

Once they were done it was up to us and with that apparently I mean me, to finish the dry wall top coat, paint, assemble the cabinets (IKEA) with husbands help, install the cabinets to the walls, install the guts of the cabinets including getting inside the corner cabs to attach the countertops... hang wall cabs.

I remember when I brought home my Craftsman cordless screw driver, my husband laughed at it... hahaha, what's that for.... that thing has been my best friend, it has a light on it so you can see where you are trying to install a screw... and it fits in places that a regular drill driver will not, and in some cases, the torqe is better and strips less screw heads than a drill driver.... so hahaha back at you dear... I love my cordless screw driver!

Have fun, laugh at the mistakes, it's just stuff! Don't scream and fight over the small stuff, it' aint worth it. in my case, I had a lot of grinning and bearing it.......... I will get my revenge, when I kick him out of the kitchen permanently......

This is all so I can show off my dishes and china that has been cooped up in boxes too long.... whine
OK.... Shhhhhhh!

I found the cups (mugs) and saucers! (I can't believe I found them so easily... something else is bound to go wrong.
)

OK, now I need suggestions on how/what to present and serve something tasty tonight!

PS She doesn't drink coffee... herbal teas mostly, some chinese green tea.... HEY! I've got an idea.... Maybe I'll take her to the local Chinese place and ask them to serve dessert on them? Nahhhh.... hmmm. Maybe....
what about around 4 pm...serve tea....put some cookies on a plate along with 2 sandwiches (crusts cut off) and cut into 4's....
Fancy! :lol:
Ron, the dessert idea is too clever! You can go to the bathroom and get the china out of the trunk. Is that possible? What a surprise!!! That's a beautiful set Ron!
I seem to have misled people... the dessert plated that we have (all 4 of them...) isn't the one pictured. We decided not to buy the Lenox many years ago, and Joan re-affirmed that decision yesterday. Just not practical for us. No place to put them, no place to use them.

We even don't have a dining room (it's now our office) or dining room table anymore!
This is the kind of thread I really miss. Don't you?
Me too. I love off topic, rambling threads
I miss these threads every single day Ron. It just seems like I have little interesting input on most threads, and am mostly just a reader.

And btw - I loved that pattern as well. Still do


Shellie
Shellove!
When I got engaged to my now hubby (Terry) I used to go to the local Tesco shop in town (Chelmsford, Essex, England) and buy a pack of willow pattern crockery, they were then doing a lighter blue design, I collected 6 of everything, lovingly packed them away for after we were married. 40 years later and in our 3rd home I am going to be able to unpack them soon as kitchen is being done- making a "welsh dresser" to put them on which was the original plan. We have only lived in this house 29 years, can't rush these things I am told. When we got married we were given 3 sets of china, in-laws, my mum and my dad (they separated the day I left school at 15- still remember that day like was yesterday, dad waited until I was in the bath before calling out he was off and would see me around). Anyway we had to swop china around depending on who visited us. Just a totally daft "nothing to do with the thread" email. xx


I know, right? Can't rush these things. Time must be taken to sort out our feelings about them.
My cousin picked Autumn for her wedding china back in the 1970s. I always loved it. I have Lenox Montclair(?) and of course never use it....
Didn't find exactly what you're looking for? Search again here:
Custom Search