I liked this because it didn't require an oven, was SUPER quick, light and not too sweet at ALL, and my guests devoured it!! Although it finally got hooked up last night, and I'm already loving it!!!


I'm sure ANYONE on here can do a better job than I can decorating the top. I'm just not too skilled in that dept, but as long as it tastes good... I really don't care.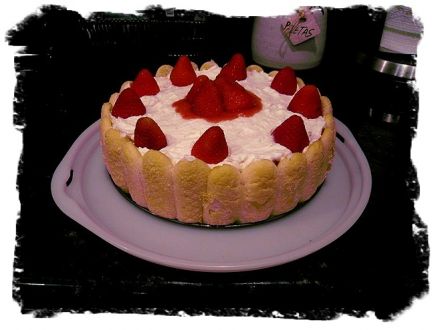 It had leftover cream cheese, that would have been good for piping the top or sides the next day. Definitely can't imagine using all of the cream cheese though. I used the rest to eat my remaining ladyfingers. *oink*

* 11oz cream cheese room temp
* 1/2-3/4C sugar and 3/4C sugar
* 2t vanilla (i put 1/2t almond extract 1.5t vanilla)
* 2C HEAVY whipping cream
* 2 (12 oz) packages ladyfingers (usually found if you ask the bakery section since many use it to decorate cake in kroger/randall's/carr's/etc ...I used 2.5 (3oz) bags)
* 1 (16oz) frozen unsweetened strawberries
* 1.5T cornstarch

In saucepan, cook down your frozen strawberries with corn starch (use some of the juice from strawberries or a pinch of water to dilute cornstarch before dumping it in!!!!) Remove from heat, add 1/2-3/4C sugar, and blend in mixer. Let cool.

Then whip cream cheese, sugar & vanilla.

In another bowl, beat h.whipping cream until stiff peaks form (about 5 min). Fold (do not overmix) into cream cheese mixture.

Using a 9" springform pan, arrange ladyfingers around sides then bottom. Pour layer of cream cheese, strawberry (all but about 3/4 a cup), then layer with ladyfingers, then cream cheese, and use the 3/4C of strawberry mixture to drizzle on top for decoration. Use strawberries to decorate.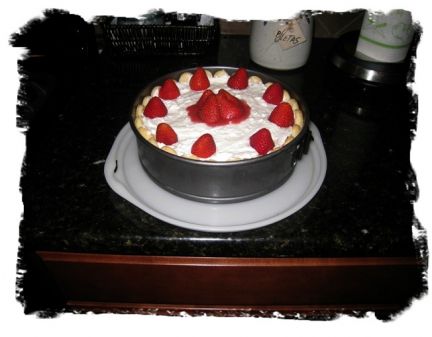 Put in fridge for at least 6hrs to set. i like mine setting overnight.

Tip:cut the tips of ladyfingers off, so they can stand around the sides.