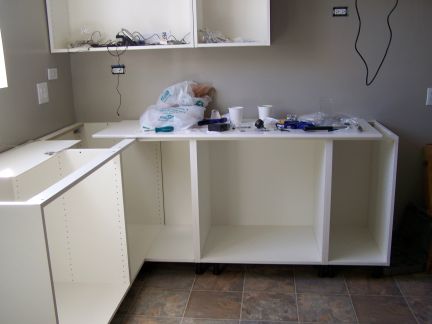 Before, this is Friday after anchoring all the lower cabinets in place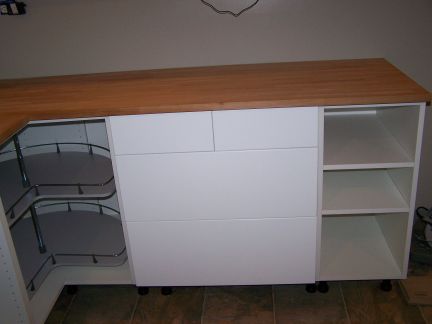 Lazy susan and drawers installed with the solid wood counter top. Now you might ask why the change from granite? I would tell you that a rather expensive lesson on changing dog food causing a sudden case of pancreatits (sp?) and my husbands car taking the proverbial dump $$$ cost me my granite... so I went with the next best thing in solid surface... wood. I really like the warmth the wood adds.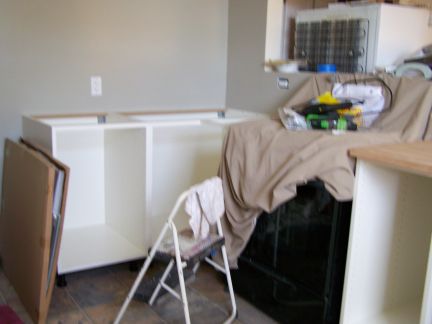 Before.....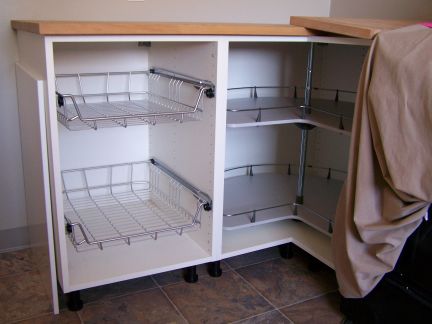 After, the installation of the lazy susan and the wire baskets. The counter is also installed. I want you to all know that I cut that counter top all by myself... no help from anyone....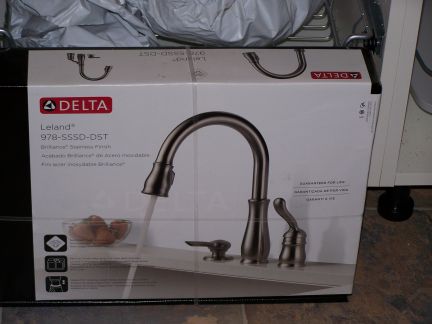 I finally made up my mind on the faucet... this is my pick. Delta goose neck. I'm hoping to get photos if this installed by weekend.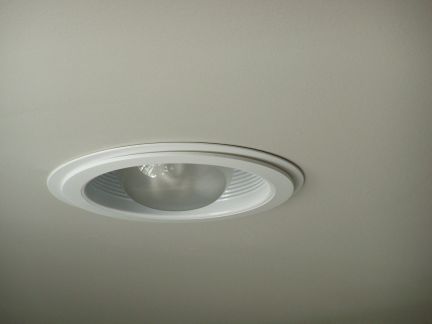 Last but not least. I love my recessed lights. I love how they look and the placement of them over my work surfaces. At last I will not be working in my own shadow... I'm using CFL's that are dimmable to continue with my reduceing of my carbon foot print....

My back is killing me, I have crawled inside those corner cabinets to install the counter tops, (and if you have met me, you will think that there is no way I could fit, but inside them I have been, more than once) I have craned my neck and back and bent into positions that a younger woman would think impossible... I'm sore in places I didn't know I had to get sore.... But I'm also so happy at the results. This is where your choices really start to come into focus and you can see if you did the right thing or if you missed the mark. I think I pushed the envelope in some areas and stayed safe in others. All the while trying to get a kitchen that made me happy and want to cook in it.

If you plan on installing an Ikea kitchen, I say do it and you will be happy, but remember, all those boxes are a huge puzzle and it takes time, strength and stamina to get to the finish line. If you have questions about installing an Ikea kitchen, just ask me and I will tell you what I know about it.... I think I could work for them in installing kitchens, not that I would want to, but I could.
Respond to this topic here on forum.oes.org
Your progress looks great, Leslie, and I am very impressed with your "do it myself" attitude!! I wish I had more of that in me. I'm just never very pleased with my DIY results.
Hey! Your countertop just sequestered a whole bunch o' carbon. Congrats!

Looking good so far!
It is looking good!!!
Thanks for the update.


Can't wait to see more.
Looking good!!
Didn't find exactly what you're looking for? Search again here:
Custom Search