Link to Petfinder

Drake is in Bangor, Maine - is anyone in the area that could help this guy out???


Kristen
Respond to this topic here on forum.oes.org
If you mean has anyone called about him? Yes, I have. If you mean am I packing up my 3 guys and bringing them to meet him Saturday, morning?
Yes again

Cathy
OH Cathy...so glad...for the love of 3+1=4 sheepies
As wierd as this may seem to some, I've always had a 'houseful'...minimum of 4 : )
We lost our Steed in April and a week or so later our Emma in May. You would not believe how EMPTY and QUIET the house was with only two...so we adopted Ashley in July.
Now Taz feels outnumbered by the "girls" and needs a guy to hang with...he told me this : ) so we've been keeping our eyes open for another boy. We are also on a list for a new baby boy who has yet to be conceived in early spring.
Taz is 12, Ab is 10, Ashley is 7...if Drake decides to adopt us, he'll not be lacking anyone to run amuck with now or in the future...not to even MENTION that I work (or TRY to work!) here at my home and even though I'm last on their list of FAVORITE playmates, they DO allow me the occasional ballgame or roll in the snow with them : )
Cathy and the Wigglebottoms
Cathy wrote:
If you mean has anyone called about him? Yes, I have. If you mean am I packing up my 3 guys and bringing them to meet him Saturday, morning?
Yes again
Cathy

WooHoo!
Good luck!
Thank you very much! I wanted to go TODAY, but my husband is out of town and won't be back until Friday evening!! Boogah! Taking the 3 wiseguys is definitely a 2 person operation and all the usual suspects for doggy handling emergencies are booked up! : ) Keep your paws crossed that he either gets a GREAT home with GREAT sheepie people tomorrow or he's just waiting for us to show up on Saturday so he can adopt us!
Cathy
That's wonderful Cathy! Good Luck. I thought you were from Maine - but couldn't remember where. Hope all works out well!


Kristen
Hi Kristen,
Thanks for trying to post the latest development on the other list! Rumor has it, you overposted??! LOL! Sue Ferchak got in there and let everyone know that Drake is in no danger! The Bangor Humane Society is about 40 minutes from me and they only euthanize the very ill or the dangerous of which Drake is neither...the only danger I see him in is that he will get adopted by someone other than ME! HA! He seems to have won over a few of the staff and it wouldn't be the first time that I've lost one to being adopted from "within"! : )
I'll keep you posted!!
Thanks, again!
Cathy
P.S. there is a local TV program where different organizations talk about the animals they have available for adoption. I didn't know it existed, but my friend's husband watches it (in search of shelties!) and he heard them talking about Drake and called me. How's that for well trained friends??!
Just wanted to let you know the word was out in this neck of the woods before he made it on to Petfinders!
Thanks again,
Cathy
Cathy,

This entire post has just gave me a huge smile! I think your home must be my vision of perfection with sheepies to the left and sheepies to the right....LOL Of course, I would have to add my kitties to the mix, but then I do see perfection.

Please let us know all about Drake when you bring him home. Congrats to you and Drake.

Stormi and co.
OH MY!!! Did I forget to mention Simon the OE C-A-T, aka 'the puppy'??He came to live with us about 5 years ago. My vet had found him on the road. Apparently, his mom was in process of moving her litter and dropped him. He was soooo tiny and had to be bottle fed. He was black and white just like an OES puppy so my vet thought she could convince me that he WAS a puppy. Naturally, I took him home and raised him as....a PUPPY! LOL! He loves his big buddies, harrasses them, fluffs them up and falls asleep on them, too. When I arrived home that day with 'puppy' under my coat, my husband knew I had something live under there! All he said was "we don't need another pet" which led to the now FAMOUS LINE and feel free to use it on all the hesitant significant others out there: "BUT HE NEEDS US...insert tiny sob or not"! I think that's when my husband gave up noticing... : )
Perfect NOW???!!! LOL!!
Cathy and the Critters
Congratulations Cathy! I am so very happy for you and Drake, may the new year be one of lots of sheepie kisses and hugs. Drake is one blessed boy. When you can I love pictures, wishing the best always Dolores and Oreo
DRAKE UPDATE!
As of 5:32 PM Drake was still available for adoption... : ) My husband and I will be there as soon as the doors open in the a.m. I'm hoping he's hell on paws, pardon the expression, my geriatric gang needs some spunkiness!! LOL! Actually, we could all use a rabblerouser around here!
Hi Delores and Oreo!!!
Cathy, Taz, Abigail, Ashley, Simon the OE Cat and ........ .......................................................................I'll wait till it's a done deal : )
I'm very excited for you! Please continue to keep us "posted", so to speak!
Cathy, I'm keeping my fingers crossed!!! You and Drake sound perfect for each other! I can't wait to hear more...
Good luck!
I am still trying to figure out how a house with only 2 sheepies feels empty?!? I hope you told the shelter you need 4 to be complete. We are waiting for your report on the newest addition, hope you got him!
All about Drake the good, the not so good and the we're so sad he has this one little 'issue' with boy dogs.

He's very sweet and very good with people. He's a typical two year old full of vim and vigor and he's a BIG boy! Very tall! He's had very little training that has "taken". We fell in love with him even as he jumped up and landed us on the floor! LOL! That can easily be worked on!

I would strongly suggest that his hearing be tested as there seems to be more than the normal amount of 'playing deaf' with him. (I've had deaf dogs and can tell the difference) I first noticed this when he was kennelled and chalked it up to all the barking going on, but it contiued when we were alone with him in a quiet room and again outside away from noise. He is certainly NOT totally deaf, but he appears to missing certain tones. Again, not a problem with us. Training, hand signals, etc. could easily help him adjust and I think this MAY be the reason why he seems difficult to train.

Getting along with other dogs....he hadn't been around any dogs prior to his placement. We introduced him successfully to Ashley and Abigail all on leash. Then came our male, Taz. Taz is 12 and his eyesight is bad and he was fine with Drake. If Taz feels uncomfortable, he merely exits stage right and that's the end of it. Drake, on the other paw, was NOT okay with Taz.

We proceeded to take all 4 dogs to a large outside enclosed area to see if out in a more open space and off leash, they would run around together. Drake became more and more agitated. His bark went from lets play and body language changed. He was intent on Taz even when Taz went to the far side of the enclosure. Drake was not let off a very long lead and he was frothing at the mouth, he was so worked up. We both know that this situation would get worse if we took him home with us because then we'd have to add territorial wars into the picture.

My feeling and that of the staff person was that it would be best to place him in a home with NO other dogs and that whoever adopts him knows that he is liable to attack other male dogs. Abigail handled him quite nicely, so it might work in a home with an alpha bitch. Drake, was neutered when he arrived at the humane society, so it's not a matter of his still having testosterone influence....although they should see if they can get a date of his neutering to make sure. Normally people don't bother neutering a dog if they are bringing him to a shelter, so I assume he's been neutered for a while.

Whoever decides to adopt Drake will need to made aware of the male aggression issues, the probable hearing loss issues and be prepared to spend lots of time training in a quiet environment. Personally, I'd place him in a home with no other pets or distractions. He's a love and I do hope there's someone out there for him!

Cathy
Cathy, I'm so sorry you won't be able to adopt Drake!! But you're right - he needs to be placed in a home as an only dog. Having already had an aggressive dog that we had to put down, I'd be real leery of any aggression shown - the once-bitten-twice-shy reasoning.

I'm sure Drake will find a good home. At least he's not at risk of being PTS.

Chris
Dear Henry's Mom,
Maybe if you take a peek at this picture, it will give you a better glimpse as to why only two seems quiet to us? : )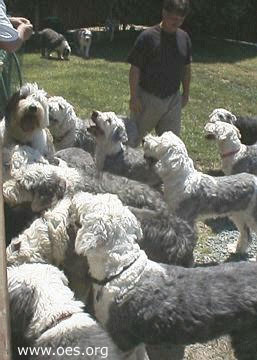 I've never tried inserting an image into a post so if this doesn't work, then take a peek here:
http://www.wigglebottom.com/aboutus.htm

Cathy...still wishing there were a way we could have taken Drake home with us. : (
I am so sorry that you were not able to integrate Drake into your pack, but happy to know that you made the best decision for all the dogs involved and now the shelter can be sure that he does not end up in home where he is threatened and has to fight for his position all the time. I am living proof that there are plenty of homes where one sheepie is the perfect number. I am sure that Drake will find that perfect home and you will find your perfect fourth.

I love that picture you posted: if multiple sheep are a flock (and e.g., a pride of lions, murder of crows), what are multiple sheepies? I vote for a herding of sheepies.
or Flockdogs?

BTW...The shelter had been contacted by phone and email by NEOESR and they were going to contact them about Drake. Hopefully, they'll find someone who is able to at least foster him.
I've always told people that if you make it through the first TWO years with one of these guys, you'll have the best dog ever! I certainly hope there's someone out there who knows that they are about to reap all the benefits and not have the first two years of puppy "destruction" : )
It's unfortunate that no one told this to his previous owners when they got him or that no one noticed that he may have a hearing problem or that no one told them that "puppy cuts" are perfectly lovely and cut down considerably on grooming hours or a ton of other things that responsible breeders inform their extended families of....it breaks my heart when I see one who may have temperament problems which, again. goes back to irresponsible breeding...
I am glad that the staff at the humane society saw what they are supposed to act like temperament wise around other dogs. We asked to put on a list to be considered for any OES that come through there and to foster.
That picture of "Flockdogs" in my previous post? My backyard (house before moving to maine) and in that yard we've had as many as 40 OES all romping around together. That's the way it should be...we'd even had a few "untutored" male showdogs at some of our "sheepiefests" and never had a problem. It makes me feel even sadder for Drake (not to mention angry) when I all the fun he'll be missing because someone decided they HAD to have puppies or wanted to start a "breeding business". Breaks my heart.
Cathy and the sweet Flockdogs
Hey Cathy, I have always wondered what heaven looked like and now I know!!! That looks like a blast. Except for maybe your husband who is on the outside?!!


Sorry that didn't work out but I'm sure one will come along soon!!
Now don't you feel sorry for my husband! LOL! He's a self appointed FlockdogHerder! These guys have him totally wrapped around their paws!
I know there's another one out there for us and we'll keep looking....we are on a list for a puppy in the spring and we hope they'll have a boy for us : ) In the meantime, if one comes along that needs us, my husband the Flockdogherder knows it will be in addition to future puppy and yes, dear, that would make FIVE LOL!! When we had four, and a rescue came along, I'd ask him what's one more? and he always answered 5, Cathy, that would make FIVE. I thought I'd name our upcoming puppy Five... : ) Cathy and Larry the Flockdogherder
Yes- keep us updated on "Puppy Five". I'm sorry to hear about Drake, but I sure hope he'll find a great new home!

Karen
Didn't find exactly what you're looking for? Search again here:
Custom Search