My son turned 17 this past week. Now what? He is still trying to figure out what he wants to do with his life. He's not book smart, so he thinks college is not for him. His father and I are trying to swing him towards the Air Force. (WE are military) A tech school will be the way to go for him, as his only interest at this point is art. If you consider graffiti art. The military will pay for this school, either while he is in or after he gets out. Either that or he goes to school and skips the military altogether. I think we are giving this way to much thought and my son is not giving it enough thought. My son knows that when he turns 18 he either has to be in school or working to live with us. Thanks for letting me vent.
Respond to this topic here on forum.oes.org
Have you considered sending your son to art school? Not a trade school, but an actual accredited college for art? There are so many really good ones. Some still require the "book learning" classes. But for those, its worth his doing "community college" to get the credits (why pay private school prices?) during his summer breaks.

Savannah College of Art and Design is quite good; they have campuses in both Atlanta and Savannah. The School of Visual Arts in Manhattan is excellent, as is the Pratt Art Institute. I believe Chicago also has an excellent art school. And thats just off the top of my head. Alot of State Schools ahve great art programs; thats how I got my degree in fine art.

Here's the thing; once in a decent school; your son will be exposed to all sorts of artistic directions he may never had considered trying before. I took photography in college; I never was interested in it until it was a requirement I had to take. Now I wish I'd taken it earlier; I might have gone into photography as a career. Your son could find that he is a natural born sculptor; or print-maker. Sure he might go in a graffiti artist, but he could come out doing digital graphics for video games.
You are his parents, he is your son, no matter what you do to help/encourage etc then more than likely he'll do the opposite, after all what would you know


Father of three sons speaking here!

In someways the old saying that they have to find their own way in life is very true, you as parents just have to be there to pay the bills, pick up the pieces, let them have their room back!

Either that or get him a girlfriend then he'll do anything and everything she says!


My current 17 year old (I am in UK remember) is half way through his A'levels doing Maths Physics Chemistry and Biology, yesterday was blaming us for forcing him to do those subjects! he would rather be doing physcology! Drama and Music! - Its never their fault or their choices at that age they'll always blame us for everything that goes awry - all you can do is be there! (he applied for his subjects, we just said take some that will be a foundation to build a carreer on!)

Good luck!
Just wanted to post a photo of my son taken on his 17th birthday. Just a post note, he does have a girlfriend, whom he does not want to leave. Might be a hinderance... Notice the Birthday Pie, not cake.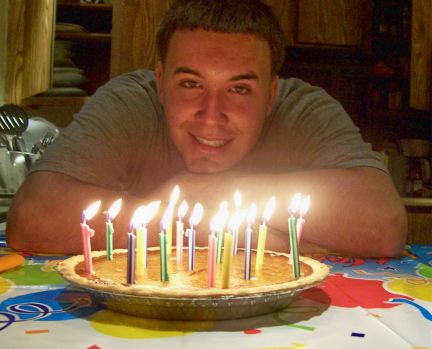 Haha great birthday pie!

Graff is as good an art as any (I have seen Graff which far surpasses 'modern art' in my opinion) and I think if that is where his talent lies, then build on that! It is very likely if he went to a good art school who will encourage different forms of art, he will find other interests in those areas too. Designing computer games, animation, computer generated art are all areas where there are huge career prospects, and with the right training he will go far.

Go with what fires him up.
NIck, my son was the same way when he was 18..I was worried about him since although very smart, he didn't want to apply himself to anything. He 'coasted' for a while..you know, he got a job just because and really didn't advance for about 19 months.

Then he met a nice girl, got married, was hired by a great firm in the IT deptartment. They paid for him to go to school and since he also loved computers he did great!!! He got his degree and was able to persue his other passion, photography.

Now he has a successful career in both...

Things will work out, some children just need time to figure things out.
Didn't find exactly what you're looking for? Search again here:
Custom Search