Let me introduce Winston who came to live with us a week and a half ago.
He the big guy on the right with Phoebe who's been with us for 1 1/2 years. Winston's family gave him up when they could not longer afford him. He spent some time in a prison dog training program so he knows his basic commands.
We have had to Winstonfy the house since Phoebe never counter surfed and Winston takes it as a serious sport. He is very friendly and affectionate. Phoebe was feeling a little put upon but she is back to her kissy self now that she has established that she is the one who rules. The two of them play together well. They like to lay nose to nose and nuzzle and bat at each other.
At 87 pounds, my husband got the big dog he was wanting.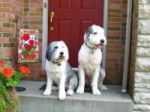 Respond to this topic here on forum.oes.org
What a difference, looks like Simone and Jack. (I really do need to get a pix of them together). Congrats on being a two sheepie family.
Very cute
Welcome Winston.


He is a handsome big guy!
They are both cuties!!!!!!!
Congratulations! Welcome Winston! Bigger picture, please.
A big hello to Winston......
Valerie wrote:



LOL - my thought too!
We just are never happy.......
Would love to post a bigger picture but I can't figure out how to do it.
Welcome to Winston, what a big handsome man
Didn't find exactly what you're looking for? Search again here:
Custom Search