I am just wondering how clean (or in our case dirty) you dog comes home from doggie daycare. Miley goes 1 a week and for the last couple of weeks has come back absolutely filthy. This last weekend I spent an afternoon bathing and drying only to have her come home on Wednesday in the same filthy dirty condition. I think that over the hot summer the grass has died and dogs play in the dirty.

I tried using the STUFF to help keep some of the dirty off so I would not have to bath again but that did not seem to work. I was wondering if anyone had any other ideas to keep her clean.

I am thinking about checking other facilities out to see if they have more grass or wood chips to keep the dirt level lower. Other facilities offer a pet bath area you can use to clean them up - but the one closest to my work does not offer that.

I like the exercise Miley gets but I sure could do without all the extra baths.

Any suggetions
Respond to this topic here on forum.oes.org
Doggie Daycare make Tonks and Luna stink something awful. Ours has an indoor play area and an outdoor area with a shallow pool. The girls are ALWAYS soaking wet when I pick them up. I have learned that if I leave them until the very, very end of the day, that they will get hosed off with the rest of the patio. Sometimes this helps with the smell.
The people at daycare tried to apologize; saying that they didn't understand why Tonks and Luna were so obsessed with whoever had the hose. Of course, i knew why....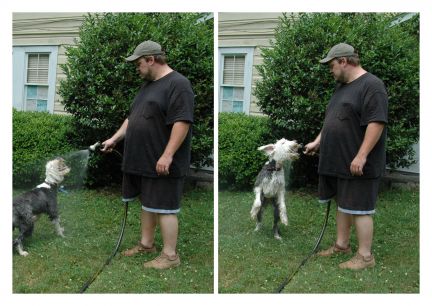 So I either take them to Daycare on the days I know they will need a bath (one of the reasons I bathe them so often). Or I tried something new this week. Got them home, and put them right into our doggie pool. I had filled it with water and conditioner and dog-cologne. I got out the hose and they played in the fresh water and the water with conditioner in it. Before letting them in the house they got one last rinse with the hose. It made a HUGE difference. They were clean, and smelled and felt great after being brushed out. But I fear this is only a solution for the warm months; I won't be able to do this in the autumn and winter.
I love the place I train at. They also do daycare and boarding and a groomer shop.

As one of the trainers, my dogs get to use the facility for play time. It has a rubber floor indoors and astroturf outdoors. Never a dirty dog!!

here is a picture of our therapy dog group there for a training and play session out on the turf-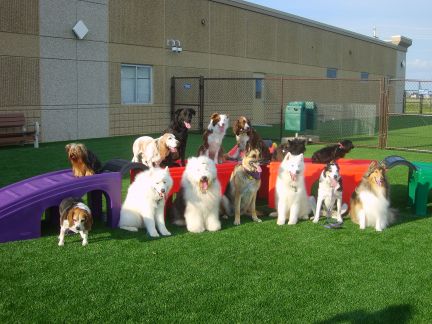 LOL - I wonder how Tonks and Luna decided they like the water hose......
i can't even imagine a day care with clean dogs! Even though EVERY dog but my own seem to come out of daycare clean. It would be embarassing, if Tonsk and Luna weren't so darned happy about it. But when I pick them up, EVERY other dog being picked up is clean and dry. Mine are drenched and bouncing with joy.
I am so impressed with that facility... there are none like that near me but My house with 5 (just like yours) is a doggy daycare of sorts But a place like that to train oh my
To be honest, I think my dogs somehow smell better when I get them back than when I drop them off. Maybe they perfume them at the end!
Didn't find exactly what you're looking for? Search again here:
Custom Search