Best of both worlds.
They both have the same consistency and cook so evenly!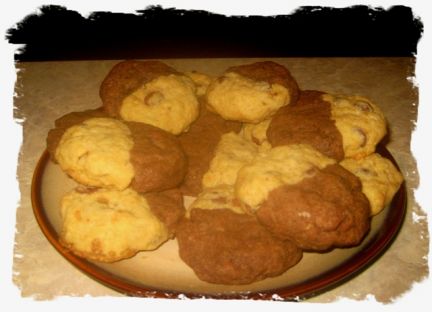 * 1 1/2C flour
* 1/4t baking soda
* 1/8t salt
* 1/2C butter ROOM TEMP
* 1/4C sugar
* 1/2C brown sugar
* 1 egg ROOM TEMP
* 1t vanilla
* 1C mixture of half milk chocolate/half semi sweet chocolate chips

* 1 1/2C flour
* 1/4t baking soda
* 1/4t salt
* 1/4C unsweetened cocoa
* 1/2C butter ROOM TEMP
* 1/2C brown sugar
* 1/2C sugar
* 1 egg ROOM TEMP
* 1t vanilla
* 1C mixture of half milk/half semi sweet chocolate chips

Oven 350

In first bowl cream together 1/2C butter w/ 1/4C w.sugar and 1/2C brown. Mix rest of ingredients.

In another medium bowl, cream together butter with sugars again. Mix in rest of ingredients.

I do each bowl at the same time so I'm not taking the ingredients out twice.

Then take the smallest scooper you have to the light batter. Drop it on cookie sheet. Then scoop darker one and combine the two together.

Bake for 8-10 min. Allow cookies to cool on baking sheet before removing. So yummy.

Tip: If you're afraid of them coming out flat, add 1/8t baking powder. I've done with or w/o. With gives you the ability to shape as you please as they will cook exactly how you lay them (so you should push them down to the thickness you want).
Respond to this topic here on forum.oes.org
Another great recipe from Mrs J. My hubby makes the best chocolate chip cookies ever, but I am going to have him give these a try...they look so yummy.
violet wrote:

My hubby makes the best chocolate chip cookies ever,



I'd have to taste for myself because I make the best chocolate chip cookie ever.
This is one of the best cookies...everyone loved them. Its the winner of the Pillsbury Bake-Off this year...use a small glass and don't press down too hard as you want them thick not thin to get to gooey peanut butter inside!

Double-delight peanut butter cookies
Carolyn Gurtz, Pillsbury Bake-Off grand prize winner
24 cookies
INGREDIENTS
• 1/4 cup Fisher® Dry Roasted Peanuts, finely chopped
• 1/4 cup Domino® or C&H® Granulated Sugar
• 1/2 teaspoon ground cinnamon
• 1/2 cup JIF® Creamy Peanut Butter
• 1/2 cup Domino® or C&H® Confectioners Powdered Sugar
• 1 roll (16.5 oz) Pillsbury® Create 'n Bake® refrigerated peanut butter cookies, well chilled
Recipe continues below ↓
________________________________________
advertisement
________________________________________

DIRECTIONS
Heat oven to 375° F.
In small bowl, mix chopped peanuts, granulated sugar and cinnamon; set aside. In another small bowl, stir peanut butter and powdered sugar until completely blended. Shape mixture into 24 (1-inch) balls.
Cut roll of cookie dough into 12 slices. Cut each slice in half crosswise to make 24 pieces; flatten slightly. Shape 1 cookie dough piece around 1 peanut butter ball, covering completely. Repeat with remaining dough and balls. Roll each covered ball in peanut mixture; gently pat mixture completely onto balls.
On ungreased large cookie sheets, place balls 2 inches apart. Spray bottom of drinking glass with CRISCO® Original No-Stick Cooking Spray; press into remaining peanut mixture.
Flatten each ball to 1/4-inch thickness with bottom of glass. Sprinkle any remaining peanut mixture evenly on tops of cookies; gently press into dough.
Bake 7 to 12 minutes or until edges are golden brown. Cool 1 minute; remove from cookie sheets to cooling rack. Store tightly covered.
TIPS
1 Serving: Calories 150 (Calories from Fat 70); Total Fat 7g (Saturated Fat 1 1/2g, Trans Fat 1/2g); Cholesterol 0mg; Sodium 125mg; Total Carbohydrate 17g (Dietary Fiber 0g, Sugars 11g); Protein 3g Percent Daily Value*: Vitamin A 0%; Vitamin C 0%; Calcium 0%; Iron 2% Exchanges: 1 Starch; 0 Other Carbohydrate; 0 Vegetable; 1 1/2 Fat Carbohydrate Choices: 1
Mmmm... I like knowing a cookie recipe won something b/c I feel more confident trying/baking it myself! Thanks for sharing it
Mmmmmm.....
Didn't find exactly what you're looking for? Search again here:
Custom Search