We have a healthy, two-year-old, male OES in desperate need of a new home. Our Chow Chow does not get along with him, and their fights have escalated to blood baths.

He gets along terrificly with our Beagle-mix and most other dogs. He's played with cats, a pet bunny we had, a pet squirrel we had, and plenty of children. He is good with all.

However, he must go before our Chow eats him alive. The Chow is not adoptable (for obvious reasons), so we are adopting out the Sheepdog. We do not want to take him to the pound! PLEASE respond if you know of anyone who can give him a good home.

We're in Vancouver, WA (on the Oregon border), but we are willing to drive as far as Seattle to deliver him to a loving home.
Respond to this topic here on forum.oes.org
I'm so sorry you are going through this. I'm sure you are already trying, but please keep them apart!!!


Is your sheepie boy and/or your chow neutered? If not, maybe that could reduce the conflicts?

Have you contacted the rescue folks for Washington and Oregon (maybe Idaho or Montana) ?

An experienced OES rescue may give your guy the best shot at being placed into his furever home. They probably have prescreened applicants waiting to love on your boy.

Many people here may be able to help and/or offer advice. The slowest day of the week is Sunday, the busiest is Monday, so you should have a good range of replies in a couple of days.

In the meantime, you could post a few pictures of your guy(s). Instructions are here:
http://forum.oes.org/viewtopic.php?t=1119#6605

Good luck!!!! We're pulling for you.
Thank you!

The fights have been going on for a while. Both dogs want to be the alpha in the household. (They are both neutered.) We've tried and tried to make it work, because we love them both and did not want it to come to this, but a recent fight was the worst they've ever been in, a complete bloodbath. It was a wake-up call for us that it is simply not going to work, both dogs in the same home, despite how badly we wanted it to.

They've been separated ever since, but there is always the chance that the Chow (who is quite the Houdini & can get out of pretty much any confinement) will get to him. If they have even a slight chance to go for each other, we are certain it will be the Sheepdog's last fight, because he will lose his life. The Chow is used to winning every fight, and this last time, he lost. This has him ready to eat the Sheepdog alive.

We've contacted several sites to find him a home, but we are still worried. He's a big dog, and we know many people simply want a tiny little thing that can fit in their purse. He weighs close to 80 pounds.

I'm waiting on approval for his pictures.
Approved. He's a cutie!

Sounds like you've made the right decision.
Definitely hang on for a day or two for input here (sometimes magical things happen here!) and I'd be in touch with your nearby OES rescues.
(Most everyone looking (and certainly everyone pre-screened and approved) to adopt an OES is looking for a larger dog. Don't worry! We WILL find your guy the best home possible, and quickly.

Oh rats! I didn't give you the link last time! D'oh!
http://www.oes.org/html/oes_rescue.shtml

Please be sure to tell the complete story to rescue, especially if your OES has bitten. Most OES rescues won't automatically turn down a dog who has bitten and/or has aggression issues, but knowing the whole story helps them find the RIGHT home, so that he doesn't need to find yet another home -- or worse. For example, my wife and I adopted an aggressive 3 year old and he was a great "only" dog for us for more than 10 years until 2002! That's his picture on the left, under my name.
He should be easy for your local rescue to place. It seems like we regularly get people on here from the PNW who are desperate to find a rescue in that area and they are rarely available. Mind you, your dog's breeder should be willing to take the dog back. Has s/he been contacted yet?

Failing that, contact Lita Long or Seattle OES rescue (see the links Ron gave you)

Some times two dogs just don't get along. You're doing the right thing.

Kristine
Good Morning,

I have a sister going to Portland tomorrow and could transport the OES up to Tacoma in the afternoon. Is there anyone that could take it from there? She lives in a apartment and could keep the OES for any period.

Let me know if we can help.

Dorothy Rego
If I am not mistaken...Lita Long is in Oregon.
We wish you well in finding a good loving home..
Looking at his pictures dont think it will be long,
He has lovely long legs

Good luck.
Thank you so much, everyone, especially you, Dorothy.

We have found a friend for him to stay with, but he has several dogs already, and he cannot keep him. It is a very temporary situation, he stresses.

The Sheepdog (whose name is Cesar, btw) does get along with most dogs, but around aggressive dogs, he could start fights. Our Chow is a rescue with a nasty past and definitely has a load of issues, including aggression. For the longest, we blamed the Chow for everything, assuming he had to be the one causing the trouble, but after watching more and more fights break out, it's become clear that the Sheepdog is initiating the fights.

Cesar has only ever bitten our Chow. No other dogs, ever. Never, ever a person. He will put up with just about anything (you can touch him anywhere, etc.), including young children treating him like a stuffed animal (not something we condone, but we know it happened w/ a friend's children, and he had no reaction but to play with them).

He is not an aggressive dog, under normal circumstances. It's simply with another dominant male dog in the household. We know he'd make a terrific pet for someone, and we know anyone adopting him that's told he has aggression will think we're crazy when they meet him. He's energetic, playful, and sweet.

Here are some pictures: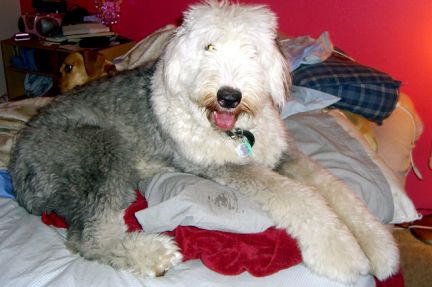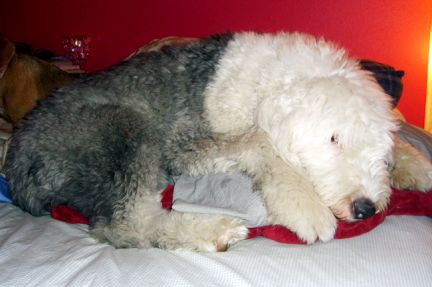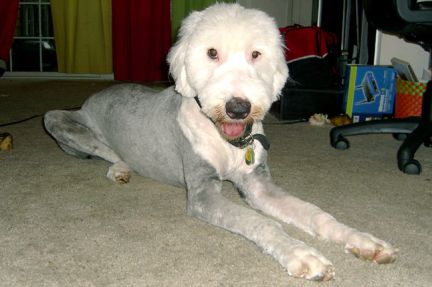 He is currently shaved, due to mats we couldn't get rid of. He looks better with longer hair, obviously, but it grows back.
We did contact the rescue linked here about a week ago. Someone e-mailed back to say they'd be in touch, but no one ever got back to us. I sent a follow-up e-mail last night.
I'm so sorry you're going through this, but you really are doing the best thing for all involved. Give the rescue some time to respond as most are volunteers and as Ron said tell them everything. It would be worse to have your boy placed and then have to be rehomed because the rescue didn't have all the details. Good luck, I know this can't be easy for you.
Good news! The Oregon Dog Rescue contacted us, and they are going to take Cesar in until he has a permanent home.


This eases our worries a great deal, because they can screen applicants far better than we can (we'd feel so nervous, just taking someone's word on facts concerning a house/backyard, other pets, etc.).

He'll be in a foster home, too, not just caged in a shelter. I'm sure they will find a home for him in no time. He's at a friend's place until Wednesday, when we'll send him home with the rescue staff. We'll be sure to tell them everything involving his history and the reasons we have to get rid of him.

Thank you so much to everyone here! You were all very helpful & comforting.
thats great news, he will find a great home.
That's great news. I am so sorry you are going through this but you are making a great decision for everyone involved, including eventually the lucky family who will adopt beautiful Cesar. Best of luck with your chow.
I am SOOO happy that everything is going to work out for Cesar, and THANK YOU for doing the best you could and making the best decisions for Cesar.

I know it will be hard for you to let such a cutie go.
Rest assured he's gonna have a great life in a safe environment, just like you want.


I am so glad this is going to work out for Caesar and your family. You did the right thing for everyone involved. Caesar is a cutie and will find a great home.
I am so glad that a rescue can help you.
Good Luck.
Dorothy Rego
Wish we could adopt but we still have our rescue sheltie here who isn't ready to be rehomed just yet. So glad this sheepie has found a rescue.
katdog wrote:

Wish we could adopt but we still have our rescue sheltie here who isn't ready to be rehomed just yet. So glad this sheepie has found a rescue.



I love your OES/Poodle, so darn cute. the expression in the picture is priceless -
Thanks from me and Ned . He is a parti coloured Standard Poodle. We would love to find a rescue Sheepie for him to play with.
Even better news, guys! We found a home for Cesar last night.


A woman contacted us and wanted to meet with him, and right from the start, it went oh-so-smoothly. He has a terrific new owner who seems meant for him, and he also has a new sibling to play with. We went to the woman's house, to make sure everything checked out, and he played with her other dog the whole time we were there. He loved both his new owner and his new sister, and even followed them around more than he did us. We felt confident leaving him there and relieved that he'll have the life he deserves.

A very happy ending, indeed!
cherany wrote:

A very happy ending, indeed!



How wonderful! So nice that you got to see how he'll be living and how happy he seems to be there


Kristine
Great to hear!

How did Cesar's new family find you (or vice versa?)

If it wasn't through this forum, DID YOU POINT THEM TO OUR COMMUNITY?


Thanks.
It was through Cragislist. We were hesitant to put an ad there and got a response we didn't feel comfortable with from someone else, but her response just gave us a good feeling, and everything she told us checked out to be true. We only dropped him off last night, and already, she's sent us updates on how he's doing. They really seem perfect together.
Craigslist. Intersting!

Did you tell them about us? If not, please be sure to do so.

We want to get updates!


We've come full cirlce now. Please read from Beemer's (formerly Cesar) new owner:

Beemer's Story
Didn't find exactly what you're looking for? Search again here:
Custom Search