This is for those times you want dessert for your Mexican meal, but don't have time to make a delish empanada. When I make Mexican again, I'll make my normal pastry (have to do a day ahead) and post it, but this is an easy affordable alternative.

Easy to prepare, fast, cooks while eating, and ready to eat by dessert!

my pic doesn't do the dessert justice.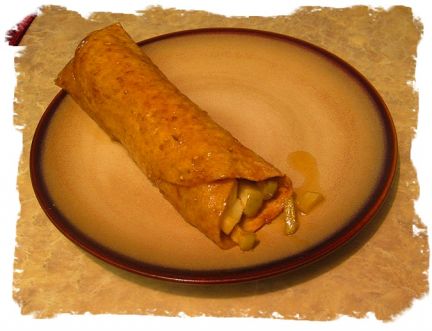 * 3 apples chopped in small cubes (can use apple filling but fresh is better)
* 1/3-1/2C sugar (depends on how much of a sweet tooth you have - I didn't want to do 1/2C)
* T flour
* cinnamon
* 6 flour tortillas

* 1/3C butter
* 1/2C sugar
* 1/2C brown sugar
* 1/4C water



oven 350

Mix apples with flour. Spoon apples into tortillas, sprinkle with cinnamon. Roll up and place seam down on greased 8X8 pan


Bring butter, sugar, and water to boil in pan. Reduce heat and simmer for 3 min. Keep stirring.

Pour sauce evenly over tortillas. Sprinkle with cinnamon.

Bake 40 minutes or tortillas feel a bit crisp to touch. Serve with a nice scoop of ice cream! Mmmm...