I've tried so many crab cake recipes and have always been dissapointed. Does anyone have a proven recipe that's not too bready? Anyone in the Maryland area? I think Maryland Crab Cakes are awesome.
Respond to this topic here on forum.oes.org
okay this is the supreme cheaters way.....

at safeway the zatterans brand has a crabcake and a salmoncake mix...they are awesome....just follow the directions....

i just made the salmoncakes with a side of hollandise sauce...it was flippin fantastic....

and im usually against pre mixed stuff......
Does it add to credibility that I'm from MD and lived across the street from the Chesapeake bay?


I use two recipes, but I think this tastes less "bready" but I can post both if you want. Here's one:* 1C total (half crushed club crackers and half breadcrumbs)

* 1/2C mayo
* 1t prepared brown mustard
* eyeball amount chopped green onion
* eyeball amount chopped red pepper
* 1/8C parsley
* 1 stalk celery, chopped
* 1.5t Old Bay Seasoning TM
* 1lb crabmeat (i use lump crab meat in can and it worked out fine)

note: i add dash of Worcestershire's and lemon juice.

set on broiler setting. Lightly grease a baking sheet.

mix ingred together and gently add crabmeat last. shape into 6 patties. Place on baking sheet. Broil crab cakes 6-8 min on each side, or until golden brown on each side (watch closely). Although you can also pan fry them on med-high!
I think it also depends on the quality of the crab. when we use canned we get the best results with the more expensive can - I think is it dark blue (large can) in the refrigerated section of the grocery - actually I usually use the recipe on their can, although we use whole wheat Japanese bread crumbs (I can't remember what they are called - sorry dismal day here and am in the mood for a nap
) .
panko
I like to use half fresh crab and half canned. I like the consistency and yes I use Panko, Japanese breadcrumbs as well . I also fry then first in a bit of butter and then put them in the oven or on the grill.
Joahaeyo wrote:
panko


duh!!! I kept thinking penke ? no that doesn't sound right
I ordered mine at QVC. Hubby loved them, but to much spice for me and the cost.(WOW) way to much. The same with their steaks and burgers., very high price.. I did call QVC about them and they refunded all my cost. I do like Qvc< they want to please.
Live in Maryland and Jo's is close to the recipe that is famous at the Baltimore market. Canned crab meat won't give the same effect unless you live in the Bay area and it is fresh. This is closest to the award winning recipe from Lexington Market.
Thought I'd add a pic even though it isn't anything special but you guys know how I am. .....made with real crab and ate with sweet potato fries.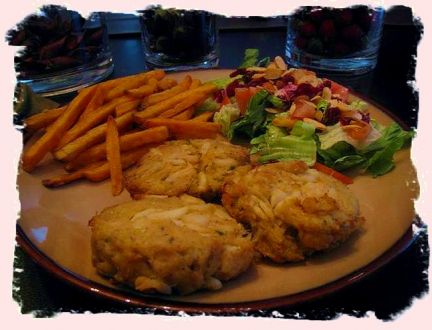 I want you to take pictures for my restaurant someday.
You know, if I ever have one.
Well that's a big compliment since I know how terrible my pics are compared to any of the pics I see on recipe sites
I'm learning though!
Joahaeyo wrote:
Thought I'd add a pic even though it isn't anything special but you guys know how I am. .....made with real crab and ate with sweet potato fries.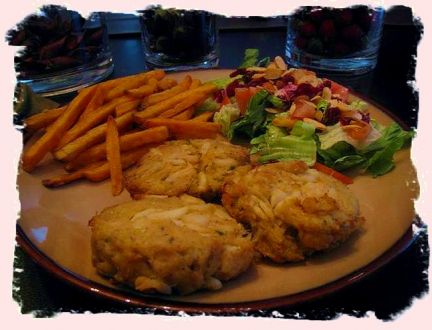 Now I am hungry. Good thing I bought crab meat last night
DO you make your own sweet tater fries?
...with potato slicer, slice evenly, for me thin works best, spread apart on cookie sheet, season, oven 400 for 30 min or until done.
Joahaeyo wrote:

...with potato slicer, slice evenly, for me thin works best, spread apart on cookie sheet, season, oven 400 for 30 min or until done.



Note to self - get potato slicer (wonder what it looks like.....)
Didn't find exactly what you're looking for? Search again here:
Custom Search