It is not actually the agility itself so much as not putting food in my mouth.


I thought it would be fun to post the pictures from last year's run at Sheepiepalooza compared to this year's run: a difference of 37 lbs.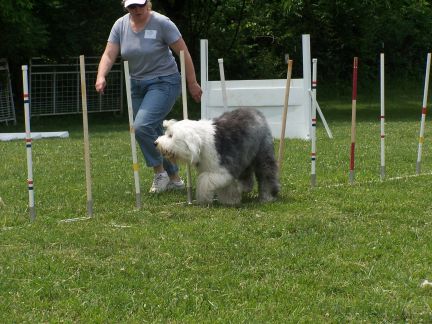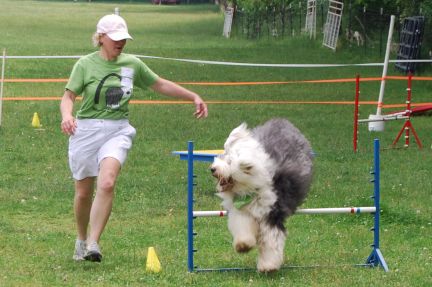 Now if I can just get back on track after four weeks of stress eating and return to my low of a 40 lb. loss.
Respond to this topic here on forum.oes.org
Judy, You looked amazing at the Palooza! After seeing the before and current photos I can really appreciate what moving can do for a body! I saw one of the guys had a gentle lead halter for his sheepie when I was in St Louis and so I got one for Taggart. Now he is a dream to walk, but after seeing your photos, perhaps I should try Tagg in Agility, I love what the "Agility Diet" did for your shape.... Congrats on not only a healthy body but a wonderful event!
Wow you look great!!!
You look fantastic...congrats on the weightloss...see win win.
Fantastic!!
WoW!!! 37 lbs is amazing!! What a difference. You look great!!!
You look awesome, Judi! Congrats!
WOW
Judi that is awesome! I didn't know you last year, so i never would have recognized you in the "before" picture.

I have about 30 pounds to lose; you are an inspiration!
Congratulations Judi! Your weight loss is something to be proud of!
WOW you can see the difference
Love the last photo harry going over the jump and looking at his sexy momma at the same time


Well done Judi, now the hard part, keeping it off.
I was thinking how awesome you look, but if I didn't tell you in person, let me do so now - YOU LOOK FABULOUS!!
youre as hot as harry
I noticed something different at sheepiepalloza but couldn't figure out what it was. Great job Judi!!!!!

Anyone notice that BIG smile on Harry's face! He's so proud of his Mama.
Congratulations Judi!
I'll bet Harry is proud of himself for making you loose the excess baggage.
You look great (Hope Tim doesn't take a swing at me for offering this compliment
)
Wow. Good for you-- I bet you feel better too. Thanks for the inspiration to get moving!!
Didn't find exactly what you're looking for? Search again here:
Custom Search