Wow, what a lucky find for those looking to get one now. Cute!

http://www.petfinder.com/pet.cgi?action ... mpl=&stat=
Respond to this topic here on forum.oes.org
They are going like hotcakes - and I think they are probably more likely Border Collie mixes than OES Mixes - It's so hard to tell at that age...
but either way - they are darn cute!

I did a little research online to see what Border Collie pups look like and it's very close to these little girls...

http://www.workingsheepdog.co.uk/puppypics.htm

Kristen
Yeah, from those pics you have linked .....they do look more like bc mixes because of the markings on the face.
Kristen,

I thought the same as you, border collie mixes. None the less they are cute as can be, and being puppies shouldn't have any trouble finding homes.


Stormi and co.
I wrote them earlier today and maybe suggest what you guys stated because I know as a potential owner, I'd like to know what I have. I basically just kindly asked if they knew the parents because my friends thought the puppies also resembled border collie mixes.

She wrote me back a very nice reply:



Quote:

Hi. Thanks for your thoughts. However, the mother and father were also surrendered. The mother is a PB OES. She is absolutely stunning except for the fact she is completely emaciated. And the father is an OES also. However, he has come from some very bad breeding. He definitely looks like he has some lab in him.

Oh the poor things! I wonder if the mother and father are going to be ok?
Interesting! Thanks for the info - I think it's a good thing to know before hand too - since Border Collies are MUCH different in personality and looks.

I think there's been alot of interest in those little girls!


Kristen
There's one left and what a cutie!!!! She reminds me of Pooh!

http://www.petfinder.com/pet.cgi?action ... mpl=&stat=
Totally reminds me of Pooh. I wonder if Pooh would like a little sister? God wouldn't that be too cute.

I am sure glad that Pooh is doing better too!
Echem echem....little sister huh? It's hard enough taking care of one! And a little boy to boot! Just what we need: MORE sibling rivalry!
Josh,

Did you see her little face, she looks just like Mr. Pooh!
Actually, I think she has a Wheaten face! So adorable, but our house is full at the moment!
I don't think she has a face like a wheaton at all, but if you think so I will defer. I also understand about the full house. With my two resident clowns and my mom's when she visits over the holidays, we will have a sheepie for each human in the house. Very fun indeed.

Here is wishing you and your family a Very Merry and a Happy Happy and Pooh a speedy recovery. I for one will never give my kids another greenie as long as I live.

Leslie
HI, New to this forum. We adopted Scribbles on December 11th from the 2X2 animal rescue in 84, PA. She was one of the 8 female OES mixes. I see from this discussion where they may be border collies instead of OES. We took Scribbles for her last booster shots last Thursday and she has gained almost 15 pounds since we brought her home and she now weighs about 26 pounds. When we adopted rescue owner said she would be medium to large size. Just how big can OES get? We love her to pieces whether she is a BC or an OES or how big or small she grows. I should be getting a new digital camera in the next day or so (or at least thats what QVC said) so I will post a picture and hopefully get some feedback on what mix my baby might be. Thanks a lot! Joni
Joni,

Welcome! That's so cool that you adopted one of these little girls! I think the shelter confirmed that the Mom was definately an OES and as they grew a little - they did look more OES like. Like you said - either way - you'll love her! Either way - she's going to be adorable I'm sure!

OES females usually are 60-80 lbs (I think!). I can't wait to see pictures.

Congrats!

Kristen
Thanks for the reply. Will definitely post some pictures - hopefully today. I did read on further and see where she is an OES. Glad to hear the 60-80 lbs. I have a Silky Terrier -Doodles- who is about 18 lbs and is trying his best to get used to a bigger little sister. When we fell in love with Scribbles we were looking for a smaller puppy - but of course we have no regrets - just much bigger dog food bills. My kitty Dole isn't quite up to acknowleging that he has a new sister. Dole has scratched Scribbles twice on the nose but since then Scribbles hasn't backed him into any corners. I am sure with time we will all adjust into a peaceful family.
WOW, I am so shocked. How cool is that!! YOU DEFINITELY need to post pics and give us a full update on how your new furkid is adapting. I would love to hear about it. Welcome to the board and thanks for telling us!
Trying to post a photo, but I am a complete amatuer and not having much luck. Any help would be appreciated.
Here's some instructions...

http://forum.oes.org/viewtopic.php?t=1119

If you don't understand - don't feel so bad - it took me a while too!


Kristen
Congrats to Scribbles Family!

You just earned your angel wings... Now post some pics! (hehehe... don't worry too much, I still can't do it, my wife has to do it for me
)
Please don't give up and try posting the pic again.


if you are having trouble hit the "PM" button under my name or most anyone else's and I'm sure they will help you. You can send your pic to them after you give them your email address, and they will gladly help you.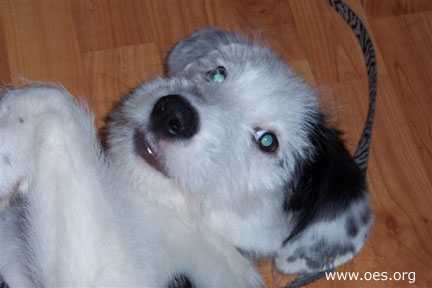 This is one of our first pictures taken with the new camera. Had to get the human brother and sister first. Scribbles is still adjusting nicely. Can't believe how smart she is. Our housebreaking experience with our Silky Terrier Doodles, has been less than successful. But keeping our fingers crossed things are going great with Scribbles and it seems to be helping Doodles too. I have already learned alot reading the threads in this forum. Thanks so much to all of you -
If you can't get the picture to work - please feel free to email it to me - and I'll post it for you.

Kristen
Does it actually post in the thread or elsewhere. How long does it take since I did just copy it to oes.org/incoming?
It takes Ron time to attach it - it probably worked - it will be a while before it shows up depending on when Ron logs in.
BritPresSyd wrote:

It takes Ron time to attach it - it probably worked - it will be a while before it shows up depending on when Ron logs in.

Very true!
Plus photos go in the "Photos" section... otherwise sometimes I miss'em.
Awwww.... Scribbles is very cute!
Didn't find exactly what you're looking for? Search again here:
Custom Search