Hi,
I am posting this info hoping someone can help.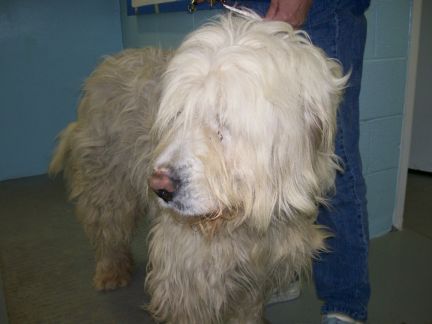 The website is not up to date. This boy is not on the site.
http://www.petfinder.com/shelters/VA310.html
-
Date: Wed, Apr 30, 2008 at 12:14 AM
Subject: Tazewell Co, VA: Cute Sheepdog type mix needs help!



Can anyone help this adorable shaggy boy? He appears to be some kind of blonde haired Sheepdog type mix, though with a good grooming who knows what he'll turn out to be! He's a big boy at about 60-70 lbs and he's 1-2 years old. He is good with other dogs and is very friendly!

If you can help, please email Lori ASAP at lsalyer@4sw.us (@4sw.us). The shelter is PACKED and he needs help! Please crosspost -- transport help is available!

THANKS!

Erin Silks/Transport Coordinator
Fairfax, VA
Respond to this topic here on forum.oes.org
Can anybody foster??
This boy needs to be pulled...
PLEASE!!!!!!!!!!
Marty called the shelter this morning ....
He is on hold for a rescue group!
They didn't say who but, we will follow up on Monday!
Can you tell me a little about this dog? I live about an hour or so form Tazewell, VA. I live in Weber City,VA. I may be willing to help out if I can. I have a 15 year old male OES and a 4 year old female lab. Please contact me if you need my help.

Ashley I
hi everyone I will take a sheepdog that needs help. and if its deaf thats ok,thanks
I am not sure where you are located but, volunteers are always needed!
I think any website you go to for OES Rescue has a Volunteer Application form!
Thanks for your offer to help!
Didn't find exactly what you're looking for? Search again here:
Custom Search