A wildfire broke out in the local mtns @ 4pm.
Billy spotted it at @ 7pm and called me out to take a few shots.
It was so windy! Even with the tripod I couldn't get a really good shot because the tripod was shaking in the wind.
At one point it kicked out from under the camera with a gust of wind.

Luckily I had a good grip on the camera.



This was taken from my backyard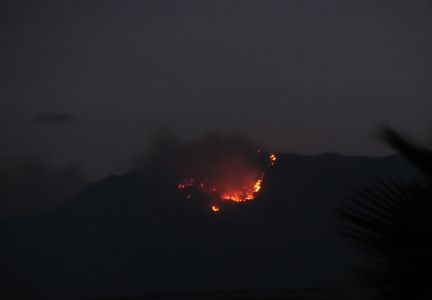 Here is the link to the bigger image:
http://photos.oes.org/displayimage.php? ... fullsize=1
Respond to this topic here on forum.oes.org
lovely phot. did they control it?
It is not controlled at this time. They say it has only burned about 5 acres and no homes are in any immediate danger.
But the fire looks HUGE from here.
They just updated that the 5 man crew sent up to the fire just arrived.
The fire is at an elevation of 6000 ft on the Apache Ridge.
So they hiked up. They said they think there is snow in the area and that is slowing down the spreading of the fire.
We are having a similar problem here. We have had a fire burning for about a week now about a mile south of me. You may have heard about it on the news...wild fire in Florida. The fire is at the Port Saint John Exit off the expressway. We are the first subdivision from the exit. In the morning with the moist air and smoke it is hard to see. By daybreak we are mostly dealing with the smell. Yesterday the winds picked up and I could tell the burning increased. They had been flooding the area to stop the fires that are in the ground from burning. It smells like smoke this morning.

I hope they get the fires in the mountains under control soon.
Wow...it's early for the fires to be starting. Hope this isn't an indication of things to come this summer when it really warms up.
That looks close!
I hope they get it under control. It is awful early in the season to start with fires - yikes!
got sheep wrote:

That looks close!
I hope they get it under control. It is awful early in the season to start with fires - yikes!


Ah, the power of the zoom lens.
It is about 4 to 5 miles away and at an elevation of 6000 ft. As they kept saying on the news the fires look closer than they appear. And they do appear to be close.
I do hope they are able to get it under control today.
Wow, it looks like a volcano.
I hope they contain it quickly as it is not yet registered on http://www.nifc.govwhich is a clearing house for forest fire info.
Steph, it did remind me of a volcano too.


Susan, according to the latest update, the fire has now burned 650 acres and is not controlled.
http://www.cbstv2.com/Global/story.asp?S=8246784
thanks for the update. Apparently info on the fire info center doesn't get updated quickly. If you are having the winds we have right now, it could be bad ..the fire may explode. I hope not. But Calif. underbrush is made to burn..........
We have a high winds warning right now. The wind is blowing at around 23 mph with gusts up to 50 mphs here on the Desert Floor.
I am not sure what it is like at 6000 ft, but it looks pretty windy, the smoke is all over the place.
Not good. I'd be thinking about emergency procedures.....like where are important papers, pills, etc and "if we have to get out of here how quickly can I gather them up."

I have a friend who lives in a narrow mountain canyon with just one way in and out. Come fire season they have their "stuff" packed and ready to go in the front closet.....save last minute grabs.

I realize you are on flat ground, but still, didn't you have a fire scare a few years ago??

Will get awfully smokey. We had a fire 40 miles south last week......messy.
As of this evening the fire has been fully contained.
Didn't find exactly what you're looking for? Search again here:
Custom Search