These are PERFECT for freezing to eat anytime and can be ready in 15 minutes!!

Southwest Eggrolls and they taste identical to Chilis restaurant but aren't fried!

Easy and I double the recipe to have more on hand.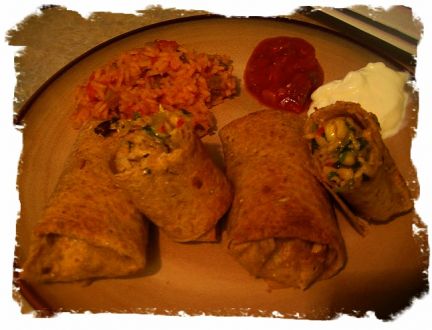 * olive oil
* 2C skinless chicken breast (about 2 chicken breasts although I thinned mine out and used 1 large one) ...or just use already made tyson chicken

* 1/4C chopped green onion
* 1/4C red bell pepper
* 2/3C corn (drained from can or frozen)
* 1/2C black beans (rinsed and drained)
* 1/4C frozen chopped spinach, thawed and drained real well!!
* 1 can green chiles
* 1T cilantro or parsley
* 1t cumin
* 1t chili powder
* 3/4t salt
* 2C shredded mexican blend cheese
* 10 (6 inch) wheat tortillas
PAM


With Tablespoon of oil, cook chiciken breasts on frying pan for about 5 min per side. Remove to let cool

In same pan, add another T of oil and cook (med heat) the green onion and red pepper for 5 min. or until tender.

Dice chicken. Add to pan with corn, black beans, spinach, green chiles, cilantro, cumin, chili powder & salt. Remove from heat and add cheese until it melts.

Put tortillas in microwave for 1 min.

Put equal amounts of the mixture into each tortilla. Fold like a burrito and secure with toothpicks. Wrap each in plastic and freeze for at least 3 hrs. Can keep frozen up to 4 months.

When ready to eat, spray with pam & bake at 450 for 15-20 min. (whenever outside is nice and crispy brown looking)

I just line mine up on pan with pam, then spray more pam on each one (which makes it crispy). Creamed spinach also tastes good w/this.
Respond to this topic here on forum.oes.org
I made these last night and they ROCKED! Thanks for the recipe!
Good to hear! I love them! I eat them with a cilantro cream sauce. Mmm..
I just can't seem to get a good picture (clarity) but this is still one of my favorites and the best part is... having leftovers that I just have to take out and bake!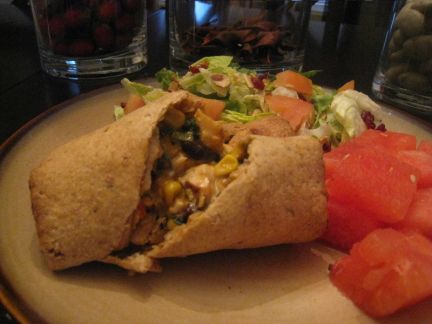 With my new oven, I cook at 425 for probably 13-15 min, and I don't use toothpicks.
Didn't find exactly what you're looking for? Search again here:
Custom Search