I hated pudding as a kid. Hate is being kind, but when Mr. J asked me to make some b/c he missed it a month ago, I've now made it twice a week for the past 4 wks AND have gained 4lbs due to me not being able to control portion sizes.


I don't have a trifle dish, but plan on getting one, so in the meantime, here's my not so fascinating pic.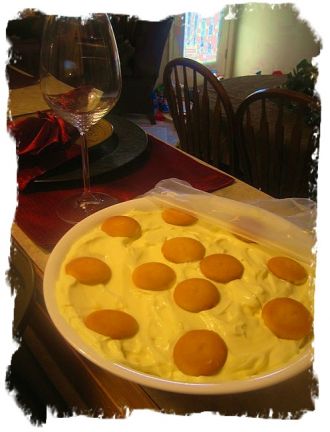 I've made it by adding an 8 oz of cream cheese, and using frozen whipped cream in place of the heavy cream, but I like it w/o both items. Too sweet to me. Another reason why I prefer using the cold water over the cold milk.

* 14oz sweetened condensed milk (can)
* 1.5C COLD water
* 3.4 oz instant vanilla or french vanilla pudding mix
* 2C heavy cream
* 3 bananas, sliced very thin
* 1/4C (or more if necessary) lemon juice
* nilla wafers

large bowl: condensed milk, water, and beat in pudding mix until lumps are gone and stick in fridge for 5-10 min

meantime, whip heavy cream w/mixer until it becomes thick like whipped cream (5 min). fold into pudding mixture.

3. Dip thinly sliced bananas in lemon juice. Shake off excess.

4. In large bowl, layer wafers, bananas, Cup or so of pudding. keep in fridge.


Now to eat some more for lunch
Respond to this topic here on forum.oes.org
Whats b/c ? bananna & custard!


because when i'm lazy
How are you not overweight?
Is this better than Paula Dean's?? Looks as good.
I love love LOOOOOOOOOOOOVE banana pudding, my Mom made THE BEST.
That's really similar to Paula Deen's "Not Your Mama's Bannana Pudding" which is the absolute best recipe for bannana pudding I've ever tasted. Yummy doesn't even begin to describe it. Every time I make it, the family literally licks the bowl clean.
I love Banana Pudding that is why I don't make it. I would be like Tammy's family, but would have the pounds to show it. lol

I love your recipes Mrs J and the pic with, what appears to be torn frames.
I'll have to look at her recipe then b/c I'm already "literally" licking the bowl clean with this. So bad that I wake up in the morning just to sneak another bowl in. Made some more last night, and I feel like I missed out as a child b/c I never (and still don't) get why pudding would be anyone's favorite dessert. How can this be sooo good? Mmmmmmmmmm...
Just wanted to say I tried her recipe which was the same one I found prior to trying this one. It was de-lish, but I hate having to wait for my cream cheese to be at room temp! I want banana pudding!!! But I did love the concept of using Pepperidge Farm Chessmen cookies instead of nilla wafers!!! YUM! I have a package right now in front of me, but w/my pudding.

My change now is just using 1C of heavy whipped cream instead of 2. I prefer 2, but husband likes it to taste more like pudding than whipped (mmmm.......) ...so this is more for him. Both ways are excellent


Lil J is eating some now with some berries on top. Soo good
Yeah, I know what you mean, Jo. Usually, what I do when I'm thinking about making something with butter and cream cheese that needs to be at room temp is put them out on the counter a few hours before I'm planning on using them. I hate it when I forget though. If I do, I usually just put them in the mircowave in a bowl for about 30-45 seconds to soften them. It works just as well.
Didn't find exactly what you're looking for? Search again here:
Custom Search