While some folks claim cats and dogs have a natural dislike to one another that's not neccessarily true. They just misunderstand one another in attempts of play. Dogs love the play/chase while cats get agitated at the chase part.

In another post, I mentioned that dogs naturally love to chase things that run. Kitty might see a dog and run, dog give chase, but then if they catch them don't know what to do or if kitty suddenly stopped and faced the dog - the dog is confused or turns away.

Some dogs have a high prey drive such as Malamutes and Huskies and may attempt to injure a strange cat if cornered, but gentle with the ones in their own home. Not picking on a particular breed as just some dogs have a higher prey drive than others - our guys love rounding them up as that is their instinct.

A majority of dogs chase bunnies and this is a bit of different dynamics. Bunnies are prey animals and may become so frightened they can die of a heart attack if cornered by a dog or cat. I also have 11 bunnies at home and will slowly expose them to the dogs. A room where they can smell one another but not see in in order to get them used to each other, then a gate where they can see one another but bunny always has a place to retreat. My bunnies now can enjoy time outside in x-pens and large enclosures and the dogs ignore them.

I've oftened wondered in terms of mathematics what the numbers of introductions one on one is in my home with all the furkids - must be in the hundreds. Cats meeting new cats, dogs meeting cats, cats meeting bunnies, dogs meeting bunnies, ect..

Overall it's a peaceable kingdom and while what works for some doesn't work for others - persistance does pay off. They unbelievably all get along or tolerate one another.

The animals always have to have a place to escape from if things become too stressful for them.
Baby gates..love them!
Hidey places for the bunnies -even when in their x-pens
Slow introductions..even if for one min only then slowly increase time - always ending on positive note before things get stressful for any.
Patience..it could take months sometimes but does pay off in the end.
Don't feel too complacent and never leave them alone in cases which one is a prey animal and the other a hunter - always supervise.

Here's some photos of interactions I've had the pleasure of viewing in my home. Decided not to write comments in order to save space..kinda long.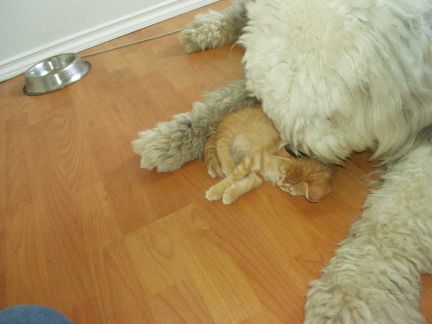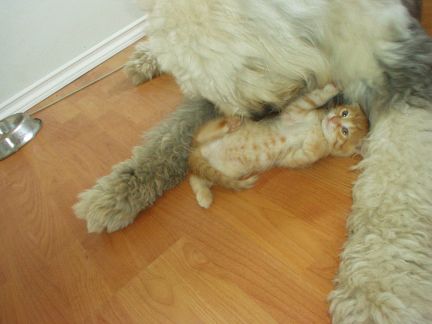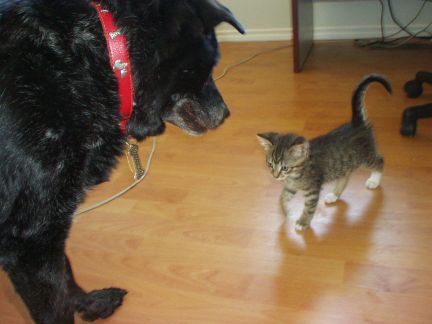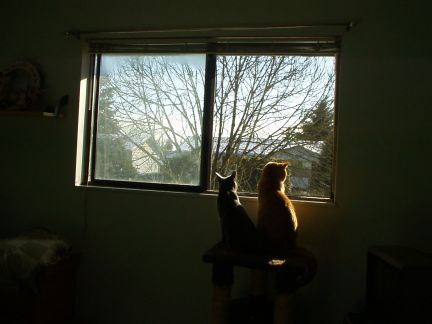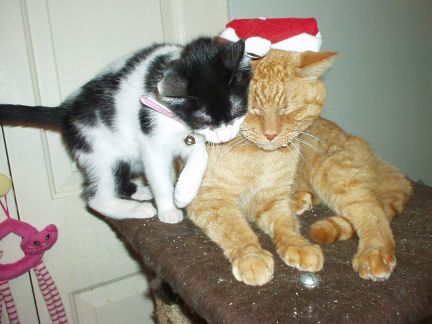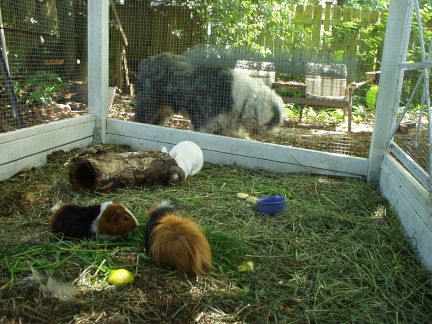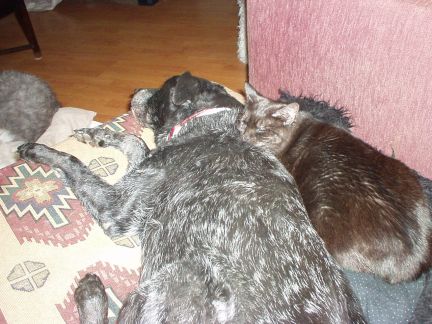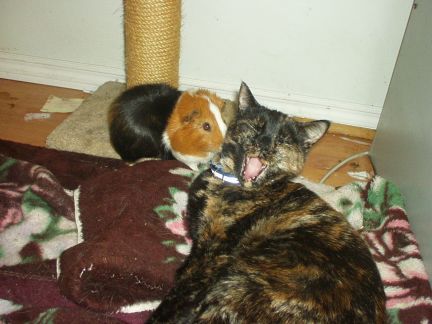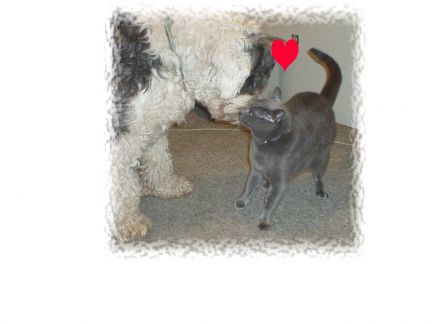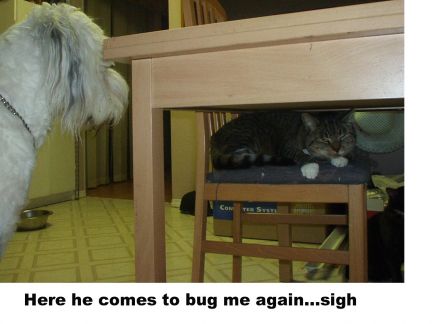 Respond to this topic here on forum.oes.org
Great pics, Marianne!

When I was 19, my boyfriend that I lived with and I wanted a dog.
We ended up rescuing a severely underweight Husky and it we were told this dog had lived with cats and had no problems with them.
NOT TRUE!!!

The first night at the house My poor kitty Murray got mauled by this dog.


We did not take the dog back to the Shelter, we took her to a rescue.
I did call the animal control where this dog had lived and was told the owners had tried to bring her there, but they refused to take her due to her high prey drive. They said they had been called out to the owners house by neighbors due to the dog killing bunnies.
There had been so many complaints that animal control would have taken her and put her to sleep.... would not have even attempted to put her up for adoption.

The previous owners had kept her tied to a tree and when she would see a bunny or squirrel or whatever that she would get loose and chase it and usually kill.

Murray was sound asleep when the dog came after him, she had just left my side for the first time and was checking out the house when we heard a HUGE commotion in the bedroom. The Husky had gone after my sleeping cat.

Murray suffered major nerve damage in his rear leg due to the dog grabbing him by the back of the leg. For the rest of his life, he hopped like Pepe LaPew.


We immediately contacted a local rescue who said they would take her, but they would have to wait until they had room and asked if we could keep her until then. I knew this dog needed a another chance, but with no other animals.

So she stayed on the porch until the Shelter took her. In the week that she stayed we found out that she was a very sweet dog. But due to the fact she tried to kill my cat she could not stay. It would not have been fair to Murray who was now hurt.

The Husky did end up in a great home with no other animals.

Other than that dog, the dogs I had when I had my cats had no problems whatsoever with them. A few chases here and there, but that was it.
My Boxer, Roxie even groomed the cats. She was very motherly with them. But if they wanted to play, which they would initaiate Roxie was very happy to chase them.
There are some beautiful pics Marianne! I love the sheepie/ginger kitty ones - how sweet!
Hi Again,

Elissa thanks for writing about your experiences and I realized when re-reading my post I almost made it sound as if it's rare for dogs to dislike cats but I should clarify that are some dogs that will injure cats. Pups and kittens seem to be except from this behavior as generally it's easier when they are young for introductions with one another.

Not always breed specific either, as I was heart broken to recieve mail from Mickey's first mom last month and she stated two dogs attached the colony that Mickey came from. 20 cats were killed at the feral colony by two dogs - one unbelievably was a Golden! While it is extremely rare it shows it can happen. The 90 year old man who acts as caretaker of the colony witnessed the event but was unable to stop it. He did manage eventually to chase them away.

It's so much easier when either one of the cats or dogs is young when exposed to the other...they will eventually get along or tolerate one another over time. Some become best buddies and will sleep and cuddle with one another such as the case of Panda and Blue who have their "favorite cats".

Daisymog - thanks for the comment - it's one of my favorites too!!! The SPCA used that photo on their website for some time as well.

Merlin loved that kitten and would be so gentle and tender with it - often grooming the little tyke. He really missed him when he was adopted shortly after that photo was taken, as the SPCA recieved numerous calls.

I was proud of my three big furballs as all were aware of the kittens in the home and were careful around them. Think Merlin worried about stepping on him and wouldn't move if he came too close.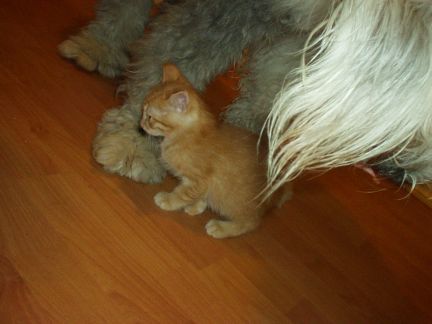 The calico kitty in the picture was also adopted to a wonderful couple who had two dogs and were searching for a dog friendly cat and also guinea pig friendly! She sends me updates and Teika (her new name) rules the household. The dogs adore her.

Marianne

I think that on entering your property some kinda of "Dr Doolittlesque: aura overcome all furry creatures and like Noahs Ark they cohabitate and communicate!
LOL Ginny!

As a 10 year old I first read Dr. Doolittle and always told my mom "that's what I was going to be when I grew up!" Read the book over and over again.

Now many years later ..don't think I can "talk to the animals" but they view me as Alpha B...
They understand the rules as whatever comes in - is not viewed as chew toys or food.


Marianne
Wouldn't you love to be able to understand the conversations they have amongst themselfves (guinea pig to dog).
I have three cats one who stays clear of Laika; she hangs out in the higher parts of the house. Another that eggs Laika on to chase her and likes to be licked by Laika. The third is a foster kitty I am keeping. Well he is a little spitfire and fights back. Which the others don't they go limp
well finally he stopped running away from Laika and it is adorable he rubs up against her and lets her lick his face. What a great cat!
AWWW! Sounds like the start of a beautiful friendship between Laika and kitty. I bet in a few months you're going to post pics of the two of them snuggling together!

Marianne
well when I groom Laika he jumps on the table and lies by her... cute!
Your pics are soooo cute!!!

I have five dogs and two cats, now, one of the dogs had babies and I´m having 5 puppies for a while as well. My house is a complete mess, but we all get along very well, we´re a big family
Didn't find exactly what you're looking for? Search again here:
Custom Search