Thought I'd start a new thread to update you all on the three females that were for sale in Charlotte.

We were able to work with the owner and she agreed to turn all three of them over to TOES.
I picked them up last night and brought them home with me. They're all three very sweet and I'm sure we will have no trouble placing them once they've been vetted and assessed.

I'll have pictures and more details for you next week and we'll have them up on the TOES website then, too.

Just wanted you to know that they're safe and to say a big THANK YOU to the forum members who helped make this possible.

P.S. I now have four female foster dogs plus my Genevieve at home. Beaureguard must be thinking he's got his own harem.
Respond to this topic here on forum.oes.org
Yay! I'm glad the owner took you up on the rescue option and that the girls' temperaments are good.
Because of your patience and offer of assistance, these girls will find wonderful new homes.
Thanks for your dedication and devotion, Tammy.
ya what great news pics please.. how old are they? good job as always!!
We're all so glad to hear the three are safely at home with you Tammy
Thanks for all your hard work and determination in getting them into rescue

just a question: are these dogs really IN TROUBLE?
or were they accidentally posted under the wrong thread?
Thanks again Tammy for everything
any dogs without a home are in trouble
They aren't in trouble any more... it is an update from a previous thread.

There were 3 unaltered females being sold because the owner was
getting married in April. There is one pup left from the last litter.

So 3 females will be altered and find new homes where they'll
be allowed to simply be companions rather than getting into
the wrong hands and being used for profit.
How old are they? Awwww....just dreaming of having another sheepie in my home.
the line forms behind me
Me first! SamSun said he needs a little sister.
Tammy
That is great news!
Wow---I can't imagine poor Beuregard with four b****
Good luck big guy!
Hugs
Kathy
Well, I even miscounted 5 b*******
And poor Beaureguard
Busy fella he will be!
Can any man make that many gals happy??

Time for a job buddy!
Beaureguard is enjoying his new playmates.
I'm not sure he really knows or cares that they're all girls, just as long as they like to play chase or hide & seek, he's happy.


I am pleased to say that the entire pack is getting along famously and are playing well together. Thank God.


The girls will be on the TOES website shortly.
Go there to fill out an application. Belinda's starting to sort through them now.
You'll have to rename him Hef
barney1 wrote:
You'll have to rename him Hef


HAHA!
Honey, Maddie and Sassy are now posted on the TOES website.


I think Beau might be doing his "Hef" impression here.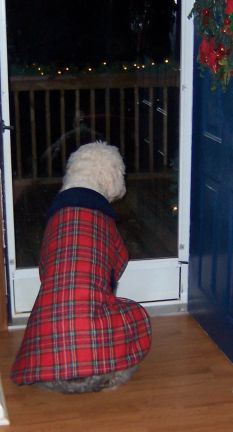 Oh my... two are just pups at 9 months old.
Assuming Sassy is the mama?
I'm so glad you got them into rescue.
Quote:
I think Beau might be doing his "Hef" impression here.
How funny is that picture...look out Hef, there is a new kid in town!!!
6Girls wrote:
Oh my... two are just pups at 9 months old.
Assuming Sassy is the mama?
I'm so glad you got them into rescue.


My sentiments exactly!!!


Not sure if Honey & Maddie are related to Sassy or not.
That's a great Hef pic!!
They are beautiful!!!
Geesh Tammy
They are cuties!
You are a busy gal....
So happy they are safe with you!
Hugs
Kathy
Oh he's much better looking than Hef but I think all the girls might be going to his head!!
Love the Hef look
I'm in love with them all
Didn't find exactly what you're looking for? Search again here:
Custom Search