This is out of this world, and so simple to make. I remember first being scared b/c of the amount of curry (tablespoons) used since I'm NOT a curry fan, but if anything..it can use more (both my husband and I think so)! It's the perfect amount. If you halve this recipe, only halve curry powder, oil, and chicken.. you still need the same amount of EVERYTHING else for it to come out correctly.

If you haven't tried Indian food, this is a good starter and something you can find in a restaurant imo!


Should serve with jasmine rice or mix in cubed potatoes while cooking but I didn't have any so regular rice did fine.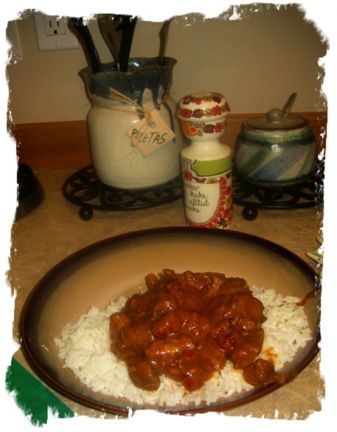 * 4 chicken breasts, cut into 1/2" chunks (I usually just use 2 b/c I'm only cooking for 2 and there's always plenty left over for another meal)
* season w/salt&
* 1 1/2T oil
* 2T curry powder
* 1/2 onion, thinly sliced
* 2 cloves garlic
* 14 oz can coconut milk
* 14.5oz can stewed diced tomatoes (i hate stewed tomatoes and for this recipe... it compliments it PERFECTLY!)
* 8oz can tomato sauce
* 3T sugar

Season chicken w/s&p

Heat oil & curry in a large skillet over medium-high heat for 5 min. Stir in onion and garlic until translucent.

Add chicken coating w/curry oil.

Reduce heat to medium, and cook for 7 to 10 minutes, or until chicken is no longer pink.

Pour coconut milk, tomatoes, tomato sauce, and sugar into the pan and keep a nice simmer going (uncovered) until sauce becomes thick. 1-2hrs.