My Teddy (otherwise known as Tedward) was herding sheep on a small farm when I got him. My daughter swore he missed his sheep so we bought him a little stuffed one....well that has grown into 10 stuffed sheep right now (no doubt since I work at a pet store) and he does the funniest thing...he has one he carries around all day (a different one each day) but at night when he sees we are all getting ready for bed, he collects all his sheep and puts them in one pile on the bedroom floor in my room (where he also sleeps). It has grown into a fairly large pile by now but it is so cute to watch, like he has to herd them all to bed before he can go.
Respond to this topic here on forum.oes.org
awwww that is so cute...and worthy of a picture!
ahhhh we need a picture.
That story just warms my heart!
Here it is...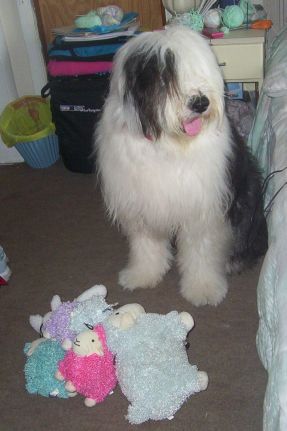 his little pile right next to my bed where it always is...so I step on it first thing in the morning and inevitably make one of them squeek so he gets upset with me!! But I wouldnt trade him or his sheep for nothin!
nice herding technique!
Mr. Teddy looks so cute in that picture.
What a great story! He's so handsome.
Don't buy him a stuffed wolf, he'll tear it to pieces protecting his flock. What a good boy, putting all this little charges in a pack at night.
My gosh is that cute
. My little guys have this one, although I don't think it grunts anymore:


http://toysandtreats.petedge.com/Zanies ... goryId=912
Teddy and his sheep are adorable. What a good boy!!!
Oh, I love it! So cute!
Nigel has the barnyard sheep too!. I have to buy a lot of them since he sleeps with it...they kill the grunties too. That is an adorable picture and he looks like my Nigel...same eye patch.
That is too too cute!
too Unbelievable!!!! peeps just throws her toys all over the house.
Awwww....what a great story! I am so impressed with Ted!!
Ahhhh thats so sweet! And very smart, too!
Didn't find exactly what you're looking for? Search again here:
Custom Search