Kramer's Mom (Donna) wrote:

I just wrote Kramer's in Memoriam for the Tales End. It was one of the hardest things I ever had to do. I can't believe that my baby is gone. He was just the best dress up doll I ever had....LOL.

Ron, if you could, would you post this for me?

Thanks,

Donna



KRAMER---April 25, 1995-Jan. 19, 2008. Adopted from NEOESR, March 23, 1996. Beloved companion of Stacia Doherty and Donna Couture. Retired Blood Donor Dog. Colonel Kramer in Wigglebus.com. Paw Revere, OESCA Parade of the Rescue Dog. He belonged to everyone whose heart he touched.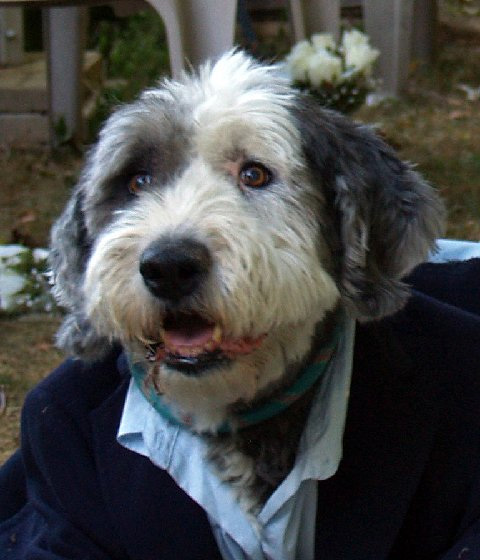 Respond to this topic here on forum.oes.org
Oh, I'm so sorry. I know you'll miss him incredibly. Our thoughts are with you.
I am so sorry for your loss.
Our thoughts and prayers are with you and your family. I am so sorry for the loss of your handsome Kramer.
Sorry for your loss.
So sorry for your loss.......
I'm so sorry about your handsome sheepie boy, may all your happy memories of him help ease your sorrow
I had to smile when I saw Kramer's picture. So don't think of his death, think of how he made strangers happy. I hope your hearts stop hurting soon.
I am so sorry to hear of the loss of your beautiful sheepie boy Kramer. He will be dearly missed....what a handsome sheepie he was.

Tears,
I am so sorry for your loss. Kramer was quite dapper!! His picture brought a smile to my face....im sure he made a lot of people smile.
Donna,

A wonderful tribute to Kramer. Thank you for sharing his picture with us.
Think of all the lives of dogs that Kramer saved with his blood donations!
I am sure he lives on in the
hearts
of those he saved as well as those he touched.

My deepest sympathies to you and to Stacia.
I'm so sorry for your loss of Kramer. He was a beautiful boy, and looked SO handsome in his suit!
What a loving face, I am truly sorry for your loss. He touched many lifes.
Donna,
Kramer was always a good-looking Sheepie, but this photo really makes him shine. It seems like he is right here in person.
He was a true friend and companion, to you and his community. Our hearts go out to you.
Joan and Mulligan
He looks like he was such a fun & sweet boy. So sorry for your loss.
Dear Donna and Stacia,

I'm so sorry to hear of Kramers passing. From what I read of him he was an amazing spirit who through his donations saved many lives. That makes him a hero but I'm sure he was more than that to you - he was your boy and that made him special. His photo touched me deeply - those amazing eyes show wisdom! I'm deeply sorry for your loss and may all the animals at the Bridge give him a hero's welcome.
Marianne
My thoughts are with you...
Donna, I am so saddened to hear of Kramer's passing. He was such a wonderful boy!

I'll always remember his as the "Boston Baked Bean Pot" at the 2005 OES Specialty and as "Paw Revere" at the 2006 Specialty Rescue Parades. Just seemed like something was missing from the 2007 parade when you and Kramer weren't there.

Kramer has touched the hearts of may through his good deeds and sweet demeanor. He was one lucky pup to end up with someone that loved him like you did.

Nita
Donna
I am so happy that we were blessed enough to meet that man!
What a great boy he was...
Happy to wear his outfits and didn't bat an eye at all the attention he got
He knew he was beautiful and loved it!
God Speed Colonel Kramer----you did awesome work here
Hugs
Kathy
I'm so sorry.
My deepest sympathies. He was adorable and so very special.
Didn't find exactly what you're looking for? Search again here:
Custom Search