Hello friends,

I'd like you to meet our new foster boy, Brady. He's a great guy and is getting along well with our two girls. I hope you like these pics of him with his full coat. He's badly matted and a trim is headed his way very soon.

Meet Brady,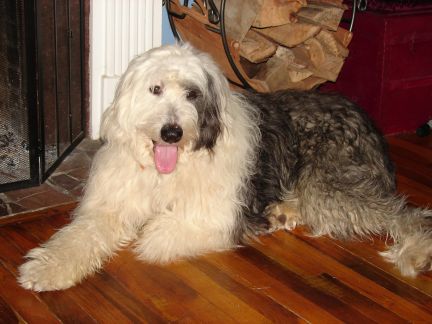 Playing with Sadie and Stella,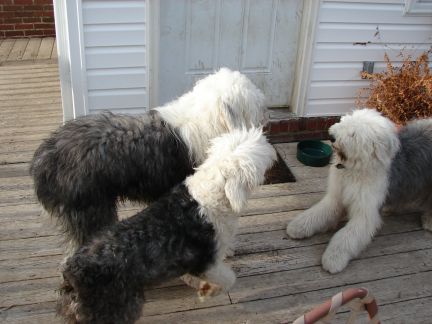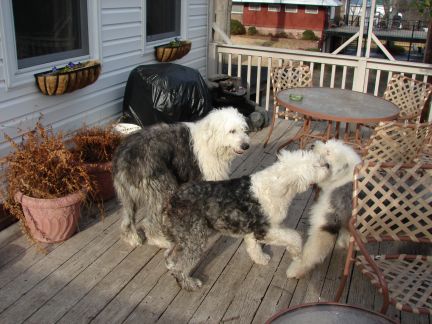 Brady on the go!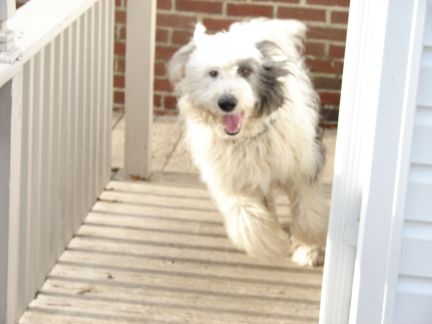 Sadie and Stella introducing our boy to Fleetwood next door.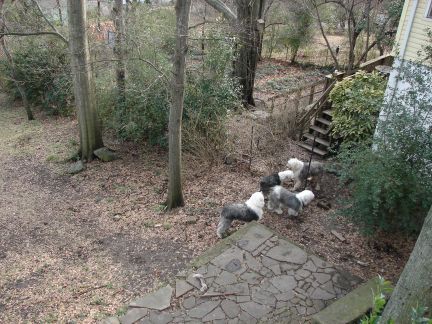 Respond to this topic here on forum.oes.org
Oh is he ever a handsome lad! Enjoy him!
what a handsome fella!!!!!
oh, he's cute!
Brady is cute...and how cool that you have a sheepie living next door!
WizardMerlin wrote:

Brady is cute...and how cool that you have a sheepie living next door!



I was thinking the same thing.. Brady is a cute pie.. so are your girls...
WizardMerlin wrote:

how cool that you have a sheepie living next door!



It's a Sheepdog world, I'm just living in it.
Lucky boy, 2 girls to fight over him and a next door neighbour. Love your garden..
he is a darling.... 4 sheepies I wish
What a handsome guy! I am so evious of those with a housefull of sheepies.
He is a handsome fellow! Tell us a bit more about him. How old is he?
He is two years old and is a great guy. He's been a little neglected so he's shy at first but once you're friends he doesn't leave your side - which is making Stella a little testy, but it's working out fine. Brady and Stella are actually spending some quality time just the two of them in the yard today because Sadie is at the vet.

He's heart worm negative, on prevention and up to date on his shots. Brady will be listed on the OES Rescue Network of the South East website - http://oesrescuenetwork.org/available.html, as soon as he is neutered (Thursday) and had his mats dealt with, probably later this week.
Oh he is just scrumpious. What a pretty face ! He looks like he's be fun to hug.
wonder how he is with boys ?? my derby is always wanting to play
Brady's a star!

He's made it to Petfinder.com check it out... http://search.petfinder.com/petnote/dis ... d=10207706
He's adorable!

I hope he finds a furever home soon.
Ooooh... he's beautiful.
Thanks for watching over him until he finds his new home
Great pictures! Maybe you'll flunk fostering
Why, Why, Why????? Do I surf this thread. I always find someone I fall in love with. I know Ralph needs a buddy.
Sheepie heaven! I'm sure he's having a wonderful time at your place!
He is very, very handsome!
It is always a bonus to have a foster that plays well with others
They look like they have been buddies furever!
Thanks for caring for the special boy!
Kathy
He is such a hansome boy
Well, Brady finally got his haircut today, and of course the temperature dropped into the 20's. Poor guy. After I picked him up I took him to work with me and got these pictures.





Brady v The Giant Ape

CBC26 wrote:
After I picked him up I took him to work with me and got these pictures.
OK.... I'll ask..
Has anyone noticed that you seem to work with a giant ape?
We made the ape.
CBC26 wrote:
We made the ape.


And couldn't part with it? That would be a heck of a garage sale!!
Colin and his brother are very talented people! You should surf his website, there are some really interesting things there. Wish I had only half the creativity! Glad Brady is going to his furever home soon, but I know you two will miss him.
I am from Colorado and am looking to adopt a oes.
I have always had standard poodles.
I had to put my last one to sleep (3 years ago) and am finally over it so ...
I dont want to go throught the puppy stage so would like a 2 year old who plays and snuggles.
I live on a state park so there would be plenty of fun time for him (i have always had "hims".
Brady looks perfect .
Is he still available? Any ideas on transportation.
Thanks, Tom
ps. he seems to be on the smaller side which is fine by me. is that true?
What great photos of Brady and your furkids! I especially like the one of him "on the go".

I'm also envious of your backyard and you have a neighbor with a sheepie as well? How lucky is that?

Okay there must be a story about that giant ape and inquiring minds want to know!!!!

Marianne
tmyslik wrote:

Brady looks perfect . Is he still available?



Hi,

Thanks for your interest in Brady - he is a great dog.

He is already in the process of being adopted. In fact his new family would have picked him up yesterday but we are waiting for the stitches from his neuter to be removed.

I'm sorry to disappoint you.

There is an OES Rescue group out of Colorado - http://www.oesrescueofcolorado.org/. Maybe you can find a new friend there.

Good luck and let us know if you find who you're looking for.
Marianne wrote:

Okay there must be a story about that giant ape and inquiring minds want to know!!!!



We made him at my shop for a client. He was a Valentine's Day gift. You can check out a picture of the final product at this link - www.ozworks.com/kong.jpg .

Last year we made a T-Rex - now having to share the backyard with Kong.
Brady just left with his new family.

He is a great dog and now he has a great family that is very excited and happy to have him.

We will miss Brady.
That is wonderful! Best wishes to Brady in his new home.
brady is back on petfinder what happened
Yes, I'm headed to Atlanta tomorrow to pick up poor Brady. He hasn't been getting along with his new family's current dog.

So it looks like he will need to go to someone to be an only child.
Oh darn.


Sometimes things don't work out the first time.
We had that happen in our basset rescue. A friend and fellow volunteer adopted a young female with a big history. She got along great with her other dog, but was trying to eat her cat. She tried and tried, but Mary Jane would NOT leave the cat alone. Another volunteer who had been interested in her also tried next. She fit in their household with 2 other bassets perfectly (no cat!). Mary Jane has been part of their family for several years now and is a whole new dog.
Oh dear.
Poor Brady. Perhaps he will be happier being an "only" dog and getting all the attention himself.
The family didn't give him much time.
I am glad they are returning him though.
If they are short on patience, they should not get a sheepdog.
brady's back? hmmm


where do you live again?
Brady is here http://www.oesrescuenetwork.org/available.html
i have just filled out application for brady.
i have a brother and friend near pensacola.
how far is it to brady's home? i could get my brother there for a first meeting.

thanks
Hi,

I wanted to let everyone know that Brady has a home. We took him to his new family on Tuesday, and by the report I got this morning all seems to be going well. He gets along and plays with their Havanese, and just avoids their poodle.

I'm very happy that he was able to go to a home with other dogs because he and Stella had become such great friends.

We miss our boy Brady but for now it's kind of nice to be back to our 2 sheepdog alignment. However, I just got an email from Ingrid - it looks like we'll be fostering another boy soon.


that is great news relax time now
Didn't find exactly what you're looking for? Search again here:
Custom Search