Joan is experimenting with a crockpot we got as a present. Neither of us has used a crockpot before.

She has a 2.8 pound beef brisket in there set on "low" and it's supposed to go for 9 to 10 hours. The options for temp are low, high and warm.

The lid is making some rattling noises as I guess the food is simmering.

Is this normal? Does it sound like the right temp?

Thanks!
Respond to this topic here on forum.oes.org
Yes, very normal...and it will be delicious! The lid rattling is the heat building up. It shouldn't be huge rattling, but schuchin' around is perfectly fine. You did put some liquid in, yes?

I love my crockpot! You and Joan will use it alot. I even use mine in the summer, so the oven doesn't heat up the kitchen.

One word of warning....once I was having company for dinner, so I prepped and started the stew in the morning. When I got home, I realized, I never plugged it in! So...it turned into Chinese food night! (I have never made that mistake again!)

Enjoy!
Yep Ron....it's normal. Like debcram.....I too looooove my crockpot. You will love your's too. You'll find all kinds of clever ways to prepare meals in it. Let us know how the brisket turns out.
As for the temp. Mine has a setting for high, either for 4 or 6 hours....and a warm setting. I only use the warm setting after the food is done cooking just to keep it warm until I serve it.
I just checked the meat. I stuck a temperature probe into the crock pot and after 8 hours the meat's internal temp is 212F and it felt quite tender to the temperature probe. Normal temp for cooking beef would be to maybe 165F. Should I be concerned about over-cooking?

Does it need to continue to the 9 or 10 hours?

Should I let it continue?
Should I stop?

Should I start/stop/continue drooling?
You're probably still ok as long as you have some juice in their, though I usually don't use the 9-10 hour setting unless I put the meat in frozen.
Even on low...I do 7ish hours. Don't worry about the temp, though. The key is to make sure there is enough liquid. It will only get more tender if you keep cooking.

Mmmmmmmmmmm.....Now, I'm hungry!
Quote:

Should I let it continue?
Should I stop?

Should I start/stop/continue drooling?


It's pretty hard to over cook meat in a crockpot as long as you have enough liquid. The longer the meat cooks....the more tender it will be. Sometimes I cook a roast 8 or more hours until the meat just falls off the bone. I haven't cooked any brisket in my crockpot....but the way I test for doneness is just slice through the thickest part of the meat. If it is how I prefer it......it's done.

Good Luck.....now you can go back to your drooling.
So, how was supper??
We also use our crockpot often. Todd just made some yummy pork chops in it last week. I had bought a value pack - about 6-7 boneless chops.

He added a can of cream of mushroom w/ garlic soup, and a little salt, pepper and water. When it was done he added a few slices of velveeta cheese and let it melt into the sauce. Served it over baked red potatoes. It was delicious!

Crock pots are the only way I make a roast. They always are moist and tender. It is great coming home to supper all done too, and the house smells great.
Well.........

The meat was so tender that it was hard to get it out of the crock pot in one piece. It turned the brisket into a pot roast I guess. Couldn't cut it across the grain, it was shredding, so we just served it in hunks ala pot roast.

On the other hand, it was kinda dry. How much is "enough liquid?"

The taste of the meat was so-so. I guess one can't expect to turn a pig's ear into a filet mignon. Once covered with the gravy from the pot, it was quite good. Yummy even.

I guess it's just different that what I'm used to. We'll keep experimenting!
Ron, I didn't want to tell you, because you had already started cooking it, but brisket doesn't fair well in the crockpot. I always cook mine in the oven....unless I'm making b-b-q and it needs to be "shredded".

But don't give up on the crockpot! There are a million other things that turn out great!
Oh yea...and NEVER make a corned beef in the crockpot. Doesn't work, doesn't taste good.
Huh. The only way I've made corned beef is in the crockpot and it was so good there were no leftovers........
I'm pretty sure I made corned beef in the crock pot last year for St. Patrick's day and it was yummy. Usualy, I bake or grill it, but I was pleased with the crock pot version. It was more like Irish stew, though, with all the carrots & potatoes, etc thrown in there, too.
What size crock pot do you guys have? I'm convinced that mine is tiny.
Hmmmm...my corned beef last year (first time I made in the crock pot) was just not good. I usually boil it. Its didn't taste good, and like Ron's brisket, I couldn't cut it, it just fell apart, and not in a good way.

Maybe it was just a bad piece of meat...that's happened before. Guess I'll try it again.
Hmmmmm...

We've always made corned beef in a pressure cooker.
I don't have a pressure cooker - I'm afraid I'll blow up the house
I haven't used a pressure cooker in years. I don't think I even have it any more. But, I do remember liking it when I used it. Hmmm...wonder where that thing is...



Have y'all not ever cooked corned beef in the oven?
I use water & seasonings in the casserole dish like you would on the stovetop & cover it loosely with foil.
"Have y'all"...



You southern girls are so adorable!
Thanks, Deb.


But seriously...have y'all ever tried it that way?


Mandy - I'm not ignoring your question. I just don't know the answer as to how many quarts my crockpot will hold. It's not one of the bigger ones, though, so I'd say probably 3-4 quarts?
I want a much larger one and have been looking at them as well as at coated cast iron cookware. I want some of that, too.
Water - it depends on the meat. I use a boneless pork roast (rolled in one of the netlike bags) a lot. The are pretty well marbled, so I don't add any water at all. Just the meat, and I sprinkle it with the rub/seasoning of choice. I sprinkle and rub it in with my hands - on all sides. Mince up some onions and cook.

Ron - it sounds like your meat ended up overcooked. The flavor does change (in a bad way) if it goes too long. It is forgiving though - This is hours, not minutes too long like other methods.
Mandy, my crockpot is on the small side--maybe 2 quarts--because it's just me. There is a teenytiny crockpot that is useful for heating dips and that's about all. If it's just you, the small-ish size should be just fine.
I saw that miniature crock pot at the store the other day and could not figure out what it was for!!

Whenever I want to cook a whole hunk of meat in my crock pot, I end up with it standing on end and barely any room for anything else. I think I might need to scale up.
Maxmm wrote:
Whenever I want to cook a whole hunk of meat...
Okay....that's funny!


Any idea how many pounds your roast is?
This crock pot is HUGE. It's a 6 1/2 quart stainless steel Rival stoneware slow cooker. It was a gift.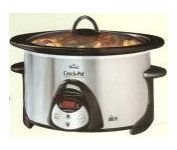 It also spits a little water as the lid bounces around a bit. We may have to put it way up on top of the fridge if we want to let it run and leave Mulligan at home alone.

I definitely should have turned it off when it was at 8 hours and the temp probe went in easy and it was 212 internal temp. An hour later it was still 212 internal. The cooker was only about 1/4 full... maybe we'll have to put something bigger into it and some more water.
I have found that broths work much better than water with meats such as chicken and beef. Also-- I find that less is better than more--- let the meats cook in their own juices on low rather than add too much liquid. In my opinion it waters it down too much. Of course you need enough liquid so it doesn't burn. When I cook fresh green beans in the crockpot- I only use 1/2 cup water in a 2 quart pot. They are great!!! Of course lots of bacon doesn't hurt either.


Ron--- LOVE our pressure cooker. Use it more than the crock pot!

Of course lately I've used the menu from take out joints more than anything
Everythings better with bacon!
Here you go Ron!

http://www.recipezaar.com/sitenews/post.php?pid=877
When I make a roast in my crock pot...I slice the potatoes and use baby carrots (about a handful) and put them in the BOTTOM of the pot. I put in about two cups of water. I salt/pepper/and sprinkle a good amount of dried onions into the water/potato/carrots. I then put the roast on top of everything and salt/pepper/dried onion the roast to taste. Once the roast is done, while it rest, scoop the potatoes/carrots out and make gravy on the stove. Yummy
Ron...how did your beef stew turn out? You've inspired me...I've a crockpot of beef stew cookin' now!

Its bitter cold outside, and I figured beef stew would be perfect!
Didn't find exactly what you're looking for? Search again here:
Custom Search