Yummy blueberries inside! This turned out so good that I had to share. So moist and perfect amount of sweetness! You can substitute half the oil with applesauce and it still come out good.

Makes 4 mini loaves!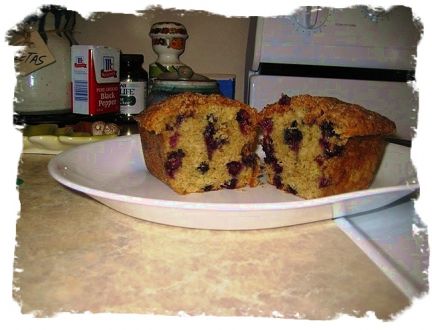 3 room temp eggs lightly beaten
1 C vegetable oil
3 t vanilla
2 C sugar
1/4 C brown sugar
2 C shredded zucchini (do not drain)
3 C flour
1 t salt
1 t baking powder
1/4 t baking soda
1 T ground cinnamon
dash nutmeg
1 pint fresh blueberries (2 8 oz containers)


1. 350 degrees. Pam grease 4 mini-loaf pans.

2. In a large bowl, mix together lightly beaten eggs, oil, vanilla, and sugar, and fold in the zucchini.

3. Put in the flour, salt, baking powder, baking soda, nutmeg, and cinnamon. Gently fold in the blueberries. Transfer to the prepared mini-loaf pans.

4. Bake 60 minutes or until a knife inserted in the center of a loaf comes out clean. Cool 20 minutes before flipping over to take out.


Notes: I added this topping which was excellent. Didn't use all of it. 2/3C flour, 1/2C brown sugar, 1/2C sugar, 1 tsp cinnamon, 1/2 cup chopped walnuts, 1 stick room temp butter (used a little less). Mix together with hands or fork until crumbly. Don't overdue it or it'll become soggy. .....................or just dusting sugar on top will leave crunchy top/topping.
Respond to this topic here on forum.oes.org
That looks sooo good!
Where the heck did you find zucchini in Alaska this time of year???
I'm looking for zucchini recipes since the garden is going crazy with them right now. This looks so good. A good spread that I think would go really well with this instead of butter would be to take 8 0z of cream cheese soften and add enough marshmellow fluff to your taste. Some like it sweeter than others. I usually use a big serving spoon full of fluff.
This is great!! Tried it and loved it Thank you Jo
Glad to hear!
mmmmmm, another reason to mourn not planting a garden this year.
Didn't find exactly what you're looking for? Search again here:
Custom Search