Recently my little 2 pound senior bunny Arthur passed away and last week his guinea pig buddy, William, followed suit. Arthur and William were rescued by a kind soul who saw them in an outdoor hutch up north. Arthur was stuck and frozen to his pen and near death. His owners agreed to hand them over to the rescuer without so much as a backwards glance. Through bunny express they were brought to my home where they joined my Bunny and Guinea pig.

It's not usually recommended that bunnies and piggies should be housed together but in this case it was okay as little Arthur was smaller than a guinea pig even at the age of aprox 9 or 10. Puff, my bunny is a very tiny girl too. They all lived happily together for almost 2 years.

In the meantime, I was asked to pick up a male bunny for the co-ordinator of Small Animal rescue which I'm also involved in. This poor boy was kept under the stairs of someone's home. Bunnies bond very strongly with another bunny, even two males as long as they are both netuered. I also had many special needs bunnies which lived in groups of 2's and 3's. Poor male bunny lived alone however as all the others were bonded.

With the passing of Arthur, Puff, who is spayed as all the bunnies are, was bonded with Hefner. Little Squeak the guinea pig pined for his buddy William, (guinea pigs bond and do well in "herds"). Males live harmoniously together as long as there are no females in proximaty or else they start to fight. Females get along well too as it's recommended to have 2 or more so they don't get lonely.

Every weekend I spent time at the local SPCA shelter (another organization I'm involved with) and was suprised to see a solitary guinea pig that had been there since March. He was being housed in the youth center which is why I had missed him on other occasions I had been there. The youth center was rarely used since the kids club disbanded after the summer. He was fed but didn't have contact with anyone.

So while I was filled with sadness at the passing of Arthur and William it opened up room to adopt Snow to be Squeak's pal and bond Hefner with Puff.

Meet Snow!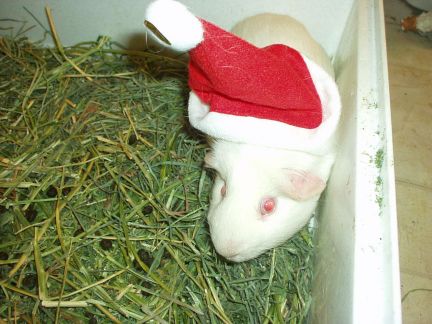 Puff Bunny meeting Snow Piggie for the first time. She immediately started grooming him.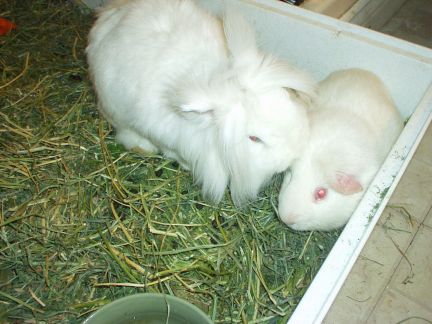 Which one is not like the other ...ha ha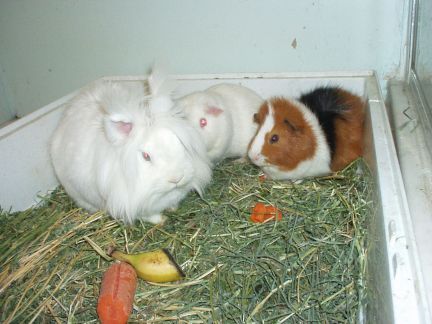 Handsome neutered boy Hefner who joins my six female spayed bunnies - although he will be Puff's new hubby. Yes, I know his name may be politically incorrect but it's more tongue in cheek.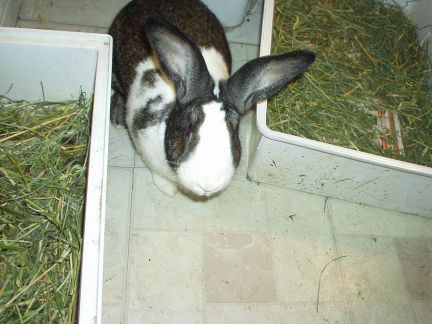 Sorry for long winded post.

For those of you curious...yes Blue, Merlin and Panda have been good boys and leave the bunnies alone..but Panda likes to steal their carrots if given the chance.
Respond to this topic here on forum.oes.org
Marianne:

What a bittersweet story. Snow is sooooo beautiful. and Puff bunny( what a cute name) and Snow will be forever friends I'm sure.
I love your fuzzy Puff! He has such rockin' hair!
Yay for the happy, bonded fuzzball with long ears and short! Great work Marianne! Love seeing Puff groom Snow. . .
Hef....his girl bunnies....ahahaha, that's cute.


They are adorable!
Hey...puff is a Lionhead. They are cute!
I'm sorry about William and Arthur


But I'm so happy to see Snow and Hefner are with you and your gang now! Hefner is such a cool looking bunny!
Here's a pic of Little William who passed last week, taken in his deluxe summer cottage that they used in the summer.
(He's the one in the tunnel) RIP little buddy. May you be playing at the bridge.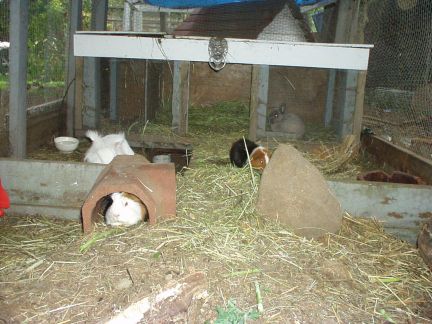 Puff is a lionhead bun, Wendy is correct. They have huge ruff mane type hair around their collar. Puff's is a bit scarce as I had to cut some off last week due to matts. Much like my giant goofballs, hers was full of slobber from the grooming she recieved from her new hubby.

Thanks for the kind words everyone regarding William and Arthur. As for Hefner..yup I think I'm getting Ron's sense of humor...or perhaps he may have picked up mine.
Marianne,
I am very sorry for the loss of William and Arthur.

Welcome to Hefner and Snow! I know they will live a very happy life with you.
Our girls, Paprika Guinea Pig and her little sister Vanilla Guinea Pig are sad to hear about William passing. Sounds like he had a great pig life, wow what a summer house he had. Sorry......
Sorry to hear about Arthur and William. But they were safe and happy with you!
Welcome to the new family members:Hefner and Snow. They looks so cute!
Pricess guinea pig sends best wishes at the bridge to Arthur and William, and welcome to the 2 new family members. The grooming picture is adorable!
Awwww what an adorable bunch. I love Puff, such a cute bunny.

Welcome to snow piggie and also the play boy Hefner, my he has Big ears and glad he is neutered.


There all so cute.
I am sorry about WIlliam and Arthur!!

I love the second picture.
Didn't find exactly what you're looking for? Search again here:
Custom Search