Hi Folks,

Finnigan a 2 year old OES/Springer in New Brunswick is looking for a new home. Finnigan's "mother" was rescued in the 05 Seizure in St. Stephens NB. His family's situation has changed.

They have admitted that he is not getting the time nor the attention that he deserves, due to busy work schedules and now they have an active 2 year old. He is a very good natured dog, and has been great around their daughter.

They have had some obedience issues (hyperactivity, barking, scratching some of the doors and windows of the house), but are fully aware that these are just a result of a bored under-exercised dog. They had a personal dog trainer come into their home and work with Finnigan, and he learns and obeys very quickly, but without the time for repetition and exercise, alot of the old habits have resurfaced. Overall he is a wonderfully loving loyal dog.

He is great with other dogs and people, but at times gets so excited that he often jumps up on people. He is all up-to-date with his yearly shots. He has had bouts of ear infections, occasional problems with his anal glands, but the later has been better since switched to a low allergen food. His wireless containment system would go with him, along with his bed, blankets, toys and leashes and collars. He becomes very anxious and distraught in a confined space, and therefore they didn't push to crate train him. I suspected that was from the poor conditions of the first few months of his life. He was two the first of October.

At first they were willing to keep Finnigan in their home till a new one was found, but recent emails with the English Springer Rescue Coordinator indicates that they would like this pup gone now.. I am afraid if a new permanent home or foster is not found.. they will take him to the shelter.

If anyone in the Maritimes is willing to foster or even adopt this beautiful boy, they can contact Megan Brown from the English Springer Rescue @ mmbrown@ns.sympatico.ca

Here are a few pictures of the little bugger

When he was a pup..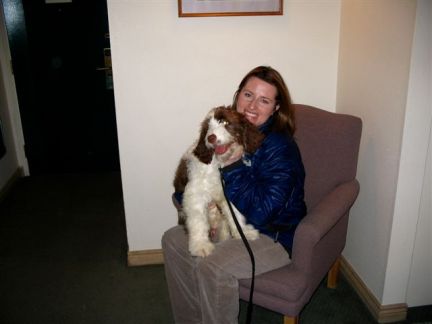 Fuzzy Finnigan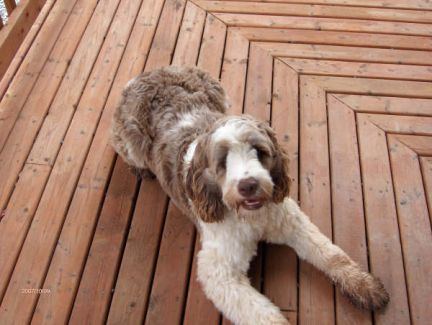 Halloween and shaved Finnigan