My daughter has a double cabinet above her stove- there is only enough room to install an 11 or 12 inch microwave under the cabinet and above her stove to provide the sufficient amount of space needed between the two. I wanted to get her one for Christmas---Can I use a countertop microwave above the stove? They are the only ones I can find that are small enough to fit. I don't want to redo her cabinets, etc--I do not have someone who can do that. - it wouldn't have the "over-the-stove" venting system, but should that really be a major problem?
Respond to this topic here on forum.oes.org
I think she really needs a vent over the stove, in fact it might be a code requirement. Plus the underside of the microwave designed for countertop use might get too hot over a stove.

Darcy is a kitchen designer and she might be able to chime in.


I *just* removed the vent hood over the stove and cut the cabinets down in size and installed a microhood in my kitchen. The door openings are still just bare door openings, with no new doors having been made.


I have the old doors sitting here with me in my office.

I will probably get new doors when I go to fix up the place to sell it. Or when my heirs do the same.
if it is over the stove, there needs to be a vent of some sort....they have micros that are self venting or recirculating which would work in this case..

a normal stove is 30'' wide.. a space saver micro is the same width..different models come in different heights...personally, i like having at least 24'' from counter top to bottom of micro...also these micros have lights on the bottom which helps light your cooking surface....

if you do a regular micro, you will need to build a full shelf for it to set on...the problem with this is, that the bottom of htat shelf can get gunky and if theyre painted, from the steam, the paint can peel and fall onto the cooking surface.....

so, all in all, id say look at recirculating micro's, they have a charcoal filter and do okay in the venting dept....
i would love a over the range microwave, but the distance between the bottom of her cabinet and the top of her stove is only 29" - there is no over-the-range microwave that small in heighth except for a counter top, unless I also buy her a cabinet that is smaller--but her cabinets were there in the house when she bought it so it would probably be very hard to find one to match close enough not to stand out. dilemnas dilemnas
Instead of hiring a carpenter to take down the cabinet and cut it down to size then put in a couple of doors or a wine rack thingy, why not buy her a portable microwave stand with nice big casters. You will be able to put a big, fullsize 1.3+ cubic foot oven on it and it will have the additional benefit of adding some storage space under the microwave.
she has a microwave on a portable stand, but because of the very very small kitchen, that is what we are trying to get rid or - it is sitting in front of a door at this moment because she doesn't have any room to put it anywhere else. i was just hoping i could put up the smaller microwave under her cabinet so she could get rid of the other one that she has to move everytime she wants to go out the door
Afraid I can't offer much more in the way of suggestions. Like I said, I had a carpenter cut down (meaning he made the cabinet shorter to give more room for the appliance) the cabinet over the stove so I could remove the hood and install a microhood (vent/microwave combo).

Here it is in the process of being re-installed: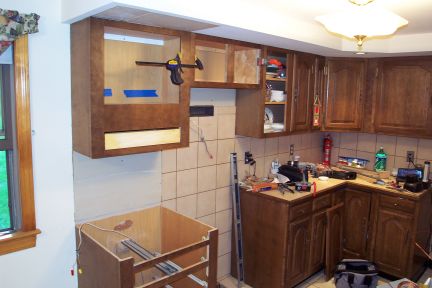 It used to come down to just about the edge of the backsplash tile.

Here's what it looked like before: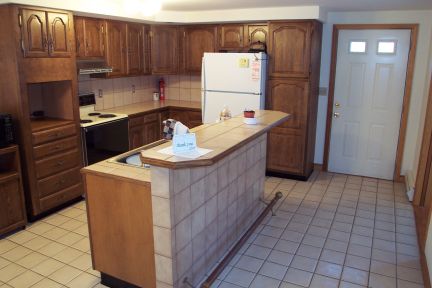 Note that I also had the left cabinet cut into two and the top half made into normal upper cabinet depth as well. Also note in the bottom picture the microwave on a stand in front of the window on the left as it didn't fit in the hole designed for some sort of a wall oven or something.

I feel for your daughter!
I was going to install one that was built to go under cupboards, then the directions did say not over the oven, due to heat from stove. But there are microwaves out there that have a fan under them not sure of sizes and they are around $300.00.
Didn't find exactly what you're looking for? Search again here:
Custom Search