Hi everyone, i lost my 13 year old sheepie, Xea, over a year ago. I have a olde english bulldogge who lost his "big sister" when she passed.
I miss her goofy face and big brown eyes almost every day.


I've been thinking it was time to get another dog.
Went to the oes club site and couldnt find a breeder that is close by.
I DONT want a BYB puppy-my bulldog is 2 yrs. old and he just had his 2nd luxating patella knee surgery and has HD.
So i really would like a healthy dog this time...i wanna do it right.


can anyone point me in the right direction.
Thank you.

-Sara
Respond to this topic here on forum.oes.org
Go to the Old English Sheepdog Club and look up the breeder referral people. Then start calling! I think there are a few breeders on the referral list who do have available litters. You'll be a "preferred" potential adoptive home since you already owned a sheepie and know the breed. Not sure if any referrals are there for Arkansas but I know there is at least one in Missouri that comes highly recommended and a few in texas.

Also, the National show is this month and is a great place to go to if you can make it to meet breeders and see dogs, etc.

Smart move not going to a BYB or puppy shop. The wait and research is worth a healthy pup!
Good luck.
Sorry for your loss, Sara. Xea sounds like a sweet girl.


You may find you have to travel a bit or wait awhile for a healthy puppy from a reputable breeder. But, believe me, it is worth the wait or the distance you have to travel to do it right.

The OESCA breeder referal list is the best place to start. Good luck.
thank you, i will try the referals.
here's a pic of my old girl Xea, with my pup Orson.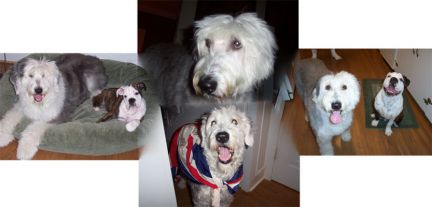 -Sara
oh, when and where is the Nationals Show?
thanks again.
The nationals are in Frankenmuth MI (just north of Flint) the week of September 24 - 28.
Didn't find exactly what you're looking for? Search again here:
Custom Search