Hi Everyone!

This past week after I collected my "ton of bricks", wishful thinking that now I needed Sand. I had already collected free wood from two people (thanks to Craigs List which I'm now addicted to) One huge load of 1 1/2 post which I collected and perfect for railings down my stairs (to prevent Old Blue from falling) and to enclose outdoor area for cats, and another generous person gave me a van full of 2 by 4's!!! I was doing that all week...loading , unloading....collecting, my muscles are getting HUGE! lol

Then I saw the ad...300 bags of sand. Gasp! I make the call and it turns out it's on Reservation Land which is located next to the Fraser River which had survived a prediction of a major flood after our horrible winter. All the homes were sandbagged to protect them as apparently the flood was supposed to be worse that the last one which was in 1948. Thankfully it didn't happen and people did not experience the potential disaster.

Which brings me back to every home had 25 pound bags of sand surrounding their homes and now needed to get rid of it. It wasn't 300 it was 3000 the fellow told me when I made the call. Come and get it he said! (turns out not all were 25 pound bags as some were filled more than others and many on the bottom were wet sand..urg!)

10 hours later and 4 truck loads full....I cajoled my neighbor into helping me out with his pickup and then he said he'd like to have 2 loads himself. So just him and I (an old man who walks with a cane) we did it ourselves!!! I had to help him as he helped me but thought by 8pm I was going to die. (we started at 10 am). I also had to take Blue to an emergency vet appointment at dinner due to a swollen face. Later in the evening I had to feed the bunnies at the shelter so said I'd meet him back at the reservation with my van.

The road is very isolated and 2 miles of gravel. It was dark and I kept thinking I must be nuts to be doing this but felt committed as we had already got my sand and now needed to get his. The pickup truck needed to be returned that night to his brother who was leaving out of town..so it had to be finished that night.

I breathed a sigh of relief when I see his headlights at the end of the road as I wouldn't have been able to find my way home in the dark (night blindness) ..we loaded the last of the bagged sand in and headed home.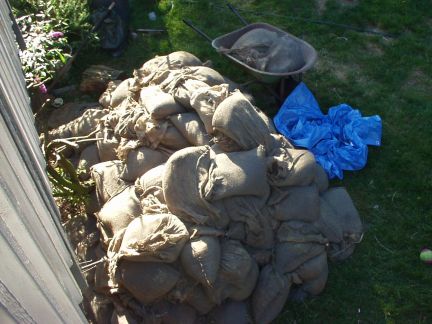 And my wood!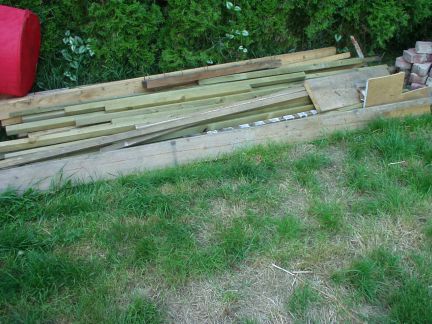 You know what's ironic? Blue who I could never lift before, ended up having surgery (abscess tooth) and was unable to walk after - I carried him up and down the stairs numerous times. Thought I was blessed - cause I saved all that money from getting the free stuff. Must have been meant to be as I ended up needing it for his surgery and now with lifting sand, wood and bricks all week I could carry him!!! (he weighs 60 pounds to my 100. He seemed light as a feather...LOL!
Respond to this topic here on forum.oes.org
That is amazing! You are doing a really great job!
YOU are amazing
and you sure make that saying ... you get what you give (or something like that)... so true. You give so much love and look what you get in return
That's wonderful! May God continue blessing you, as you so deserve!
mouthypf
I bet your'e heavier than 100 now with all that muscle!! Sounds like you are doing an amazing job, you really are so inspiring.


***Please take a day to just look after the animals and rest!!!!***

All that building can wait 24 hours, REST is so important, don't make yourself ill.


Thanx for posting pics
Phew I get tired just reading your posts.
Have fun marianne and be sure to post pics of the "finished product"!!
WOW thats great.
Thanks for the comments Everyone!!!
Wish I'd be this motivated to do my housework now which is being sadly neglected.



That photo of the sand was my haul taken from the top of my porch. We got him that much too, plus I have more at the side of my house!

I've now laid down half the sand and Blue, Merlin and Panda are in heaven!!! It's nice and cool under the porch and so far they love to lay in it. They're going to be mad at me when I lay down silly ole bricks!


The motivation for me is the other 10 months of the year I have no energy and am frustrated that my mind wants to do stuff but my body doesn't co-operate. So for those 10 months I only dream of what I'm going to do and would like to do. It will in the long term, make my life easier - regarding the pets. It's really all about the furkids!


On the "WET COAST" as my area is affectionately known as , we get a lot of rain. The area which I'm paving gets really muddy as does just below my stairs from the furkids. In and out tracking in mud....more mud....and even more mud! With three of them it's an endless job cleaning the floors!

I already ripped up the carpet in my house and replaced it with laminate which helped, and now it's time to fix the outside.

Of course it never ends as when I was working under the porch I noticed the support post were rotting. Gasp!!! Meant going to lumber store and purchasing support post, and cement mix. Dug the 2 ft holes yesterday and poured concrete, post are in. Put in 6 of them...LOL so that porch hopefully won't ever fall down as my back stairs did a few months ago!! Stupid rain!


Marianne
I get tired just reading your posts.
You're an inspiration, Marianne.
Me too but I'm lazy! You're amazing, M!!!
You go girl!!
Go Marianne!
So I'm guessing a gym membership is not needed!
You are amazing!
Didn't find exactly what you're looking for? Search again here:
Custom Search