Here are the pictures from the show.

Sweeps winner and prizes: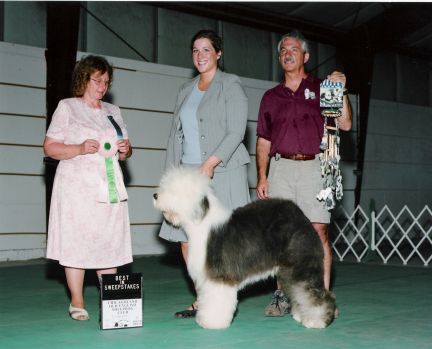 Regular classes - Best of Winners, Best of Opposite - and prizes: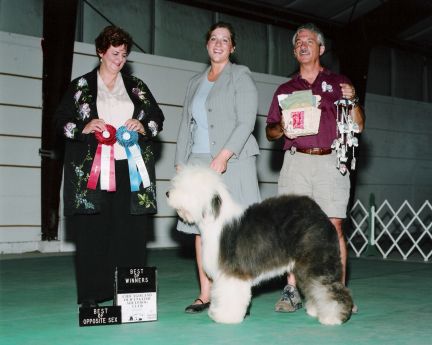 LeAnne did his whole show prep for the first time too - with prompts! Chewie always behaves well in the ring, so we are lucky in that way. He is such a happy dog. I think he actually likes being a show-off! Or else he just likes all the attention he gets.

The prizes were awesome. The basket the show chair is holding has a set of 4 embroidered OES towels - very nice. The 2 sets of wind chimes are beautiful!

This is the smaller windchimes - at home in my grape arbor: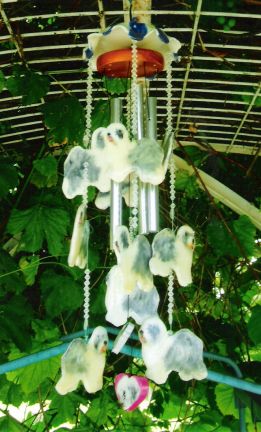 LeAnne has the bigger set at her house. (from the 1st picture)

Next weekend is another show, (Waukesha WI, near Milwaukee) I hope we have a good time there. Chewie and Clay are doing Rally too for the 1st time - should be interesting!
Respond to this topic here on forum.oes.org
Go Chewie, you young hot blood!!!!! no wonder youre winning.....you look just beautiful (guy like of course).....

Congrats Dawn!
WOWOWOWOWOWIE!

Congratulations!

COME BRUSH, TRAIN AND STACK MY DOG!
Clyde says yay for Cousin Chewie!
Congratulations Chewie!!! WooHoo!!
Atta boy, Chewie! We
you!



Nita, Nelson Jr. & Sassy
That is fantastic, CHEWIE!!!
Congrats!!!!
Woohoo!
Chewie looks great (and LeAnne too)! Congratulations to all of you!
congratulations to both Chewie and LeAnne
Thanks everyone.


I love the contrast of how he looks in the ring, compared to his pond pictures!!
It really is hard to believe he is the same dog.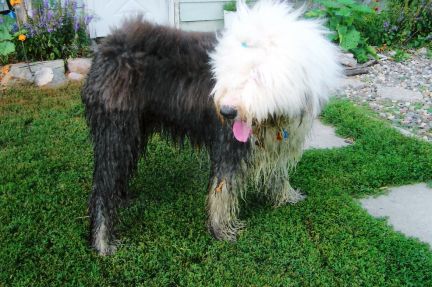 Way to go Chewie and LeAnne!!!


I love the windchimes!
Those windchimes are absolutely amazing!!
All the sheepdogs are individually hand painted china and glazed. Each one is a bit diffrent, front and back. Sometimes I just stand there and look at them!
YAY way to go leanne and chewie, you both look awesome there, love leannes outfit too, really compliments both her and the dog.

Chewie is blooming big time, looking awesome


Sending all the best wishes too for next weekend, the windchimes are fantastic.


Camera too next weekend and looking forward also to piccys of the rally with chewie, clay and simon.
Those pictures are great! Woo Hoo Chewie! I also like Pond Chewie! He is cute too!

I can't wait to hear how he does this weekend.
Chewie looks lovely,
ofcourse he should be the winner!!


... and I love the Sheepie Windchimes!!
LeAnne did a wonderful job, Chewie looks great. I love his markings
Chewie is such a handsome boy, well done Chewie !!!!
Congratulations LeAnne and Chewie!!
LeAnne did a GREAT job grooming him for the show. He looked fantastic!
Didn't find exactly what you're looking for? Search again here:
Custom Search