Hello! I was found on the side of the road in Kenner, Louisiana badly matted and covered in fleas by a good Samaritan who contacted OES Rescue. When this lady came and picked me up I wasn't so sure about her and her other 3 OES that she has, but now I am so glad she did. She told me she was going to call me Zack and she took me to a vet where they shaved off all those matts, gave me a flea bath and a bunch of shots. Oh yeah, they also neutered me and told my new foster mom that I was about 2 years old and other than an ear infection and some sore feet I was very healthy. They were also talking about the fact that I have one blue eye and the other eye is 1/8 blue and 7/8 brown (called a merle eye - and very unusual in a pure bred sheepie), but quickly discovered that my weird eyes do not effect my vision especially when play or food is involved. I absolutely LOVEEEEEE attention and will push the other dogs out of the way so that I can put my paws up over your lap, gaze soulfully into your eyes and then tuck my head under your chin. (It works like a charm every single time!) Oh great - now my foster mom wants to give you some information about me. Just remember before I go, if you want to adopt a great dog - PICK ME! PICK ME! VOTE FOR ZACK!

Hi, I am fostering Zack in Baton Rouge, LA with my 3 sheepies. Zack has come a long way in just a few weeks. He has learned how to run and play and wrestle with our resident play expert a 15 mth old sheepie. He knows the basic commands "sit, down, stay", but he will need work as he seems to have inherited that sheepie trait called "selective hearing". He is house trained. Zach walks extremely well on a leash, but you have to watch him as he is a runner. He can't be let off of a leash at this point outside of a fenced gate and he is very fast. I would definitely recommend that you have at least a 6 ft to 8 ft fence. He is the biggest affection hog you can find as he loves to either be in the bed right beside you, across your lap and he will push the other dogs out of the way for it. If you have children - this dog is absolutely fantastic with children!!!!!! He has been around several children ages 4 -12 and he will lick their faces, and roll over for belly scratches. And if they sit down on the floor to play, he is right beside them. Thank you in advance for considering him as your possible furever sheepie!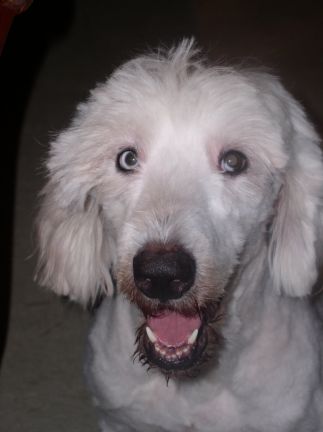 Respond to this topic here on forum.oes.org
Oh Wynette...
He's fabulous! He looks soooo happy... what a smile he has. And it sounds like he'll be the perfect dog for someone with pint-size trained humans!



Quote:

They were also talking about the fact that I have one blue eye and the other eye is 1/8 blue and 7/8 brown


The same as my husband but his is mostly blue with 1/6 that's brown. Does that mean he's a merle too?


It never ceases to amaze me of the wonderful dogs found as stays that are never reclaimed. Thanks for giving him a safe place 'til he finds his new family.
You have a big heart Wynette
and Zack sounds like he and London will be great partners in crime
Wyn, You've done such a wonderful job with Zack!!!! I'm not suprised however as he has you for a mom.

Sending sloppy kisses from the boys and belly rubs from me.

Marianne
The merle eye is a normal occurrence in Corgis. But, I think it's safe to say he isn't a Corgi mix!
Wynette I have the utmost respect for you and all that you do for our sheepies. You have a heart of gold and then some!!
zack is one lucky guy i hope he finds a good home soon thanks for taking him in
Zack sounds fabulous. Kudos to Wyn for polishing up this gem of a sheepie. . .
Zack sounds great - are you getting any calls on him? A nice young dog who is good with kids sounds wonderful.

He looks so happy, I bet he hopes to stay!
I have a question. I have always wanted a sheepdog- now I have a three year old golden, Molly, as well as an 8 and 12 year old boy. If you keep a sheepie clipped, THEN how much grooming is required?
I keep my boy clipped, so he is very little maintenance other an an occasional bath and brush.

With Murphy.. it's all about the muck puddles.
Clipped and groomed, then maintenance is a breeze....

Clip hair between pads, clean eye goop, pluck ears, clip toenails, brush teeth, feed good food, lots of excersize, lots of play time and snuggle time, trainming time... other than that, no time required!


No shedding season
Oh My Gosh! I wish my partner would let me have another Sheepie! I would drive to you!!! He is sooo cute!!! I can't wait to find my big house with lots of room to run..Then I will have as many sheepies that I want!!
Thanks to you for all the work you have done with him..I would love to have a sheepie I could have around my grandson..Who is now two!!
Just so he could play & interact with dogs..
Wynn he looks fantastic, just love this guys Bio, made me smile & giggle heaps reading it, well done and keeping fingers crossed this special guy is in a wonderful loving home real soon. He deserves it with that gorgeous smiley expression, he really does look like a happy chappy and would make some family a wonderful loving sheepie
Wynette hi my name is Shon and i was wondering if you have found Zack a home yet?
Hi Shon,
Yes Zack has found a home. Here he is w/ his new Sheepie sibling
http://www.oesrescuenetwork.org/SuccessStories.html

We do have other sheepies needing homes here;
http://www.oesrescuenetwork.org/available.html

Thanks, Sue
Sue that's great!

I wanted to point out that many of the links on that page (including the one for Zack) point to the success story for Gordon Lee.

I know, I am fixing it now. Haven't had time in the last week.

Thanks for the reminder! sue
Didn't find exactly what you're looking for? Search again here:
Custom Search