Help, I need a saying to put on my DOL's baby shower cake (it a girl).
I really don't want to have "Congratulations Laura" on the cake.
I am thinking something along the lines of "Celebrate ???????"
Need ideas asap (Shower is this Sun). Thank you! Sue
Respond to this topic here on forum.oes.org
Sugar and Spice?


Marianne
"It's a Girl!"

With lots of little "frilly" girl decorations surrounding it.
hmm...

What would I want on Baby Bean's shower cake???

How about "Welcome baby girl X" with X as her last name? I'm assuming they don't have her name decided on yet???

Or you could also say "Welcome to mommy and daddy's little ray of sunshine" or something like that. I think welcome is a lot more appropriate as that's what you're really doing! (Says the hormonal pregnant lady
)

Or you could just have a big sunshine put on the cake with "It's a girl!". that's a pretty easy one.

Or if you're going to use a local bakery for the cake, and not like rainbow or cub, try talking to the cake person there. They can be extremely clever... you may not even want to put words on it, maybe just a round cake with a sunshine and a baby carrying stork? My last birthday cake was decorate to look like a giant round flower, it was so pretty! I'm amazed at what they can do with cakes!!!
Going off the line you were thinking along...


Congratulations on your bundle?
...on your little darling girl
...on your precious new girl
....on your new ...
I like the idea of no words, just a picture of the stork with a pink bundle or something along those lines. Or something simple like Welcome or Coming soon...baby XXX. I, personally, think that words like 'bundle of joy' and 'precious' and those sorts of words are a little too overused and cliche (she says ducking and running away
)
I like the Coming Soon... too. Very cute idea!
How about YOU POOR THING!!!!!!!!!!!!!!!!!!!!!!!!!!!!!!!!!!
Tasker's Mom wrote:

How about YOU POOR THING!!!!!!!!!!!!!!!!!!!!!!!!!!!!!!!!!!



hahahaha...I choked on my coke!
Darcy wrote:
Tasker's Mom wrote:
How about YOU POOR THING!!!!!!!!!!!!!!!!!!!!!!!!!!!!!!!!!!
hahahaha...I choked on my coke!
Me too!!


Or if she's from the south...our requisite "Bless Your Heart"...
Ginny, you naughty girl! I'll make sure you don't order MY shower cake!!!!
I also love the Coming Soon idea!
Ah well what can i SAY..... i HAVEN'T YET RECOVERED FROM THE TERRIBLE TEENS
Maybe SOMEDAY!!
Thanks for all the tips!!!!

I am leaning towards no verse, just the baby deco. I know the bakery has little booties for the cake, will have to ask what else they might have.
I did ask the baker & staff for verse ideas last week & all they could come up with is congrats or needles & pins, the fun begins.


Ginny,
I REALLY like your saying
!
I KNOW what teens are like (I had 3). Now they are young adults & that cake should say, "Why Mothers Turn Grey".

It does get more worrisome!
HAHAHAHA, well MY TEENS are 22 and 28so I SHOULD start "getting over it"!!!!!
I image a pink cake with a stork circling a target would be too complicated...
THE CAKE, ta da!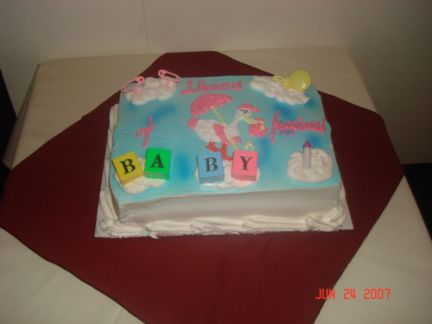 WOW!!!!!

That looks GREAT!
thx Ron, it was delicious too
Very Nice!

Yum too!
Very cute!!
Very cute! What does the last word say?
It says "Showers of Happiness". I like that.

Ginny,

Try seeing what having grandkids does for ya! It seems to have improved my parent's moods immensley!

Umm.. that couldn't be because they're looking forward to "payback" could it??? Naaahhhh!

cute cake!!!!!
Together a new beginning

or

Dépêche toi petit ange
(hurry up little angel!)
Naw, I would have put, too late to turn back now.
Didn't find exactly what you're looking for? Search again here:
Custom Search