Well Edgar is much better. He can walk again. But of course he is wearing his cone head (e-collar). He sounds kinda like a ping pong ball as he goes around the house but with much more crashing.
You basically know where he is in the house by the ensuing loud bangs as he gets his head stuck and then rips it loose.
Our legs are fairing rather badly as Edgar thinks he is a muscle man and trys to bully his way by us. Wearing shorts and then having him try to charge by us (which means he gets stuck because he can't steer with his cone head) and then come to a sudden halt because the plastic cone rams into our legs.


So, anyone who has had a dog in a cone head, how long have you had them wear it? We can't take it off him yet as he still wants to worry the spot.
Respond to this topic here on forum.oes.org
He needs it on until one of the two happens:

He stops going after his stiches when he is not wearing it...or

He gets his stitches out by the vet....

You don't want him to worry them out early, or he will have to get re-done. So, yes, you will have many bruises. Bosley had eye surgery last year and had to wear a cone 24/7 for 6 weeks...
My legs were in awful condition.
It is painful to the legs, your nerves, the walls, other dogs......it's not a good time, but it is necessary. Ice packs for your legs, spackle for the walls, separation from other dogs.
The legs to take beating, but what is real fun is when you have dog the right height to scoop your but with the cone and hurry you along.
It should be 10 days to 3 weeks before the stitches come out.
Ben hated his cone. He usually would go stand facing the wall, not moving. So sad, poor baby.
But we had to keep it on for his own good.
Be glad its not winter...Eggbert became adept at using his cone as a snow-shovel!
ravenmoonart wrote:
Be glad its not winter...Eggbert became adept at using his cone as a snow-shovel!

LMAO


I hope Edgar won't have to wear the collar too long.
Poor Edgar! I always feel so sorry for our hospital patients when they have wear those!
The worst is when they just hang there head and don't move. At least Edgar is crashing around! Honestly, is he going after his stitches? I really think if you are there to watch him you could probably take it off. Just put it on when you are not able to keep an eye on him. But if he is bothering with the stitches than he will have to wear in until the sutures come out.
GOOD LUCK!
It will be over soon!
Tasker spends a lot of time as a cone head....... he gets hot spots and worries them to death so I always put the cone on at the first sign of irritation.

Poor puppy
Wearing a cone totally didn't stop Barney from moving around. He'd hit our legs, the wall, the cats, anything. It's like he had no idea he extended out that far


I think Barney wore his for about a week. He kept licking his stitches so we had to put it on (although he learned how to scratch his stitches with the cone, so either way we were screwed).

Here's a picture of Barney with the cone head (Ron thinks he's a lamp).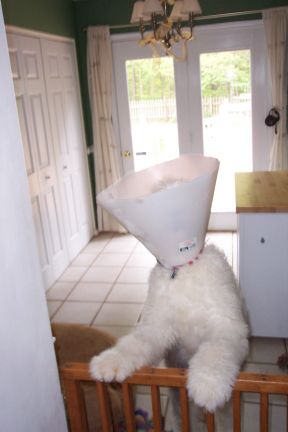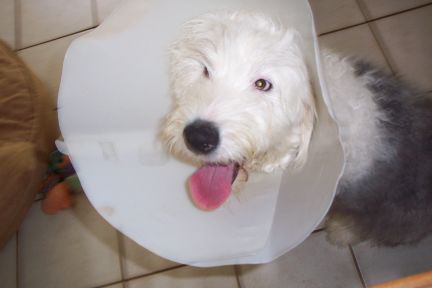 I love all these cone heads!!
I am amazed from all your stories - I have never had a dog in all my life that has needed a cone! Some good dog owner angel must be looking out for me!!

Spays, neuters, hotspots - none of my dogs has ever messed with their incisions or booboos.
My German Shepherd, Harley, had to have one due to hot spots and chewing on himself.

He banged into every doorway and everyone. Knock my son over a few times.
Then the back door was open enough for Harley to get out normally.
With the cone they just do not have any idea that they are bigger.....
He ran full speed out the door, leaving the cone split in half on the inside of the door.
Didn't find exactly what you're looking for? Search again here:
Custom Search