I've gotten a little bit tired of lugging Bingley's only wire crate up and down the stairs any time we want him crated somewhere else.
It's heavy! I've been really impressed with the soft crates I've borrowed from Bingley's breeder at shows. They're huge but hardly weigh a thing and Bingley does pretty well in them.

So this week Ian and I were having dinner and he told me if I could guess the correct answer to his question in under three tries he'd get Bingley a soft crate


It took two.


Here it is (the green one)

If anyone else is in the market for a soft crate petedge has most of theirs on sale now. I like this one a lot but it isn't the easiest soft crate to set up (still way lighter and faster than a wire). The one I really wanted was backordered until the end of April so I went with this one.

Bingley likes it so far!!!!!


Anyone else have similar suggestions or experiences with a soft crate?



PS Sorry for the length - I am talkative this morning!
Respond to this topic here on forum.oes.org
Oh Emily I like it a lot!

I thought about getting one for Harry if we ever traveled with him. He is a BIG BOY now and no longer in the crate so we don't have a use for another crate at home. But the times when we had to take apart the crate and lug it to another part of the house was a pain.
I'm glad he likes it!! I need one!
Great timing, Emily. I was just thinking last night that before I take the wigglebums on vacation, I'm going to have to buy them soft crates. I agree with you completely, lugging those heavy wire ones around is for the birds!

I'm glad you're liking this one. Which one did you want that was on backorder. Since I'm not in a huge hurry, I'd like to look at it, too.
Hi Emily,

Bogart has always had a soft crate and loves it!
We open 2 sides at night and starts out sleeping in the
crate, then moves to the carpet or tile floor depending on
the temperature.

Hope Bingley enjoys his new home, they fold up
beautifully if you have to travel.
Just remember for Westminster they don't allow you to use soft crates...
That looks nice! The prices are good too - almost half off. How much was shipping?
I haven't put in a petedge order for a few months........ but I've been trying to hold back on misc. spending to save up for LeAnne's wedding, dog shows and summer/fall vacations.
Beaureguard's Mom wrote:

I'm glad you're liking this one. Which one did you want that was on backorder. Since I'm not in a huge hurry, I'd like to look at it, too.

I have been borrowing the largest on this page: http://www.petedge.com/shopping/product ... uctID=6085

It is SOOOOOO easy to set up and take down. It has no metal in it at all - the zippers hold the frame up. You can see two of them set up behind BeeDee and Jewel in this picture. They are quite large and roomy - and LIGHT.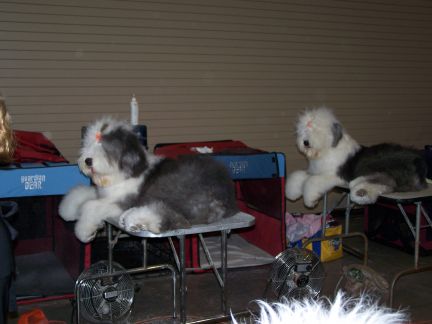 Westminster is not the only show trying to ban soft crates. Our cluster in July doesn't allow them either. They can't be stacked and dogs have been known to chew right through them. There is no way they can actually ban them, especially if it is all you have and the dog has to be crated.

They are great for hotel rooms. I finally got Mickey (our TT) a light weight metal folding crate. Don't know why I didn't buy one sooner! Up until then I used a small crate a friend gave me and for shows I used my lightest weight OES crate.

Jo-Ann
We have several shows around here that do not allow soft-side crates either. Maggie uses the filding metal crate at home, Chewie uses it at shows. They are so nice to share!
Hope Bingley likes the new crate. I have been eyeing them and was wondering if they would hold up for a camping trip. We are hoping on taking Miley with us several times this year and I know the campsite has younger trees to it does not have a lot of shade.

Thanks -
Funny that this should come up now. Tim just bought a soft crate for our vacation in June, although it's not as big as our wire crate or the one in the link above. Here it is folded up and open:
What's this mom?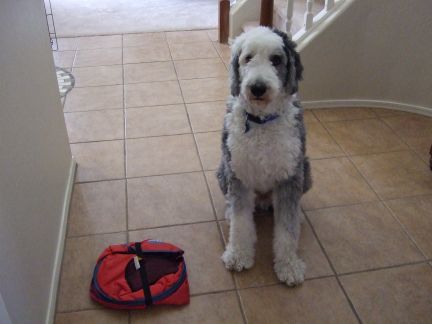 I see a treat in there, but I'm not too sure about this new crate...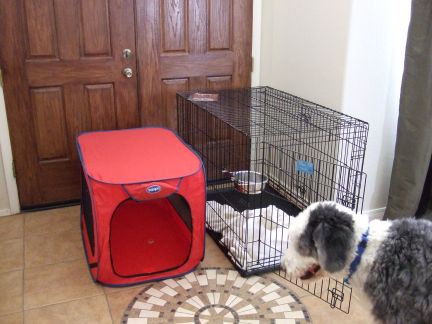 I'm going to have to see if this one is big enough for Bailey, or I might have to order the other one while it's on sale. I love internet shopping


By the way, Bailey's love of treats quickly overcame his fear of new things and he did jump in there to get his treat. Bailey's picture is in the dictionary under "Food Motivated"
Sue,

I just love the look on Bailey's face when the crate is closed up. He is so cute!
Bailey is adorable -


The shipping was $20.00 but I think with the sale it is still cheaper than getting one in town . . . I think!!!!
Great Emily, a softie for the Bing , nouced yours has bars in them , must me much strudier than the ones I have, they are only good for wel behaved dogs as BeeDee the wild child put her nails through the door and ripped it :


Edy
Great Emily, especially on the back, no heavy lugging crates around.
I really want to get some soft sided crates that fold up flat for when we travel with our three. May need to buy them now while they are cheap.
I am so glad you wrote about your new soft crate! I've been looking into one myself. I have two wire foldable ones already but like the soft crate for travelling...The prices at Pet Edge with their sale seem good...And I like the green one you ordered. Am I correct that the green one you ordered and the red one(?) is the one back ordered? The difference being the size ( and color of course! )? I see some of them say they ahve metal poles or something in them, etc...
Didn't find exactly what you're looking for? Search again here:
Custom Search