With a lot of hair growth, I thought things were going well, but after hearing daddy talk about sheep herding every chance he gets to take Yuki while he's home... I knew I'd have a headache with all the mud, so I hand scissored her today. No groomer this time.

For not knowing what the heck I was doing, I think it turned out okay. She's about 3inches all around.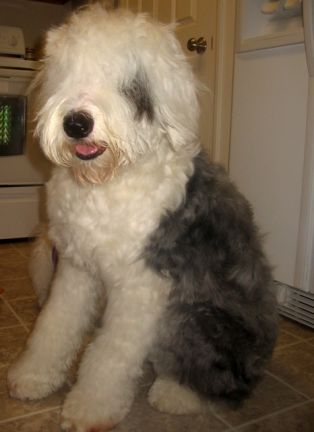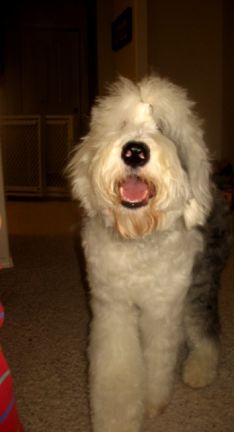 My maltese got a bath today too....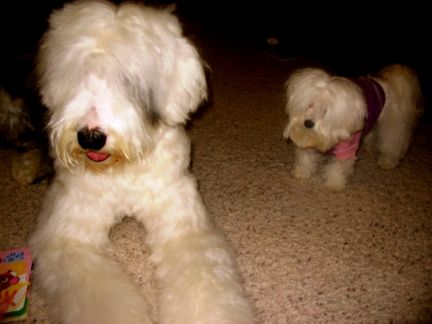 Respond to this topic here on forum.oes.org
I think everyone look wonderful. It is nice to get a spring hairdo.
She looks GREAT!
That length makes her look really cuddly!
Yuki looks great. Good Job, L!
She looks wonderful and still fluffy, you did a fantastic job with the scissors.
Good job!! Yuki looks nice.

Definitely needed for herding in the spring muck!! After a few outings you may wish she was even shorter.


Sounds like dog spa day at your house!
Great scissoring job!
She looks absolutely gorgeous!
Yuki looks beautiful, great cutting
You did a wonderful job, Yuki looks gorgeous!
Wow, what a wonderful job! She looks so cuddly.
How exciting for her to herd sheep! I am thinking of looking into that... how did you find out about it?
Outstanding haircut! Yuki looks beautiful.


Bogart would like to know--do you make house calls?

(Please bring your styling assistants Lil J and
Yuki--Bogart would love to have a team styling
appointment.
Lil J could give the belly rubs,
and Yuki be in charge of the toys )
Oh dear,

I took the horse shears to Ted last week

It is like having a completely different dog!!!
I got a bit carried awaytrying to even up the sides


Rob comes home later i have sort of hinted that he has had a trim


Yucci looks fantastic....i think i will use the scissors next time!
Thanks everyone! I was so worried about doing it, and had so many mixed feelings about it. I just didn't want to spend Mr. J's time home with me always brushing Yuki out.




Quote:

Rob comes home later i have sort of hinted that he has had a trim Laughing Laughing

Yucci looks fantastic....i think i will use the scissors next time!



Lindy, what a cute avatar:lol: I think using anything takes some getting used to. You sound like me, and that's with whatever tool I use to cut hair, I become obsessive about it, and can't stop!!!!!
Scissors definitely takes the longest!!! My back hurts.




zahra, funny because I actually kept thinking of one of Bogart's PERFECT clip-downs as I cut away. I kept trying to shape everything round and smooth like the picture I remember of Bogart awhile back... (except for the face since I wanted to keep it shaggy)







Quote:

I am thinking of looking into that... how did you find out about it?



I went to a dog show here a few years ago and met an OES breeder who took her dogs!!! It's been at least 6 months since Yuki went, so it will be like a second birthday gift to her.
The lady who trains her has always said she has a natural talent for it and potential. My husband already found a herding event in Colorado if we move there, so it gets addictive!! Reason #3238483748937489347923 I don't want to move back to TX (which is where we may end up next).
She looks really good! It's amazing to me that you could get her so even for your first time scissoring - I think it would take me a while longer!


How long was the process?
Yuki looks adorable!! I love the length and it looks very even too. Great job!
You did a good job, Jo! Especially for the first time. I've tried scissors on their feet a few times, but for the whole body - you're way braver than me.
Oh, I'm so sorry if my last post misled people. I was just trying to encourage the poster before my post not to give up those shears!


While I haven't trimmed her since she was a puppy, it was not my first time. The compliments are nice though, and I definitely worried about it being choppy.
You did a great job for a first timer! I'd have no clue unless it comes to hacking off ears, beards and tushie holes
Good Job L.....I love the scissor! It is a Godsend to fix mishappen clipper boo-boos!

Yuki looks soft and beautiful!
Yuki looks great! I am horrible with scissors and clippers, so Oscar gets his "do" every 6 weeks at the groomer. Costly, but then at least he looks like a sheepie!

Laurie
Yuki looks great
If you make house calls stop by anytime
Didn't find exactly what you're looking for? Search again here:
Custom Search