Okay, I knew this was bound to happen but not quite so soon. The OES girl that we pulled from a Michigan shelter seems to have found a home with us. http://forum.oes.org/viewtopic.php?t=12589

Sassy (named by Cathy from Doberman Rescue) was immediately diagnosed with a staph infection, urine burns, a growth on her eyelid, hypothyroidism and several fatty tumors as well as serious arthritis and bad hips. Now that these problems have been addressed, Sassy seems very comfortable with us so she may have to look no further for her forever home.

Sassy appears to be around five years old and was already spayed, housebroken and knew basic commands. How could someone just dump off a pet at a shelter like that?
(especially one that still uses a "gas chamber"!) Such a sweet, sweet girl.


Again, thanks to Cathy......... Heeeeeeeeeeeeeeeere's Sassy: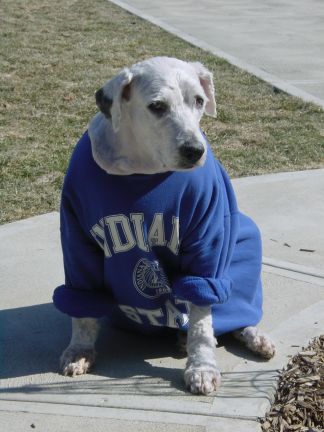 Keeping warm in my Indiana State University sweatshirt.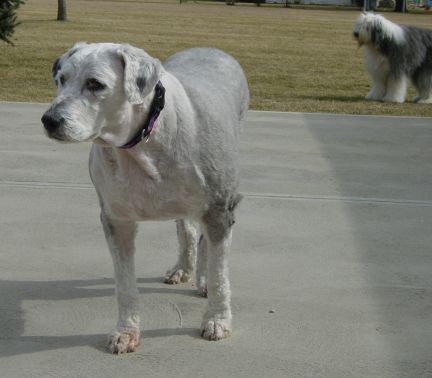 Finally warming up and soaking up sunshine with Nelson in the background. Note the increased muscle mass in her shoulders to compensate for her weak hips
Respond to this topic here on forum.oes.org
That means two things:

1. This is another textbook example of how sheepie can always find a way to your heart, no matter how much you try to resist it


2. Another heavenly combination is formed


Congratulations!!!

Gigi
it means you are a pushover with a heart of gold
I wouldn't know.....
Nicole who had Dixie in foster care for months......
Wow - I'm so glad she found a loving home with you! I am amazed at her muscle mass - before I read your description I thought it almost resembled a bulldog's chest. She has VERY sweet eyes.
Awwww... once in a while one comes along who just isn't meant to go any further


Congrats on your new addition
Ummm....ummmm....I wouldn't know.


Congratulations on your newest family member.
It means Nita you have a heart that is HUGE and lots of love to share.


Congratulations on sassy wiggling her way into your lives, fantastic.
I really didn't think my husband would go for keeping Sassy. She does resemble Maggie McGee IV (whom we lost last June) and he absolutely adored her.


Glad to see I'm in good company with Nic, Wyn and all the others who've failed "Fostering 101".
Congrats on your new family member - Sassy is adorable.

My inlaws had a GSP that had severe hip dysplasia and looked just like Sassy -same big front end and tapered hind. Ginger went on to live to be 12 and was well loved.
I hope you have many fun years with your new girl!
I'll tell you what it means Nita and I echo Lisa's sentiment here - you really do have a heart of gold - congratulations on your new girl xxxx
it's a beautiful match made in sheepy heaven!!!
It means it's a win-win!
Bless you for giving her a furever home.
I'll be Neslon loves having a four legged friend again.
Sassy is adorable (and I love the name!)

I think it means, you were meant to be together. A perfect match made in heaven.

Congrats!
You are a push over like we were. That's how we ended up with 7 at one time. Be careful. I'd like to see Sassy in a few months once the thyroid issue has been under control. She looks older than 5. That said, even if she were 10, she is a very lucky dog to have found you. Of all the rescues, I most miss the older girls. We just seem to have a special bond.
It means you're heart is in the right place, Nita!!
Congratulations on adopting Sassy!
Congrats Nita!! She looks like a beautiful girl and a perfect fit!!

xo,
SheepieBoss wrote:
... That's how we ended up with 7 at one time.
It means you have a heart of gold and you love sheepies so much!!!

CONGRAGULATIONS Nita !!!!!!!!!!


Antoinette
It means that you better start posting more pictures-- and of Nelson too!
Congratulations!!! I'm glad your husband said okay. I thought you'd end up with her from the way you were talking.
Hope she has fun at the beach.
ButtersStotch wrote:

It means that you better start posting more pictures-- and of Nelson too!



Okay, you asked for it!

Nelson letting his hair down and Sassy wishing she had some hair to let down...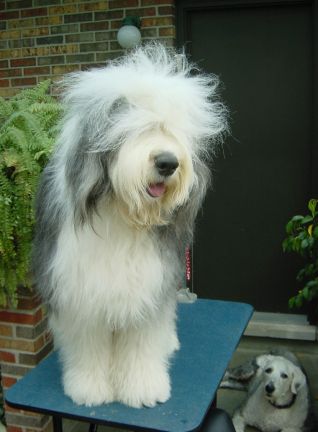 Not quite rabbit ears but they make the television picture so much clearer!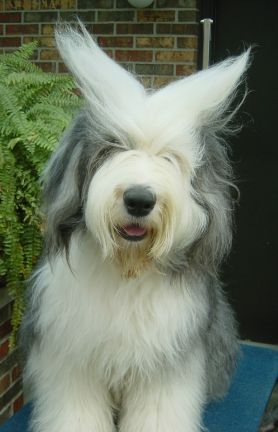 Congrats Nita!
Nelson's hair is a riot.
Can't wait to hear and see more about Sassy.


Nelson's hair - love it!
OMG! Nelson's hair is hilarious!
The hair is insperational.
Ha Ha Ha love the Nelson Hair do
send him here we could do with Nelson sitting next to the TV for better reception up at the farm. Think he might work in well there with those rabbit ears.
Didn't find exactly what you're looking for? Search again here:
Custom Search