We purchased a new washer and dryer set from Sears. They are the Kenmore Elite HE5t Washer and HE5 Dryer.

In a nutshell, they are fantastic. We looked for he5t reviews we looked for he5t ratings. They are top top rated super cleaning, super gentle on the clothes super efficient - but just a hair pricey. But not for us!

We had been comparison shopping for a set for about a year since our 14 year old Kenmore dryer died. If we were going to buy a new dryer, we wanted a matched pair. We shopped around, and we've always had good luck, good products and/or good service from Sears over the years. They have new models the he5 and he5t but we can't find reviews on them. We read all of the reviews online of the HE4/HE4t models.

We decided that we would love to have the new High Efficiency Front loading He5 and He5t machines if possible, but we would "settle" for the he4 models if an opportunity came up. Boy, are they expensive. Since we didn't feel comfortable spending a small fortune on a complete set at the time, we decided to have the dryer repaired and watch for a great deal on the set we wanted.

Of course, That is just the background - there is a story.


About 3 weeks ago, March 1st, I had to have a blood draw and I had lunch scheduled with an old friend. After lunch, I decided to take a walk around the mall. I didn't do so well walking after a full meal, so I packed it in and headed for the exit through Sears. I slowed down to chat with the salesman, Tom, who had sold us our refrigerator.

He tells me that they are having a "get it all" sale. 10% rebate on appliances, plus interest free and no payments for a year, plus free delivery. Not bad. He directs my attention to a pair of front loading, high efficiency washers. I see handwritten sale signs on them and ask: "What's their story?"

As he is telling me that they were on display upstairs in the front of the store at the entrance, I look at the writing and see -- He5 and He5t !! They have been marked down -- 20% !! I'm thinking, "this is good!" Tom continues and says: "Plus, these have been at this price for 10 days -- I think I can have them marked down another 10%. I turn to him and say, "Tell me about the washer".

He tells me about the features As we're chatting, I'm doing the calculations in my head. What I haven't mentioned yet is that Joan and I received a coupon in the mail a few weeks before that from "Sears Service" (probably as a result of using them to fix the old dryer) for 10% off regular or even sale priced merchandise. I tell him I need to call Joan, which I do, and she says "go for it".

I call Tom over and tell him it's a deal, and as he's pulling the sales signs off (there are computer printed labels on the back with the same price and inventory bar codes and such) I notice a scratch on the front of the washing machine's smoke colored Plexiglas door. Tom agrees to mark the washer down 15% instead of the 10%. I've now officially been confused.

There was some complications: I don't have the coupon with me, I don't have my Search Charge Card with me, and the big curve- no delivery is available for floor models. I call my brother, he agrees to come the next day to pick them up with me. Tom tells me I can have him adjust the sales slip when I come to pick them up, and Joan is able to read the charge number off on the phone to Tom. I tell him that I will have to compensate my brother for his trip and help in delivering the appliances, Tom agrees to knock another $65 (the normal Sears delivery charge) off the price of the washing machine.

I go home and look for the coupon which I know I had put on the side of my refrigerator. It isn't there. Long story short, it had fallen off and slid down between the fridge and the base cabinet next to it. I pull out the fridge and retrieve the coupon pack. It is one of a strip of different coupons, this one is for appliances only.

I look at it; it says "regular price only." HUH? I SPECIFICALLY remember it was regular or sale priced merchandise. I ask Joan about it, and that's the way she remembers it too. I look at the back and sure enough in the fine print (which, apparently is the only thing I read on that coupon) it says regular or sale merchandise.

I return the next day with my brother. On the way, we continued our discussion from the previous night about building a platform for the machines since I don't want to spend any more money and the pedestals are expensive. The machines are too low for Joan and me to use comfortably without a platform or the pedestals. I have all the materials needed to build a platform and we go over perhaps a few hardware pieces that we should pick up on the way home.

Tom looks at the coupon and reads front and back, and I'm smiling to myself, knowing that he sees the inconsistency I discovered the night before. Tom brings the coupon to his manager, who I hear say "well, we have to honor it". Tom adjusts the price for the coupon and we put the slip into the scanner to get delivery of the machines from where they had been taken out back.

While we're standing there, there's a loud BOOM! and the warehouse doors fly open and the stock man had used the dryer's bottom corner as a battering ram on top of his two-wheeler to open the swinging steel doors. I am shocked he has treated my merchandise like this, but was calm and was just going to let it go when I see a huge scratch across the face of the dryer's Plexiglas. I hit the roof.

They offer me 5% off the dryer. Then they offer 10% off a 5 year service policy. Then they offer to have service come out and replace the door. Then they offer to have them replace both doors. My head is swimming, I'm still angry and flustered. I ask for a minute to calm down, and after the manager walks away, my brother says: "How about the pedestals you wanted?" Great Idea! They agree to it and locate a pair in the store and an hour later we're outta there with my purchase. (They also offer 10% off the service agreement anyway, which Joan and I are considering. Front washers are prone to breakdown more so than top loaders. 5 years for the pair is $600 with the discount.)

Here are the numbers:

<pre>
Washer
List Price $1499.99
Floor Demo -20%
New Price: $1199.99
2nd markdown -15%
New Price: $1019.93
Delivery -$65.00
New Price $954.93
10% coupon -10%
New Price: $852.93
Rebate: -10%
Final Price $767.64

Dryer
List Price: $1149.99
Floor Demo -20%
New Price: $919.93
2nd Markdown: -10%
New Price: $827.93
10% Coupon: -10%
New Price: $745.14
Rebate: -10%
Final Price: $670.63

Pedestals:
List Price: $499.98
Discount: -$499.98
Final Price: $0

Total
List Price: $3149.96
Tax $$157.50
Total List: $3307.46

Actual Charges: $1683.
Rebates $185
Final Cost: $1498
Discount: 55%
</pre>

What a deal!

They work great, too!


PS I've worked most of the scratches out of the washing machine using toothpaste (It is a fine abrasive), but I need to pick up some product to really polish the Plexiglas to a mirror shine. Can't see the scratches on the Washer's plastic unless you're looking real hard for them, and the dryer's scratches are at the perfect angle so you can't see them unless you lean against a wall. I'll polish that out too anyway.
Respond to this topic here on forum.oes.org
Congrats on the deal


I love my front loaders. You can fit so much in them...and they are great for more delicate items too.
Ron, are you available to come appliance shopping with me???? I am seriously jonesing for a front load washing machine. You did great!
I have the older models, I love them. When we were moving the new people wanted the buy my machines, the service guy told me to keep them, they cost much more to replace than when I first bought them. I got an additional service agreement with them, buying the service agreement for these machines are well worth the price. They have replaced the washer motor twice in the last 5 years, its almost like getting a new machine!
Ron I am so glad you posted the price lay out cause I was just about to ask you with all the discounts, how much did they pay YOU to take the machines
.........LOL


Great shopping ! They are great machines!

Antoinette
I can't believe they gave you the $500 pedestals for free-- that awesome!
Wow, that's awesome!!! We need a new w/d!
Ron, congrats! A couple years ago we bought the Maytag HE set. We really like them.

I can't believe how quiet they are compared to our old w/d.

Use them in good health!
Ron, you have got to be one of the luckiest people I
know of. We have been looking for a W/D set for months,
and that would never happen to me in a million years.

I don't need the pedistals because I am so short, but I
would like to have them for storage. Do you like them or
are they just a take it or leave it sort of thing? Are they deep
enough to store the big jugs of detergent? How is the
capacity in the washer? I need a large capacity - I do SO
much wash. Maybe that wasn't as high on your list as it is
on mine. I've never had a front loader, but it seems I may
have to get one. I have looked at many of the larger top load
models and some I can't even reach to the bottom. Doesn't
really make sense because there usually isn't that much
difference in height on the top loaders.

(I haven't been a big fan of sears since they screwed up our
card charges years ago. What a nightmare that was. Then
when they changed battery manufacturers I lost all the warm
fuzzies I ever had for sears. So I don't know if I would even
consider going there for the W/D - but you never know.)

I have been looking at Bosch Nexxt 100 series, and the
Whirlpool Cabrio, and a GE 3.7cu ft can't remember the model.
There is a tremendous difference from when I bought mine 18
years ago. I can't believe the prices, it takes the breath right
out of me. Might as well pay it now though, or risk doing it all
over again in 5 years.


Shellie
That is definitely a great deal.... I think you should do my appliance shopping too. I'm looking for a new dishwasher
What a deal!!!!
I have the pedestals, I also got them for free. I think they are a waste other than they keep the washer and dryer at a more comfortable height. They do not hold the jugs of liquid detergent that you have to use with the machines. The jugs are just a tad too tall. (or the pedestal drawer a bit too shallow(um....didn't the detergent manufacturer or the pedestal manufacturer MEASURE? sigh)
I keep my swiffer supplies in one and junk in the other
They make two different height pedestals, and I think they've been redesigned to eliminate the top part of the face frame- on the current pedestals, the entire front moves with the drawer and leaves none of the colored painted surface behind. I think some of the older ones left a strip at the top, just under the machines.

Anyway, the height of these is 15.5 inches, and fits the powdered detergent box we use. (The old Amway now Quickster SA8... it actually was rated top brand by a huge and wide margin by Consumer Reports.)

It's pricey the way CR did their test; they used triple the recommended amount... I don't know why. Anyway, it's either comparable or a few cents per load (like 10 cents) different so big deal. It scored 99 on their tests; the next highest competitor scored 86.

Well, Joan just tells me that the liquid SA8 that we sometimes use (Why, I have no clue) doesn't fit in the draw. So forget what I said.
OK, Joan takes back her statement, the jug fits fine, but they've changed the jug since we last bought it. Stand by for another update.
Congratulations and great haggling
Wow, great eye for a bargain!

I bit the bullet last October, after my 2nd washer in five years burned out, and bought the HE4 pair. I really love how quiet they are.


Donna S
Wow, that is an awesome deal!
I'm still trying to work out what a Sears HE5 and HE5t Washer and Dryer is, have never heard of them.


Great bargaining power you have, always such a buzz when something is got at a fantastic price.


Woo Hoo the Barter King of Kings.
They area front-loading washer and dryer combo from one of our oldest national retail chains, Sears and Roebuck.

I took these images from their site and stuck them together in Photoshop.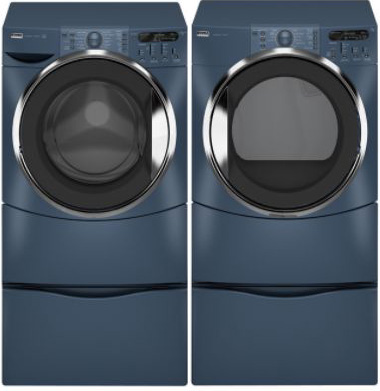 One of the nice things is the energy efficiency.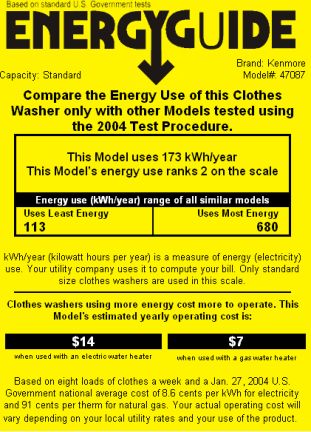 Also, using less than 1/2 of the water to do the same amount of clothes is good for my septic system.
Very nice Ron, love the front loaders and less water, we just changed from a top loader to the front loader with less water used.

Love the colour, sure beats boring white.
I am soooooooo Jealous!!!


Way to go Ron!!!

Marianne and the boys
Wow, Ron, what a great bargain hunter you are. LOVE the color. How did the washer and dryer rate in consumer reports?

Not only did you save on the price, but will ultimately save in energy and water usage as well.


Just curious, did you have a front loader before. If not how do you like it compared to a top load?
Congratulations on your HUGE savings!! (Gotta love Sears
)

And major congratulations for reducing your carbon debt by buying the energy efficient models!
Didn't find exactly what you're looking for? Search again here:
Custom Search