Last nite I was in my family room, on the computer, and Bosley and Dixie were laying around the house, relaxing after a hard playtime out in the snow.

Nobody was home except for me and the pooches.

After a bit I heard a quiet little whining, then it stopped. I looked around from my chair and saw Dixie, fast asleep. The small whining sound continued, and it was not a loud, hurt whining ... but a sorrowful whine. Very sad and forlorn....and oh, so quiet...I thought maybe Bosley was in the hallway blocked out by the gate, and wanting in.

He has also been known to lock himself into the bathroom, and also the hall closet, so of cource I grabbed my camera. I looked in the closets, the bathroom, and all the main floor rooms. He was nowhere to be found..... I called his name and a small whine would respond.

Now Dixie is up, following me around, and I cannot find Bosley....
I kept calling him and heard him whine very quietly.

I turned around to look upstairs and there he was....almost at the bottom of the stairs, but too scared to come down any further. I took this picture: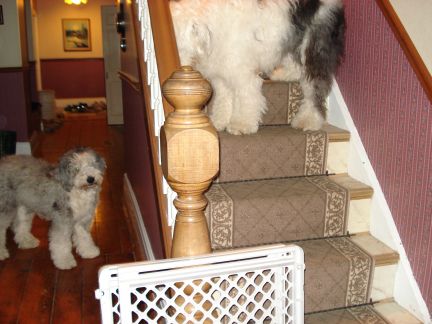 You will notice that the gate at the bottom of the stairs is not attached to anything. We just lean it up in the middle of the stairway, against the bottom step, when we don't want the dogs to go up. Now there have been times when it has gotten knocked over and it makes a very big noise on the hardwood floor.

So you will see how Bosley had lots of room to go upstairs, on the right hand side......but obviously, coming down was a whole new situation for him...He would not come down until I removed the gate completely from the stairs. Then he was all happy to join us!

What a silly sheepie!!!!
Respond to this topic here on forum.oes.org
HAHAHAHAHAHA
SILLY SHEEPIE!!!!!!
LOL Silly boy... that's too funny... LOL
AJ is afraid of her gate. She will sometimes refuse to enter a room where the gate is merely visible and not even partially blocking the entrance. This happens even when there is

food

in the room. There is not much that comes between AJ and her food. But, that damn gate...
That would have been Pepsi too.
He is scared to death of steps. lol
You can tell Bosley not to feel bad because Pepsi is a wimp too.

I love how Dixie is looking on.
aw poor baby
Silly Bosley! That is adorably goofy.
HAHAHA That is something Merlin would do. Except Merlin wouldnt cry or whine, he would just wait for me to notice he was not velcroed to my side!
My boy is a WIMP too......
LOL Nicole. That is SO funny.

I love the look on Dixie's face, like "What is Bosley's problem?"
Didn't find exactly what you're looking for? Search again here:
Custom Search