You know how dogs don't grow hair (or it's very scarce) around their private area, Hendrix's skin there is very red. It's not in patches, it's just red everywhere there. The redness does not continue in his ears or nose or anywhere else on his skin. To soothe the irritation I've applied Biocaine.

Has anyone else incurred this problem?

I've left a message, but my vet isn't back in till Thursday. It's been like this for a week or so now. I'd prefer to wait for his regular vet as she knows his medical history. If anyone thinks it's more urgent then waiting a day, let me know.

In the mean time, I'm off to comb the internet for causes, solutions, etc.
Respond to this topic here on forum.oes.org
Has he been doing any belly flops into the pool lately?

Check the Biocaine. If it is an alcohol based medication, he could have had a little irritation to his stomach area and the alcohol in the med could be aggravating it along with helping the pain/itching. Kind of a cathch 22.

Has he had any kind of trauma to that area? Is it swollen, hard or bruised? If that's the case, although it seems unlikely that would be a cause to seek emergency care. Since it's been a week, this doesn't seem like it would be the cause.

Have you switched his food lately or used a new shampoo? Is it only in the stomach/groing area? Always the allergic reaction thing to consider.

Is it warm? Does it look like there are radiating points from it? Could be an infection.

If he's having trouble breathing or going to the bathroom that would be the major cause of worry. If he's been like this for a week and he's not really having any continuing or new problems then you shouldn't have a problem waiting until tomorrow.

Good luck and no belly rubs!!
HI

Our Beebles had something similar...
Redness down there due to something in the pinestraw
Here in Georgia we use bales of the stuff around shrubs & trees...
We use it in the area where the pooches play & wrestle.
Guess there was something in the fresh straw that BeeBs was allergic too!
Vet gave her Benedryl & we bathed her with oatmeal shampoo
Tried to keep her out of the straw until a good rain...not easy

Is he scratching?
Hmmm...I'd go to the vet but I am such a worrier
Diane
Hendrix hasn't had any trauma to the area and he doesn't mind us touching the area. It's been unseasonably warm here in Illinois, but only in the low 60's. Hendrix hasn't been anywhere different lately. He goes in the backyard, on walks around the neighborhood and to the same dog park, that's it.
Alright, I spoke to the vet. She wants me to bath Hendrix in lukewarm water with an Oatmeal shampoo to sooth the belly.

As some of you may know, I've mentioned several problems with Hendrix this year regarding his skin. I now truly believe it is his food. I read 2 very interesting articles regarding food allergies...

http://allergies.about.com/cs/canine/a/aa091800a.htm

This one in particular shows ALL of Hendrix's symptoms...
http://allergies.about.com/gi/dynamic/o ... rgies.html

I'm off to buy new food, my vet wants me to test out the different food for 6 weeks to diagnose.
Does it look like this???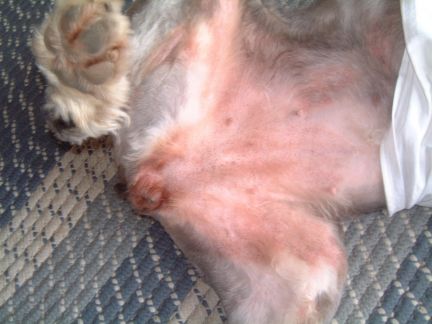 That was last year when we were struggling with Dixie's allergies and health issues. She is fine now..



When shopping for food you need to know ahead of time what ingredients you do not want in it. I would suggest getting a food that does not have any ingredients that cause allergies often. I would remove all grains, corn, rice, beef, lamb, chicken etc.

I think the safest is fish and potatoe.
HI

We have done the elimination approach to food ...
We are still not SURE what all she is allergic too

foods and/or environmental
BUT we have had great success with Eagle Pack
http://www.eaglepack.com/Pages/HS_Fish.html
http://www.eaglepack.com/Pages/HS_Duck.html
http://www.eaglepack.com/Pages/EP_PetHe ... #allergies
Vet wanted us to do the IVD vet line of food
but it really isn't all that great

Gee...it is so hard to figure out what to do

Diane....knocking on wood >>feet & tummy itches are gone 4 NOW
PS We feed the fish biscuits treats too...yummm
http://www.eaglepack.com/Pages/HS_Holistix.html
God I LOVE this website! Your photo was PERFECT! That's EXACTLY what Hendrix looks like!!

I was looking at pet food tonight, have you heard anything about "Sold Gold" dog food? The guy at the store said it was the best to start with to figure out the allergy.

You mentioned to avoid foods with g"rains, corn, rice, beef, lamb, chicken etc." What dog food is left?


What about treats? Again, the guy at the store suggest Sold Gold treats. Can I make my own at this point? This is so tough!
It is not the brand of food that you want to look for at this point, but the ingredients.

Solid Gold may be great, but if it has corn and Hendrix is allergic to corn, you are back at square one.

Go to a Pet Supply Store and look for a non-allergic food...ask the people who work there to show you what they have in a hypoallergenic food. All the good brands should have one. Read the ingredients and look for something that does not have anything you want to eliminate. The common food allergens are the ones listed above...

I found this one. See the ingredients.. There is only fish and potato.

http://www.firstmate.com/platinum/fishpotatonew.htm

Allergies usually develope from prior exposure, so you are looking for something he would not have eatern before. Fish, Duck, Venison are some possible options.

We started with a non-allergetic Royal Canin prescription food that was supposed to do wonders for skin and coat. It was OK, but very expensive, so I found an similar food with similar ingredients. It took a while, but Dixie has done wonders on this one.
Now we want to change to another brand, but will stick to the same ingredients...and only try her out a bit at a time to see if she reacts.

She gets only vegetable treats...grain-free at that...

Yes, it is difficult, but once you get it straightened out it is easy.

We don't know what Dixie is allergec too, either, but the most important is that we know what she is NOT allergic to.

And until we got Dixie last February we had never had a dog with allergies...it was a learning experience, and most of the information came from this forum. Brenda (Dudster) suggested going the grain-free route and we did.

We had a bunch of other things with Dixie, but a lot of her symptoms kept bringing us back to alleriies...as my vet suspected.

You can get through this. When I think Dixie may be reacting I take a good look at her belly, to make sure it doesn't start to look like that again. Put some nice warm salt water compresses on it...Very soothing.
Have you tried Nature's Best? Nature's Choice?
After trying a dozen (I'm not even joking) different foods for Oscar's allergies and tummy issues, a holistic vet recommended Natural Balance Venison and Brown Rice. He's been on it for about a month and seems to have improved. Whether this will be long-lived, I can't say, but it's another option for you.

I noticed that you are in Illinois as well, and I buy Oscar's food at Petco.

Good luck!
Yes..we tried this one
http://www.naturalbalanceinc.com/products/PandD.html
Beebles did not do well on it

poops were loose & she just didn't eat well
To be honest I probably did not give it long enough
This site may be helpful ...
http://www.dogaware.com/dogfeeding.html#TopDry
I love the Whole Dog Journal ... good stuff about food & allergies
Adding a fatty acid supplement such as Derm Caps/3V Caps will help the immune system & inflammation
Good luck finding the right food for Hendrix
Diane...adjusting to the fishy smell of the pooches' food
Hendrix's Mom wrote:

Have you tried Nature's Best? Nature's Choice?



These are brands. Brands make different kinds of kibble...maybe one for allergic dogs..maybe not...You need to check the ingredients. Oscar's mom feeds Venison and Brown Rice....Brown Rice has a lower incidence of allergic reaction. If this works for Oscar, great.

For example, whether is it is a brand that uses Natural or Holistic ingredients or not, it all depends on what is in it. An all natural kibble made with fresh rice will not help a dog that is allergic to rice.

Find out what you want to eliminate and then find a brand that makes a food you want to try. They all have thier ingredients on the internet, now. Makes it quite easy to do.
Poor Hendrix.
Thanks for everyones input! I really appreciate it, it's sort of comforting knowing I have others in the same boat with me. Misery loves company!
We have a border terrier and have had issues with his belly all red. We've had him at the vet and is on temaril-P. Did your vets do this for your dogs symptoms. They seem to think he has allergies. Any suggestions.
No, they gave him allergy testing. Turns out he's allergic to certain types of grass and dust. Because he lives with those elements every day he they made him a custom allergy med that he takes via a shot once a month. The allergy test I want to say was $200. His custom allergy medicince costs me like $260 a year.
Didn't find exactly what you're looking for? Search again here:
Custom Search