She is almost under control! She still acts crazy whenever I start and stop the car, or exit for gas, but I have been able to get her under control while the car is moving. I hold onto her harness and feed her by hand for the first 20 minutes or so and then I give her plenty of water throughout the drive. She pants heavily and makes occassional barking outbursts, but she stops when I say so. She's been so good, I actually upgraded her seat to co-pilot today and she gazed happily out the window for hours -- quietly!

These were taking while the car is moving. Look at the limp tongue and soft eyes. I hardly recognize her!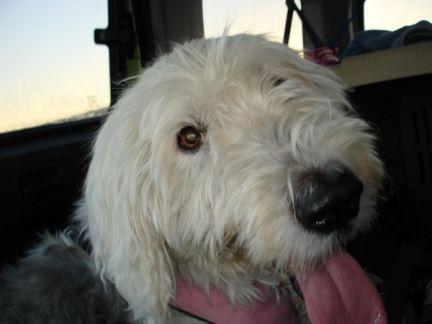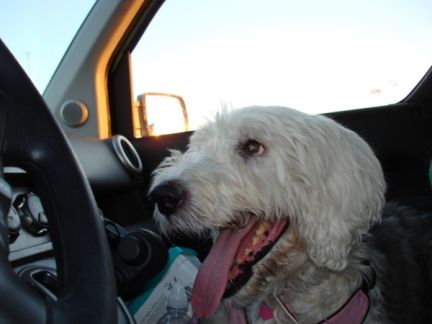 Respond to this topic here on forum.oes.org
Good girl Chummie. This has been a hard trip for you, but I'm glad you have come to the softer side of this road trip. Enjoy yourself, so many dogs live their whole lives confined to four walls and little human companionship.
Just wonderful Val, I am so happy for you and Chum, took crossing America nearly to finally have a good travelling girl. Well done, she looks so much better in those photos, amazing, give that girl a big sheepie hug from us.
Valerie: It was so good to see Chummie looking so happy and calm. Those eyes of hers just melt my heart.
I think she has one of the longest tongues I have ever seen on a dog. lol My China has a real long tongue also.
I am sure Chummie is thrilled with her promotion to the co-pilots spot
and I am sure Maggie is happy because she doesn't have to fight about who is going to ride on the top of the crate. (gotta love'em) I hope your final leg of your trip is stress free and your packing and moving goes well. Best of luck and thank you for sharing Chummies "good" times. Be safe.
My but she looks wonderful in these photos. You'd never know she had an issue with car riding from looking at her now. No more ear plugs for you!
She's SUCH a sweetie, isn't she??
I'm so glad for you that she's learned how to calm down!
She's gonna be yelling "shotgun" from now on.
How wonderful. I'm glad she's doing so much better. Maybe she'll like your cross-country move!
All this time in the car must've really had a positive effect. I mean, sure, you lost a little sanity but who needs that anyway?;) I'm glad to hear she's doing well!
YAY, what great news! She looks very happy as co-pilot.
BTW, how is your hearing after dealing with all the barking?
Good Girl Chummie!!!!!!!!!!!!!!!!!!
Great news! So much improvement!
Wow, she looks so relaxed, gald your return trip is more pleasant...Kathy/Chauncey
Just wonderful Val, I am so happy for you and Chum!
Didn't find exactly what you're looking for? Search again here:
Custom Search