I went to a dog show this morning (without Bingley) to watch and just get used to the show atmosphere. I was approached about buying a raffle ticket. It was for a good cause, so I just bought one ticket, and I won!! Keep in mind that this is the first prize I have EVER won - big thing for me!!

I received a HUGE Eukanuba tin - useful for all kinds of stuff, two boxes of dog biscuits, some Eukanuba puppy food, and the best: a mesh crate with a matching pad as well as another huge crate-bottom fleece pad.


I was soooo excited to see how big the crate was that I rushed home and unloaded it. Unfortunately Bingley's already too big for it, but I think it will be a great travel crate for my kitties, as they will both fit in it with more than enough room to relax. We won't use the Eukanuba food (shelter donation upcoming), but we will use all the treats. AND the big pad fits in his crate! It was a VERY exciting day!

Here is a picture of my boy with his winning bandanna on. He tried to tell me he was too manly for pink, but HEY! It was free!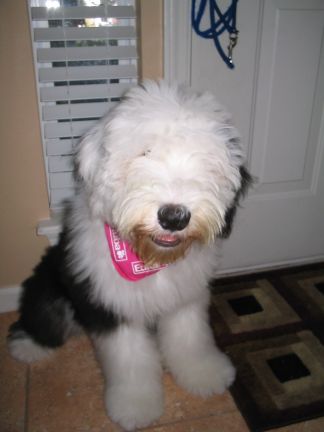 Respond to this topic here on forum.oes.org
Yay for free!!!!!!
how lucky
What luck!
Great prize package.
Mojo says hot pink is a cool color for a kid. He looks great.
Cool!

I have a big Eukanuba tin also, love it:)
(We keep cat litter in it though
)
Yea!
Awesome! It's all cool stuff you can use, too. Doesn't stuff like that just make your day?
YAY Emily, great prizes, loooove the Hot Pink Bandana, the girls think he looks real cool with it on, a man not afraid to wear Pink
YAYYYYYYYYYYY!!

How cool to hear your name announced!
Congrats! That's awesome that you won!
I would take that as a sign that you are well on your way to winning many prizes at dog shows!!

WOOHOOO! Gotta love FREE!!!!!!!!!!!!!!!!!!!!!!!!!!
Hey congrats Mop!!!

Sounds like it was a great day and win win situation! Monies from raffle went to a good cause..you are donating some of the win and the rest goes to your very cute boy in his Pink bandana! Yup gotta luv days like that!
Marianne and the boys
Congrats!
WOW...good for you! Maybe now you should play the lottery!


Cool


Congratulations on winning the raffle!!!!!!!!!

We love Bingley's smile, he knew Mom would win!

Enjoy the neat stuff!!!!!!!!
CONGRATULATIONS! That's exciting.
I love those Eukanuba tins! I have 2 - use 1 for keeping dog food handy in the kitchen, the other for keeping Chewie out of the corn for the corn stove. Mine are several years old and they are going strong!

You should have played the lottery while you were hot!
Didn't find exactly what you're looking for? Search again here:
Custom Search