If anyone has a Menards close to their home. They have the most adorable stuffed sheepie that sings or sorta sings/bark combination christmas songs.

It is really cute couldn't resist and only 15.00
Respond to this topic here on forum.oes.org
Hi,

Walmarts carried them last year and the year before for aprox the same price. I loved them so much..I bought three!! Too funny watching my "boys" do the head tilt while it was singing.

I can't remember which member posted last Christmas that there sheepie would attack the singing sheepie and carry it around the house. LOL!

Marianne and the boys
We bought 3 last year and sent one to Joe's family in England for Christmas. We love them.
Is this the same one?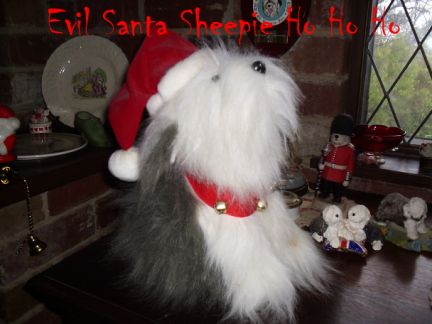 If so we have had this one for 2 years, it nearly did not make it last year to christmas as Kelsey was ready to rip it's head off
I call it the evil santa sheepie, as it stirs her up so much.
It lived upstairs last christmas where is was safe from the terminator
Or this one?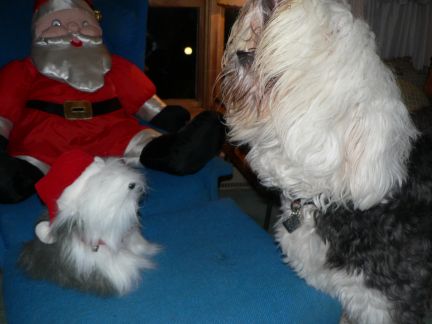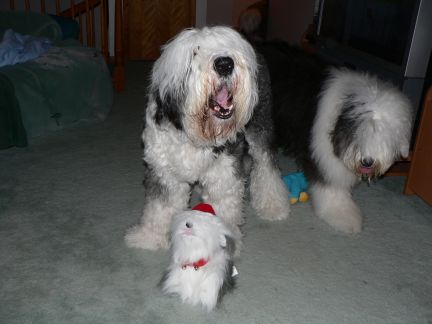 Yes that is it. Phoebe looks at it and barks, once she's done with that she tilt's her head back and forth wondering what it is. I put it up high because I know she will try and carry it around too.
Nothing like that in Norway

I would have bought one , it was cute
My friend's have this Sheepie - it's so cute - but alas there isn't one to be found in my house. . . at least not yet!!!
If anyone wants one let me know I will buy it and ship it to you. My company has a fed ex account so shipping is free
Oops how embaressing...I wrote there instead of their.


>>Makes mental note to self...do not type when tired. Umm I always say that!

Marianne and the boys
Those things are really cute. I've never seen one here. But, then, I rarely go to Wal-mart. I'm more of a Target shopper. I'll have to make a trip to Wally world and check it out.
Didn't find exactly what you're looking for? Search again here:
Custom Search