Dixie had a check-up yesterday. She was a real joy at the vet, kisses for everyone all around, doing play bows to the nervous Westie in the waiting area. She is so easy to handle and anyone can do anything to her. She just loves to be manhandled and mauled, so is a very cooperative patient.

She is pretty well stable, with no major flare-ups...just little break-outs here and there of allergy bumps. Good heart, normal temperature, with one ear only a wee bit red. She is still gaining weight, so I have to cut her food down...again! She is a wee 22 inches, and 59.9 pounds. She should be around 54.

We discussed her skin, and her food etc. I asked about a biopsey, and my vet said they usually will do that in a drastic situation, which we no longer have. She will do it, if I want to, but doesn't think we will find anything. She is still on thyroid meds, and we will do more bloodwork in 3 months.

Dixie has little bumps off and on on her rump, neck, under jaw and one big spot on her side. I took a couple of close-up shots, with my finger for sizing, so folks can see what they look like in comparisan to something their dog may have.

This is under her jaw. She scratches her a lot, and rubs her face against the couch, tables, etc. It is always a bit red and raw, with some small bumps that she scratches open.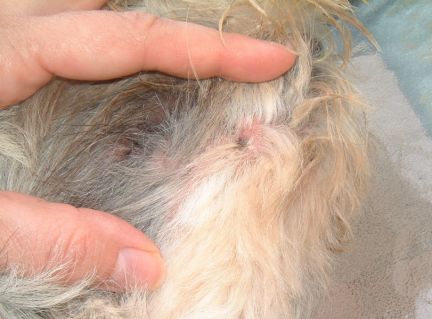 Apparently scratching around the face and the butt area are common for food allergies. She is on hypo-allergenic food, but I have caught her twice this week munching quietly from Bosley's dish sitting on the counter
!

Around the back of her neck has about 3 or 4 places that get red, she scratches, they bleed a bit, then scab over and heal....over and over again. Here is one that is almost healed. The brown specks are what is left of the scab.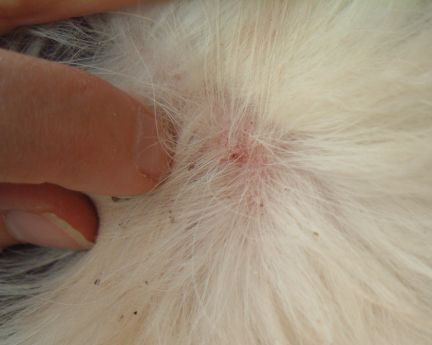 So, all in all, she is doing very well, and the benedryl she takes helps keep her from being itchy all the time. Her open sores heal very quickly and clean, so we have no worries in that area.

We are starting her on Missing Link, which we hope will help boost her immune system more, and may have a positive impact on her allergies. She may have been allergic to other things, too, but she hasn't had a yeast infection, or bad ears, or itchy feet for quite a while, so she may be getting over some of them....Knock on wood!