Don and I have been married for 19 years and this is the first new car we bought during that time...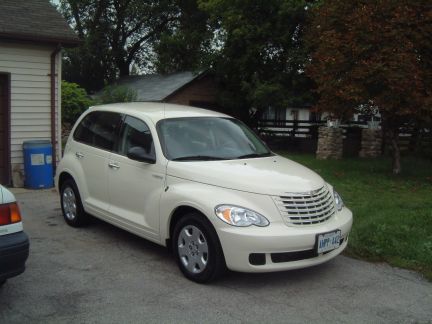 We have been shopping for about 3 months, and kept coming back to the PT Cruiser.
We had decided against them, but then the local dealer called us last with with a deal we could not turn down. So here we are! New car owners! Yaaahhhhh!!!!
And it is a standard....I LOVE driving standard...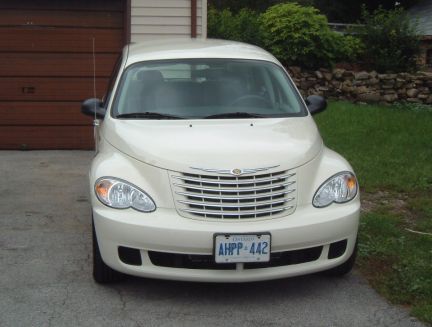 Respond to this topic here on forum.oes.org
Congratulations
love it Nicole!! in the other picture you showed me it looked like the grey! I actually like this color much better!!!!!
Woohoo! Congrats! Dontcha just love new car smell?
Congradulations on the new car! I hope you have many happy "driving" miles. Enjoy!
Helen, Violet, China and Pearl
Hey! Way to GO!!!!

A NICE way to go!


Drive it in good health.
Congrats!!! It's very nice!
Congratulations! It's really cute!
Nice looking. Friend in Colorado calls PT's "Gangster Cars" thinking back to the 1930 movies.

Enjoy it! New cars are fun.

s.
Congrats on your new car!

Enjoy!!
Cool car!

I'm still waiting for my 1st "new" car...........
Congrats! New cars are nice. We got a new Toyota Yaris a few months ago and I love it because its a automatic. The one we had before was a sporty stick shifter. Oh how I hated driving it and my husband LOVED zooming around in it. My sister LOVES driving stick shifts to.
Vroom Vroom watch out for those speeding tickets!!


Have fun cruising around
CONGRATULATION!!! Enjoy it!!!!!!!!!!!!!!
i cant find how to do it but try www.dogsincars.co.uk a really funny site but needs more oes. nice wheels.
Cute site!
yeah! congrats!
Cute car - congrats!! Hope you enjoy many years of driving fun!
Congratulation Nicole and Don,

I love the PT's.. enjoy!!!
Didn't find exactly what you're looking for? Search again here:
Custom Search